There is nothing more comfortable in summer than a versatile pair of slides for leisurewear. They are easy to slip in and out of, but yet they are not always the most comfortable.
So why not check out our range of the best orthopedic slides that are versatile and comfortable altogether.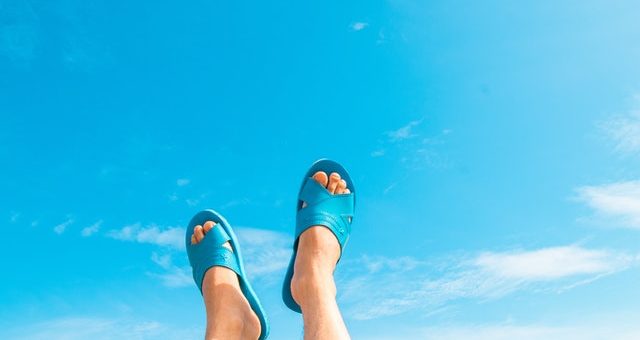 ---
Why Should Your Choose Orthopedic Slide Sandals
Shoes and sandals are a protective barrier for your feet to protect them against punctures, scrapes, hot surfaces, and other injuries.
Orthopedic Slide Sandals are the ultimate comfort and support slide sandal for leisurewear when the weather is warmer.
So why choose Orthopedic slide sandals?
Arch Support – Orthopedic Slide sandal generally provide excellent arch support, which allows for proper alignment, and in turn, reduces excessive pronation and issues related to pronation.
Width – Orthopedic slide sandal generally have a wider and customizable width fit to accommodate foot conditions such as Bunions, Hammertoes, Calluses, and Corns. They are usually available in wider width options in turn.
Extra Depth – Some Orthopedic slide sandals may have an extra depth design that likewise allows you to add an orthotic insole of your choice.
Specailized Soles – Most orthopedic slide sandals may have a specialized sole such as a rocker sole to reduce pressure or a wider sole design to improve stability.
Comfort – Most Orthopedic slide sandals have a cushioned and supportive footbed that provides comfort to the wearer as well as proper foot support.
---
Choosing the Right Orthopedic Slide Sandals
There are a few features to look for when choosing a proper orthopedic slide sandal, which we discuss just in the list below.
Mainly you need to find a slide that provides your personality with a comfortable and proper fit.
You will also need to consider the width and customizable uppers if you suffer from conditions such as swollen feet or edema.
---
Features of a Good Orthopedic Slide Sandals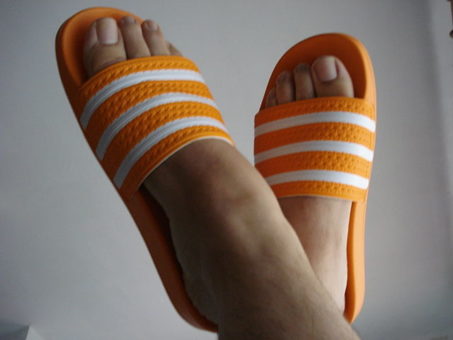 Uppers – The Uppers of a good orthopedic slide should be soft, flexible, and offer a roomy fit. Many slide sandals have either synthetic or leather uppers with an adjustable fit option. The closure may be a Velcro or a buckle design, and the straps can vary from one single strap across the sole or two or more wide straps.
Insole or Footbed – The Insole or footbed of orthopedic slides is usually cushioned with memory foam, EVA, or other technology foams and provides excellent comfort and shock absorbency. The footbed may also be contoured and anatomical n shape for proper foot alignment, with a heel cup for stability and support.
Lining – Most Orthopedic slide sandal will have a moisture-wicking lining in the footbed and some in the uppers. The quick-drying materials wick away moisture and help to keep your feet dry and comfortable.
Sole – The Outsole usually consists of a slip-resistant rubber or EVA depending on the slide. The outsole will have a patterned tread for improved grip and slip resistance. Many Orthopedic slide sandals may also have a Rocker design sole for better pressure relief, as in some of the recovery ranges.
Fit – Slide sandal generally offer a wider and more roomy fit, and most orthopedic slide sandal will be available in wider width options.
Options – Orthopedic slide sandals, depending on the model, should be available in extended widths and even some narrow options, and most have more colors and prints available.
---
Reviews: The Best Orthopedic Slide Sandals
Orthopedic slide sandal offers specific support and comfort in their fit and features, and according to that, we have selected the best available orthopedic design slide sandal;
---
1
The DR. Comfort Kelly and Connor are adjustable fit slide sandals with a dual-density midsole and supportive shank and post in their insoles.
The slides have genuine leather uppers straps and a cool and carefree design.
The contact closure has a Velcro snap that can be adjusted in fit and shape.
There is a dual-density midsole with a supportive post and shank for better stability and support.
The slide-on style allows for an easy on and off convenience.
---
2
Leather Orthopedic Slide Sandals
The Propet Vero and June are both two-strap slide sandals that offer an adjustable fit, supportive footbed, and are available in wider width options.
The Uppers have two genuine leather straps that are adjustable in fit with a Velcro closure.
There are wider width options and more colors available in both sandal models.
Both have fully cushioned and supportive footbeds that can be removed for the use of your own orthotic devices.
---
3
The Vionic Kiwi slide sandal features Vio Motion support and comfort features with an EVA cushioned footbed and Pu leather uppers.
The Uppers are a Pu nubuck leather that is adjustable in fit with a Velcro closure.
There are an EVA cushioned footbed and a durable rubber outsole.
The sandal has the APMA seal of acceptance.
The slide sandal offers Vio Motion support with three zones of arch, heel, and forefoot support,
---
4
The OOFOS OOahh is a sports recovery slide sandal with foamy cushioning and a rocker design sole to reduce pressure on your feet.
The recovery sandal has a rocker sole that reduces all pressure on your feet, making them excellent Orthopedic recovery slides.
They consist of the OOfoam technology that absorbs 37% more impact than any other footwear foam.
The Oofos range of slide sandal is available in more colors, and they are machine washable.
---
5
The Birkenstock Arizona is their basic range slide sandal that comes in many colors, wide and extra-wide widths, as well as having a supportive and cushioned footbed.
Birkenstock Slides sandal in Arizona has two straps with a buckle closure that can be adjusted in fit.
They have leather uppers available in more colors and smooth, nubuck, or metallic finishes.
The footbed is cork and latex with a contoured design that molds to your feet for proper support and cushioning.
The outsole is durable and slip-resistant.
They are also available in different width options.
---
6
The Under Armour Ignite is a fully cushioned slide sandal with an adjustable fit and Traction pods in the heel for added support.
The Slide Sandal has a Polyester, and synthetic uppers strap that is adjustable with foam padding for your comfort.
The footbed has two built-in layers of performance 4D Foam for comfort and anatomical contours for support,
The Re-Engineered EVA outsole has built-in traction pods on the heel for additional heel cushioning.
---
Index Table: Top Rated Orthopedic Slide Sandals
---
---