When you have inflammation and the metatarsal area of your foot in the bowl of the foot area, it is called Metatarsalgia. Generally, mostly Orthopedic or athletic shoes are advised for the condition. However, today we will be looking at a comfortable slide sandal that offers good support for Metatarsalgia.
Slot sandals for Metatarsalgia will offer a wide and drew me fetch. They may be adjustable and offer a more comfortable and cushioned footbed than your regular slide sandals.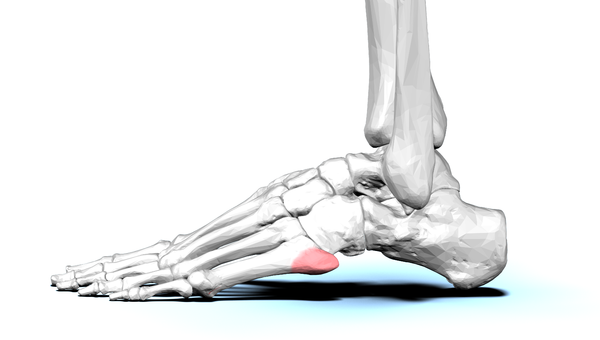 ---
Metatarsalgia Explained
Metatarsalgia is generally not a very serious food condition, though it causes pain that can affect your daily activities and that can sideline you. If left untreated, Metatarsalgia can become more severe, and you may need medical help.
Now Metatarsalgia is caused because of repetitive strain on the balls of your feet, which causes inflammation and injury to that area of the foot. Metatarsalgia causes a burning stinging pain that can also cause numbness in your toes and similar to Morton's neuroma it can cause a feeling of having a pebble in your shoe or standing on a marble.
Many things such as ill-fitting and narrow-fitting shoes, high-heeled shoes, having a high arched foot type, or a low arch foot tab, obesity can lead to Metatarsalgia. High-intensity activities that cause much impact on the balls of the feet are also known to lead to Metatarsalgia. Other medical conditions and food deformities and even the condition Morton's Neuroma can lead to Metatarsalgia.
You can use at-home treatments to treat Metatarsalgia. You can. You can place ice or heat on the painful area to reduce the symptoms. You can use pain medication, or you can get therapy for the condition. In more severe cases, medical help may be required. One of the best ways to treat Metatarsalgia is to wear padded insoles or metatarsal pads and to wear proper footwear.
---
Footwear for Metatarsalgia
There are a few characteristics to look for in shoes and sandals for Metatarsalgia;

Support – Firstly, the shoe or the sandal needs to support your foot. You need a shoe or a sandal that has arch support for your specific arch type, especially if you have a very low or higher-than-normal arch type. Most. Sandals, you will find that they have a more contoured footbed that offers light to the arches.
Cushioning – Then again, cushioning is important as you need something to absorb shock from the impact of walking, running, jogging, or jumping. So in the case of sandals, you will need to look for a sandal that has either EVA foam or memory foam in the footbed or the insole.
Wide Fit – A wide and drew me toe box is also advised for all types of footwear if you have Metatarsalgia. You need to comfortably flex and stretch your toes out on the footbed or inside the shoe.
Heels – It is better to avoid very high heel shoes, but it's also important to not wear shoes that have a flat sole. You want to solve that offers some shock absorbency, but you also want a lower heel.
---
Features of a Good Slide Sandal for Metatarsalgia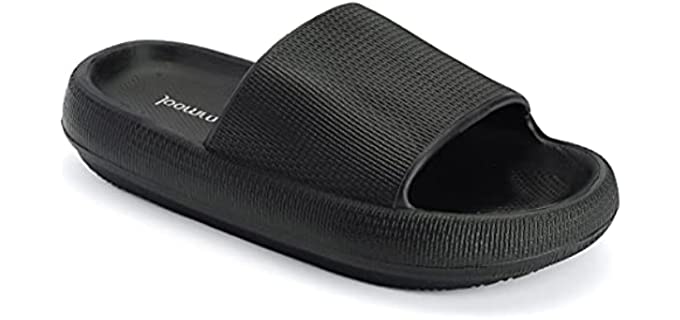 Fit – Most of the slide sandals that we have chosen specifically for Metatarsalgia are available in wider webs, or they do have a roomier fit. Slide sandals in general, or a wider fitting sandal type.
Upper – Slide sandals may have single or double upper straps that may be adjustable so that you can get them more comfortable for the uppers maybe plastic. They may be EVA, they may be leather or synthetically there, and in some models, even a tick style.
Footbed – Be well cushioned with either EVA, memory foam, or other firm types. Some models even have gel cushioning. The Fitbit will also have a more contour design or built-in arch support.
Outsole – Most slide sandals will have either an EVA or a rubber outsowithhas a slight lug tread for better traction.
---
Reviews: The Best Slide Sandal Sandals for Metatarsalgia
In our review section or some of our best slide sandal brands and models that are ideal for Metatarsalgia;
---
1
Slide Sandals for Metatarsalgia
TheVionic KIWI is the perfect slide sandal for Metatarsalgia.
The slide sandal has an adjustable single uppers strap to give you the perfect fit.
It has Pu nubuck uppers and is available in more colors.
The sandal has a podiatrist design footbed with good cushioning, and arch support.
They have a durable and high-traction outsole.
---
2
Slide Sandal for Metatarsalgia
The Birkenstock Arizona is one of the most popular and comfortable slide sandals around.
The sandal has soft leather uppers with two adjustable straps, with buckle closure.
They have a cork and latex footbed with an anatomical shape, for support and cushioning.
The slides are available in many colors and suede or smooth leather finishes.
---
3
Sporty Slide Sandals for Metatarsalgia
The Unedrarmour slides have a sporty style and great comfort features for Metatarsalgia.
They have a single adjustable strap that consists of faux leather.
There is a plush memory foam footbed that will conform to the shape of your feet.
The 4D foam offers ample support and shock absorbency.
The sandal has a durable and high-grip outsole.
---
4
Slide Sandals for Metatarsalgia
The Dr. Comfort Slide sandal is an Orthopedic slide for Metatarsalgia.
The slide sandal has an extra depth and wider width design.
The single-strap uppers are soft leather with an adjustable Velcro closure.
The footbed has a podiatrist design to support your feet.
There is a supportive insole and an integrated post-shank, with the outsole.
The slide-on style is easy and convenient.
---
5
Metatarsalgia Slide Sandals
Crocs slides come in many colorful designs and prints from which you can choose.
The entire crocs slide sandal consists of a lightweight and foamy Crosslite foam material.
They have an arch support footbed with additional foam for shock absorbency and a high traction outsole.
The sandal offers a more roomy and accommodating fit for metatarsalgia.
---
6
Recovery Slide Sandal for Metatarsalgia
From Oofos I have chosen their recovery slide sandal for Metatarsalgia.
The slide has a rocker sole that will take pressure off your feet.
They are a soft foamy design with plenty of cushioning and support.
There is a single upper strap with a slit in the middle for breathability.
The fit is roomier and more accommodating.
---
Index Table: Top Rated Slide Sandal Sandals for Metatarsalgia
---
---