Memory foam is something that is not just used in your pillow today but also in shoes, as well as a sandal.
Memory foam molds to the shape of your feet and provides plush cushioning underfoot comfort.
Nike offer slide sandal that contains memory foam, and similar foams in their footbeds.
In this article, we will look at Nike foam-cushioned slide sandals and Nike Memory foam slide sandals specifically.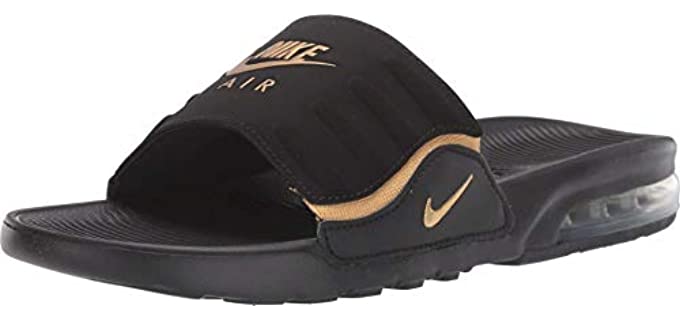 ---
Why Choose a Slide Sandal?
Before we get into the different foam and memory foam slide sandals, let us look at the slide sandal in its design first and what makes it so great.
I personally think that everyone today should own at least one pair of soft cushioned slide sandals.
They have so many applications and can be a very comfortable leisurewear sandal that may be even more ideal than flip-flops.
The slide sandal is perfect for after sports use after you get out of the shower as a slipper or even post-surgery or injury as a recovery sandal.
A cushioned slide sandal can be extremely comfortable for wearing all day and also replace your slippers in summer.
Then again, because it is so easy to slide on and off, it's ideal for when you need to go outside or run an errand and quickly need to slip into some sandals.
---
Nike Slide Sandal Foam Technologies
besides memory foam, Nike also uses some superb foam technologies in many of their slide sandals, which is much similar to memory foam.
Here are some details on the foams they use and their benefits;
Phylon Foam – Phylon Foam is also known as Twice EVA foam as it consists of EVA foam pellets that are compressed, heat expanded, and finally cooled inside a mold. The Pressure and the heat create a much more condensed material, and the air bubbles in the foam expand to make it more flexible. You can easily identify a Phylon footbed by the small wrinkles it shows after you have worn the sandals. A direct Injection Molding process involves both the molding process and formation as well as the joining of the sole to the uppers.
Dual-Density Foam – Most Nike slides will have dual-density foams concentrated join the heel and ball of the foot area where you require better impact absorption. Dual-density foam is exactly what it says—the foam used in different densities in the sandal's footbed. The Midsole will most likely be a much harder foam for shock absorbency and a softer foam for underfoot comfort. More compact foams are used for support and shock absorbency, where softer material foams are used to create flex and softer cushioning under your feet. PU materials are the most prevalent in dual-density foam footbeds.
SolarSoft Foam – Nike is very well known for the renowned and innovative technologies that they use in their shoes and sandal. One such technology is the Solarsoft foam they use in their athletic shoes and slide sandal. Solarsoft foam is an extremely plush and lightweight foam that is very similar to memory foam in feel. It molds to your feet and is feather-light, actually making it a better technology for footwear than memory foam.
Memory Foam – Memory foam consist of polyurethane and additional chemicals used to create a vicious and dense foam that is referred to as viscoelastic polyurethane foam or low resilience polyurethane foam. Memory foam mainly works with the heat of your feet and molds to the specific shape of your feet for customized comfort. Memory foam distributes weight evenly and can also help to relieve pressure on your heel and the balls of your feet where you need it the most.
---
Features of a Good Nike Memory Foam Slide Sandal
Uppers – A slide sandal has a single upper strap, although some models may have two or more solid upper straps. Nike Slide sandal have synthetic leather, or soft fabric uppers straps depending on the model. Some may have a lined strap or even a cushioned uppers strap for your comfort. The slide design is very easy to slide on and off your feet.
Footbed – The footbed of Nike Slide sandal models are cushioned and supportive. Nike uses different cushioning technologies and contoured arch support designs in the footbeds of their slide sandal. Cushioning technology they use includes memory foam, Solarsoft Cushioning, Phylon Cushioning, and Dual-density cushioning layers depending on the model.
Outsole – Nike slides will have either synthetic rubber or an EVA outsole. The tread is usually patterned for slip resistance.
Colors and Styles – According to the model, Nike slide sandals offer you a vast array of colors and even prints, or logo printed options from which you can choose, along with plenty of sizes.
---
Reviews: The Best Nike Memory Foam Slide Sandal
These are some of our top favorite memory foam and similar foam technology Nike Slide sandals;
---
1
The Nike Benassi Solarsoft is a plush soft foam footbed slide sandal that offers similar cushioning to memory foam.
The Ultra Comfort 3 is a ladies slide sandal that has a full memory foam footbed.
The Uppers single strap is synthetic leather.
The Midsole of the Benassi has Firmer Phylon Cushioning.
There are some color options and sizes.
---
2
This is an easy slip-on slide sandal with a plush cushioned footbed.
The Camden Slide has a flexible sole and a visible AirMax unit.
The footbed has very soft foam similar to memory foam.
The Cushioned uppers strap provides 360 degrees of comfort.
The Deeper Flex grooves in the sole ensure better flexibility.
---
3
The Offcourt Slide for men has a contoured sockliner and dual-density foam footbed that will form to the shape of your feet.
The Kawa Slide has plush Solarsoft foam in the footbed and Injected Phylon foam in the midsole for cushioning and shock absorbency.
Both have wavy outsole flex grooves for flexibility in the outsole.
The sole offers excellent traction on a variety of surfaces.
The single uppers strap is synthetic, lined, and comfortable.
There are a few available options in color and design, as well as sizes.
---
4
The Benassi Just Do It is a top favorite in cushioned slide sandals from Nike.
The Benassi has a Phylon Cushioned Midsole that offers medium cushioning similar to memory foam.
The outsole is rubber with a Herringbone pattern.
The Uppers are a single one-piece leather available in more colors and varieties.
There are also plenty of sizes available.
---
5
These are two sporty slide models from Nike.
The foam sole is plush and comfortable and will mold to the shape of your feet.
Phylon Foam is used in the midsole, and the footbed is contoured for support and comfort.
They both have a fixed single upper strap that offers a more snug fit.
---
Index Table: Top Rated Nike Memory Foam Slide Sandals
---
---