Although slide sandals are not always the best idea, if you have diabetic feet, especially if your feet are affected by neuropathy, as you will see with most suggestions the footwear you want is something that offers good lateral stability and heel stability. However, some types of slide sandals are suitable for people with diabetes. So in this article, we want to look at some slags for diabetics that will offer good support and underfoot protection.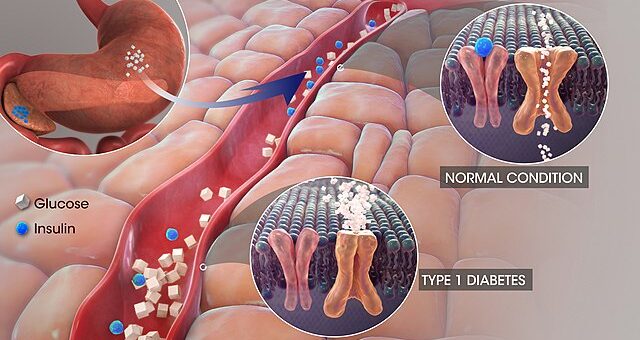 ---
Diabetes
Before we get into the best slide sandals for diabetic feet, let's first look at the condition of diabetes and wanted is. So, as we all know, diabetes is a disease where you have. You have very high blood glucose or blood sugar levels. Now we all need glucose and sugar from the foods that we eat for the cells in our body to provide energy.
There is a whole man called insulin, which helps glucose from the sugars that we eat to enter the cells of our body. Now, they are individuals that have diabetes, which is called diabetes type, one who cannot form the hormone insulin, in which case they need injections of insulin regularly.
Then we have the more common type 2 diabetes, in which case your body does make the hormone insulin, but it doesn't make enough of it, or it doesn't make it fast enough for your body to be able to use it, and glucose and sugars start to build up in your blood, which causes high blood sugar levels.
Foot problems are extremely common in individuals that have diabetes. Diabetes can damage the nerves and the blood vessels in your feet. This in the end means that your feet can become numb, so you will not feel an injury, and ulcers and sores in your feet will heal very slowly because of poor blood circulation.
Most individuals who have diabetes suffer from a condition called neuropathy or diabetic neuropathy, which mostly affects the nerves in their feet, the condition can cause your feet to become numb, and at least feeling it can also cause pain and tingling. Blisters and open source in your feet can quickly become infected and can even lead to gangrene, which can end up in an amputation.
---
Taking Care of Your Feet
Besides wearing proper footwear and protecting your feet against injuries, there are a few ways in which you will need to take care of your feet, especially if you have diabetes or neuropathy caused by diabetes;
Check Your Feet Daily – You will need to check your feet daily for any changes or issues. Look for red nests. Look for changes in the color of your skin. Look for cuts, blisters, and chafing, and also inspect the bottoms of your feet.
Keep Your Feet Clean – Keep your feet clean. Use warm water and soap to wash them. Make sure to dry them properly, and also moisturize your feet to keep the skin in your feet hard. You can use cornstarch or talc between your toes to prevent sweating and moisture which could cause infections.
Grooming – Keep your feet well groomed you can ask a doctor or podiatrist to remove corns and calluses safely you can, and you can go for regular pedicures to keep your feet in a healthy condition.
Trim Your Toenails – Make sure to keep your toenails trimmed. Your toenails can become thick or curved, and they can nick and cut your skin, which can cause sauce that can lead to infections.
Proper Footwear – Ensure that you always wear proper fitting shoes that do not irritate or cause friction to your feet, and that will also protect the bottoms of your feet, especially if they are numb. It is not advanced to walk barefoot when you have diabetes, especially if you have neuropathy, which causes numbness in your feet.
Hot and Cold Protection – If your feet are numb and you have a lack of feeling in your feet, it is important to protect them against seats and colds. When you go outside, sunscreen on your feet, if they are exposed. Check your feet to feel if they are cold, and keep them warm in colder conditions.
Good Circulation – You can try to improve blood circulation in your feet when you are sitting down. You can put your feet up. You can wiggle your toes throughout the day, and you should not wear tight socks. Also take part in activities that will improve blood circulation, such as walking.
Get our Feet Checked – If you find any issues with your feet, any growth discoloration, sores, cuts, blisters, if your feet start feeling warm and become red or painful, or if you notice calluses with dry blood inside them, you need to go and see your doctor.
---
Features of a Good Slide Sandal for Diabetics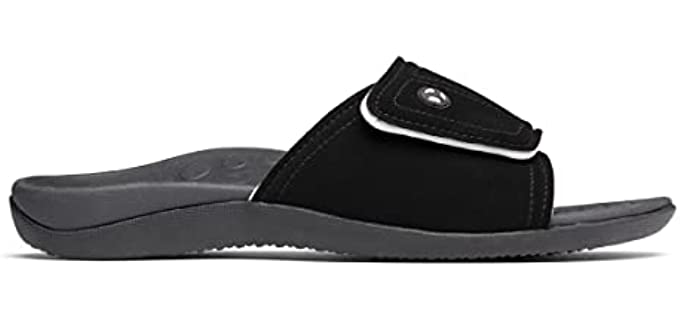 Fit – Look for a slave sandal that is wide enough of it, and that has adjustable uppers.
Uppers – The uppers can be leather. They can be EVA, plastic, or rubber, or they can be fabric.
Support and Cushioning – The footbed or sole of your slides need to offer good support and cushioning. You can look for slides that have memory foam or EVA cushioning, and that also have arch support or a more contoured design.
Outsole – It is important that you slide sandals, and have a durable, rubber, or thick EVA outsole that will protect your feet against hard objects and sharp objects that can cause cuts or bruises.
Options – Most slide sandal models will offer you availability in wider width fits, colors, and extended sizes.
---
Reviews: The Best Slides for Diabetics
In our review section, we have some of the best available slots sandals that you can wear if you're affected by diabetes;
---
1
The Dr. Comfort slide sandal is an Orthopedic slide sandal idea for Diabetic feet.
They have comfortable and adjustable leather uppers.
The footbed has an integrated shank and post for stability and is well-cushioned.
The outsole is a durable rubber for traction and protection.
The slides are available in wider width options.
---
2
The Birkenstock Arizona is a comfortable sandal for Diabetics.
They have two single adjustable straps in soft leather.
The footbed has a soft design with moldable cork and latex cushioning.
There is a deeper heel cup for stability.
The sole is a thick EVA.
---
3
recovery Slides for Diabetic Feet
The Oofos slide is a recovery slide sandal.
It has a wide and roomy fit, and a slight rocker-style sole to take pressure off your feet.
The entire slide consists of soft Oofoam that cushions your feet.
It has no parts that can cause any friction or chafing.
---
4
Adjustable Slides for Diabetic Feet
The Vionic Kiwi slides are also Orthopedic style slides.
They have soft suede uppers with an adjustable fit and smooth lining.
The footbed is cushioned and offers contoured support.
The heel area offers additional cushioning and stability.
The slides are available in wider widths.
---
5
The Under Armour Slides are sporty slides for diabetic feet.
They have comfortable synthetic leather uppers that are lined and padded, as well as fully adjustable in fit.
There is extra cushioning and stability in the heel.
The slides have an EVA outsole and durable traction pods.
There is a 4d Foam layered footbed for comfort.
---
6
The Adissage slides are ideal for improving circulation in your feet.
They have a cushioned footbed with massaging nodules.
The uppers are padded and lined with an adjustable fit.
The sole is a thick Cloudfoam midsole and outsole for good underfoot protection.
---
Index Table: Top Rated Slides for Diabetics
---
---