Vionic® offers some excellent orthotic support shoes, sandals, and flip-flops.
One of which we want to concentrate on today is their orthotic support Vionic Slide sandals.

---
---
Benefits of Vionic Slide Sandals
Slide sandals themselves have many benefits as leisurewear, beach wear, or casual sandal.
Because of their easy on-and-off slide design, they can be worn in and out of your home for quick excursions, to the beach, in and out of the water, in and out of the shower, or even just as a daily leisurewear sandal for comfort.
Mostly Vionic slide sandals have an Orthotic footbed that provides excellent support and cushioning, making them even more desirable.
Vionic slides come in many styles and options, and most will have an adjustable fit uppers strap to customize the fit.
What I love about slide sandals and Vionic slides is that they are much roomier in fit and wider. Hence Vionic Slides sandals are also available in wider width options.
---
Technology Vionic Uses in Their Slide Sandals
But let us get a bit more into the spectacular technology that Vionic uses in their slide sandal;
Medical Slide Sandals – Firstly, most Vionic shoes, including their slides, have the seal of acceptance from the American Podiatric Medical Association (APMA). They are the leading resource for foot health information, representing over 15,000 podiatrists across the United States. So you know the technology is of the highest quality and scientific standards.
Extremely Comfortable Support – If anything, Vionic slide sandals are extremely comfortable while still providing much needed support. The support system they use is completely orthotic and consists of premium materials that are quite durable.
Ideal for Foot Pain – Because Vionic sandals provide good support and cushioning, they help with proper body alignment and reduce the impact on your feet and joints. Thus they also alleviate and prevent pain in your feet, legs, joints, and ankles.
---
Features of a Good Vionic Slide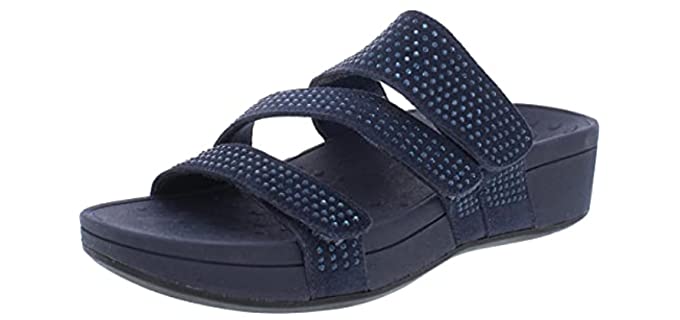 Uppers – The Slide sandal models from Vionic also come in various material options. There are embossed designs in synthetic leather, genuine leather shearling, and even nubuck options. The Uppers may be a single or double band with buckle closures, adjustable hook and loop, and even Velcro closure options. You will also find some models with padded uppers.
Footbed and Midsole – As for the Footbed and midsole, you can look forward to the trusted EVA foam and contoured, molded, or compound designs, along with a Biomechanically Podiatrist designed and engineered technology. The footbed will provide cushioning along with ample arch support and stability.
Outsole – The Outsole you will usually find is a durable rubber or TPR rubber with a wave and other patterns for grip and traction.
Closure – As said, Vionic slides might have single or double bands that slide on, and some have adjustable closures such as buckles, Velcro, or hook and loop.
Options – Vionic Slide sandals are generally available in a B or C-width design. However, some models do offer width options. As far as colors and designs go, there are so many textures, colors, and patterns available from which you can choose, depending on the actual model.
---
Reviews: The Best Vionic Slides
These are some of our top choices in Vionic slide design sandals;
---
1
The Kiwi Slide is a favorite leisurewear slide sandal and comes in neutral and pastel color options.
It is a unisex design with a single adjustable band upper and Velcro closure.
The uppers ate a PU Nubuck leather with a smooth lining.
There is an EVA cushioned footbed that offers three-zone comfort and arch support.
The uppers are likewise padded for comfort.
Ideally, this slide is available in wider widths options.
---
2
The Vionic Canoe is a more stylish leather slide for men.
It has leather uppers and a very thick and durable rubber outsole.
The footbed is cushioned with EVA and has a podiatrist design for stability and arch support.
A black and brown neutral color option is available for men in this slide sandal model.
---
3
The Vionic Ludlow Charlie is another favorite slide sandal for men.
It is a flat-soled leather slide with two straps and a buckles closure on each for an adjustable fit.
The uppers are genuine leather, and the footbed is likewise lined with leather.
The footbed is cushioned with EVA and has a podiatrist design for support and comfort.
The slide has a low-profile silhouette and classy leather style,
It is available in a black or tan leather option.
---
4
Here we have the Kiwi slide option in a unisex color that is more suitable for ladies.
As mentioned, the Kiwi slide is my favorite leisurewear and orthotic design slide.
Because you can adjust the fit of the uppers with the Velcro closure, it is ideal for feet that tend to swell.
The footbed is fully cushioned with EVA and has a three-zone comfort system for support.
The outsole is durable and slip-resistant.
There are some feminine and neutral color options available in the Vionic Kiwi.
---
5
The Vionic Pacific Alexis is a Platform design slide for ladies.
It has adjustable uppers straps and a concealed Orthotic insole arch support.
This slide features a three-zone comfort system concealed to provide optimal support and cushioning.
For durability, the thick platform sole consists of EVA and rubber in the outsole.
There are also more color options available from which you can select.
---
6
The Vionic Shore is more of an Orthotic slide for ladies.
The slide sandal features synthetic uppers with two fully adjustable straps for a customizable fit.
The sole is a lightweight and flexible EVA for shock absorbency, and there is a podiatrist-designed biomechanical footbed for optimal support.
The outsole is durable rubber with a patterned tread for grip and traction.
You can get this slide sandal in a few neutral color options.
---
7
The Vionic Tropical Hayden is a Platform sandal with concealed orthotic arch support.
The Three Zone comfort system conceals full arch support and cushioning,
The footbed has a podiatrist design and is fully cushioned.
The uppers are synthetic leather, and there are a few color options.
The Outsole is a durable and high-traction rubber.
---
Index Table: Top Rated Vionic Slides
---
---