The Slide sandal is one of the most comfortable and versatile sandal with so many purposes, wouldn't you agree?
Well, we all know the popular Adidas Slide sandal. Did you also know how many different types of slide sandals they have available, all with the most amazing features?
In This article, I will discuss some of the Best available models and ranges in the Adidas Slide sandal.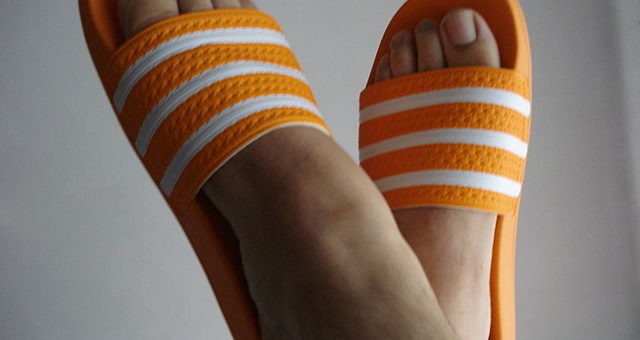 ---
Why do You need a Slide Sandal
A slide sandal is ideal in-between wear that you can easily slip on and off between shoes, and the slide sandal is also extremely comfortable to wear as leisurewear at home after a long day at work.
The Adidas slide sandal comes in many ranges that you can use for leisure, beach or outdoor wear, and also that you can wear in the shower or as an aqua shoe.
Because slide sandal are mostly water-friendly, they are also ideal to use in the shower at the gym or even for beach or poolside wear to protect your feet.
---
Adidas® Slide Sandal Ranges and Options
Adilette Aqua – The Adilette Auqa is designed for water use and easy and quick cleaning. The Adilette Aqua has a Cloudfoam footbed and water-friendly EVA uppers.
Adilette Shower Slide – The Adilette Shower is designed for use post swimming, or at gym showers, it is ultra-lightweight, water-friendly, and slip-resistant.
Adilette Original -The Adilette Original was first introduced in 1972 and is still a prevalent choice in the Adidas slide sandal range. The Adilette Original has a comfortable contoured footbed and comes in an option of banded or adjustable uppers.
Cloudfoam Adilette Slide – More advanced is the Cloudfoam Adilette with a Cloudfoam soft comfort sole and a single synthetic bandage upper.
Duramo Slides -The Duramo is perfect fro Gym use and casual wear in between, it has a textured footbed and molded EVCA sole.
Adilette Adissage – The Adissage from the Adilette range has a massaging footbed with many small nodules to massage your feet.
---
Features of a Good Adidas Slide Sandal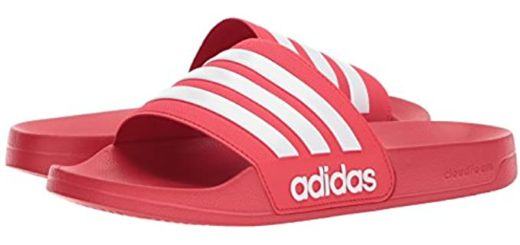 Uppers – A Bandage upper design from synthetic leather or EVA. Some models have an adjustable Velcro Hook and Loop Closure.
Footbed – The Footbed is usually a Molded EVA foam, some models have the Cloudfoam softer features, others textured or the Massaging Nodules.
Sole – The durable EVA sole has a lug pattern for slip resistance and is usally slightly thicker.
Colors – The Adidas Slide sandal range offers many color and even pattern ranges in their slide sandal range.
---
Reviews: The Best Adidas® Sandals
Here care some of our favorite picks in the Adidas Slide Sandal range;
---
1
The Adidas Duramo slide sandal has a lightweight, and comfortable footbed with the Adidas striped banded uppers strap available in a few color selections.
Synthetic uppers, which consist of a single non-adjustable Bandage, EVA strap, gives you a comfortable fit in this sandal design.
There are a three-quarter Heel and a thick sole for shock absorbency and comfort.
The sole consists of Injected EVA and is exceptionally lightweight.
The Footbed is likewise textured to provide exceptional underfoot comfort.
---
2
The Adilette Lite is popular for its super soft feel footbed and lightweight design.
The Adilette Lite has a Super Soft Feel Footbed, for exceptional cushioning and comfort.
As you will see, the design is also very lightweight.
Furthermore, the rubber outsole will ensure excellent grip on wet and slippery surfaces and is quite durable.
The uppers are the original non-adjustable bandage design, constricted of synthetic materials.
---
3
The Adilette Comfort is one of the favorites when it comes to comfort and casual, everyday wear slides.
Comfortable design is the Adilette Comfort range, which jas the core cushioned and supportive footbed.
The upper can be chosen in an adjustable or non-adjustable option in the bandage design.
There are also many color options available in this model.
The rubber sole is durable and comfortable, offering shock absorbency and underfoot protection.
---
4
The Adissage is a massaging Slide sandal from Adidas for painful and tired feet.
The Adissage is known for the nodules on the footbed, which gently massages your feet as you walk or stand.
The design also has a Quick-drying EVA upper bandage.
The Polyurethane outsole is durable and offers excellent traction.
With this design, the upper is also adjustable and has a Velcro hook and loop strap.
---
5
Water Friendly Slide Sandals
The Adilette Aqua is the perfect slide sandal for water sports, to shower with, or for the beach.
If you are looking for a good beach, pool, or water shoe, the Adilette Aqua has all the water-friendly features and materials.
The EVA outsole has Cloudfoam technology cushioning for comfort and shock absorbency.
The sandal is very lightweight and dries quickly.
The outsole offers exceptional grip on wet surfaces and is very durable.
---
6
The Adilette Shower sandal is one of their most popular ranges for shower shoes for gym and other uses.
Adidas is very well known for its superb shower sandal range, which is ideal for protecting your feet against fungus, bacteria, and harmful objects in any shower situation.
The materials are water-friendly and quick-drying, and the outsole is completely slip-resistant.
There is also a comfortable and cushioned footbed and many color options available in this range.
---
7
These two Adidas Adilette Models are comfortable and fashionable enough to wear at all occasions.
The Adilette Comfort for ladies is available in many different color options and patterns, whereas the Alphabounce is only available in black for gents.
Both sandals feature a durable rubber outsole.
The footbed is cushioned and comfortable with EVA.
The uppesr sreap consist of synthtci nmaterails.
---
8
The Adidas Boost Slide sandal comes in neutral color options and has a casual style.
The uppers are synthetic and come in neutral color options with a contrasting or matching sole.
There is a foam footbed for comfort.
The outsole is a durable rubber.
The slide sandal is easy to slide on and off, offering a regular fit.
---
9
This Comfort model form the Adilette range is adjustable for men and comes in many more color ranges for women with a patterned footbed.
The Women's slide comes in many color options with a printed footbed design.
The Men's Comfort Adilette has an adjustable Velcro strap upper.
Both sandal have a foamy cushioned footbed with a contoured design.
The sole is durable rubber and offers good slip resistance.
---
10
These lightweight and adjustable Adilette slides are designed specifically for kids.
Available in boys' and girls' color options.
There is a comfortable Cloudfoam footbed with pillow-soft cushioning.
The EVA outsole is lightweight and quite durable.
The uppers are also adjustable and offer a regular fit design.
---
Index Table: Top Rated Adidas Slide Sandals
---
---