One shoe, or rather sandal style that you can wear in so many ways and for so many occasions, is, of course, the well-known slide sandal.
The comfortable and versatile slide sandal is a sandal style that is given way too little credit, and I want to tell you a bit more about the wonderful ways in which you can use some of the best available slide sandals.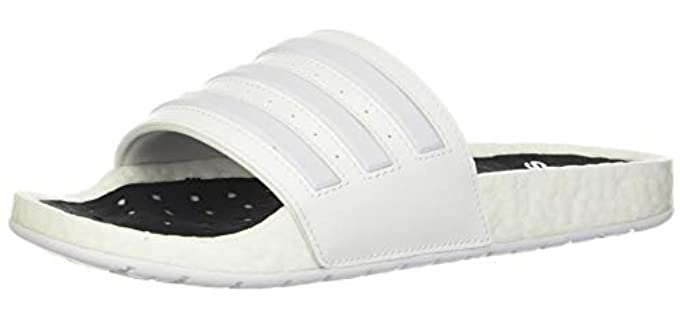 ---
What are Slide Sandals
Slide sandals have an open-toe and backless design. They will generally have either one strap or two straps that run across the shoe, with a solid or adjustable Velcro or buckle closure.
With a slide sandal, you slide your feet n and out, hence the name "slides." There are no toe loops or fasteners and no irritating thongs between your toes.
Slide sandals generally offer a wider and more roomy fit than most other sandal designs.
History – The slide sandal can be traced back to Ancient Rome and Ancient Egypt, and Greece, where they were first brought in. However, they became popular in the United States in the 19060's when more vibrant designs, colors, and cheery motifs were added. Across the world, the brand Birkenstock from Germany created one of the first fitness slides with contoured cork footbeds and buckled closure leather straps. Another German company, Adidas, also created the famous Adilette pool slide.
Uses – Slides are typically mostly enjoyed in casual settings where they are comfortable and easy-going. Many slides offer unisex designs, and today, you also get more formal style slides. Slides are mostly for beach and pool use or for lounging at home, and they have more of an athletic and sporty style to them.
---
Why Choose Comfortable Slide Sandals
Not all styles and models of slide sandals are very comfortable, and because this is a leisurewear sandal, you want it to be comfortable.
Features such as a cushioned and contoured footbed that provides comfortable support and shock absorbency system, and smooth and comfortable straps, along with a roomy fit, all make for a very comfortable slide sandal.
Most well-known brand quality slides sandals offer many comfort features in their slides.
You can use your slide sandal as a more comfortable alternative to slippers in summer or just casual wear at home. Your feet still need good cushioning and support, even from a sandal.
---
Features of a Good Comfortable Slide Sandal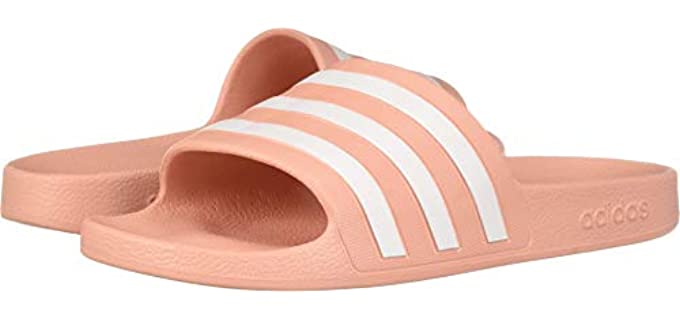 Uppers – The Uppers of the slides can consist of water-friendly foam, EVA, rubber, or plastic materials. There are also PU or faux leather and genuine leather uppers. Some models may have padded or lined uppers. The uppers can be a single or double strap with a Velcro or buckle closure.
Footbed – Comfortable slides will have a more contoured or anatomical footbed with arch support and sometimes a heel cup. There should be some form of cushioning, such as EVA, foam, or memory foam, for shock absorbency.
Outsole – The slides may have a rubber, synthetic or EVA outsole.
Colors and Options – As you will see from most of the models we have chosen, there are plenty of color options available, as well as sizes, and in some brands, wider widths.
---
Reviews: The Best Comfortable Slides
Listed below are some of the most comfortable slide sandal brands and models that you will find;
---
1
Slide Sandals for Comfort
The Dr. Comfort Kelly and Connor are two of the most comfortable slide sandal that you will find.
They start with adjustable leather uppers with Velcro closure for the perfect fit.
There are wider widths options ad plenty of sizes available.
The footbed has a Biomechanical supportive design and dual-density foam cushioning for support and comfort.
There is an integrated post and shank in the sole structure and stability.
The sandal is rated as Diabetic sandals and is also available in more colors.
---
2
Sandals for Plantar Fasciitis
The Birkenstock Arizona is one of Germany's most comfortable and well-known slide sandals.
They have leather uppers that are soft and supple with buckle closures and two straps.
The footbed has a contoured and anatomical design for cork and latex foam for cushioning support.
A soft suede lining wicks away moisture and a durable, slip-resistant rubber outsole.
The Arizona range is available in many colors and prints for men and women and wider widths.
---
3
The Oofos slide sandal is, in fact, a recovery sandal for after exercise, injury, or post-operation.
They offer a wide and roomy fit and soft spongy structure.
Oofos slide sandals are ideal because of their sole rocker design that completely takes off all pressure from your feet and joints.
The soft foam material will maintain its shape and provide plenty of cushioning.
The comfortable slides are also easy to clean and water friendly.
---
4
Slide Sandals for Flat Feet
The Vionic Kiwi is likewise a very popular sandal for comfort and more Orthopedic style slides sandal.
They have adjustable uppers with an easy Velcro closure that consists of soft suede material with a padded lining.
The footbed is cushioned and contoured with soft massaging numbs for foot pain.
The outsole is a durable TPR rubber for stability and traction.
The slide sandal is available in wider widths and more colors.
---
5
Vegan Comfort Slide Sandal
Like the popular Birkenstocks, the Cushionaire slide sandal is a more affordable option.
They have two straps with buckle closures and a roomy fit.
The sandal consists of natural vegan leather and has a genuine suede insole lining.
The footbed is well-cushioned cork, and there is an EVA midsole for shock absorbency.
The outsole offers good traction in slip resistance.
The sandal is available in a few more neutral colors.
---
6
Comfortable Slide Sandals
From Adidas, we have their water-friendly slide sandals in the Adilette range.
They have a solid single uppers strap, a synthetic material with a textile lining.
The footbed us a contoured design with soft foam cushioning for your comfort,
The footbed is called a Cloudfoam Plus footbed that is pillowy soft.
The slides are available n many styles and colors.
---
7
Sporty Comfortable Slide Sandals
The Under Armour Slide sandals are perfect for comfort.
They have synthetic and adjustable uppers with a single strap and Velcro closure.
The uppers are padded and lined for your comfort.
The footbed gas, anatomically contoured shape, and 4D,foam cushioning are similar to memory foam.
There is a shock-absorbing and durable EVA outsole with built-in durable traction pods.
The slides are very lightweight and comfortable.
More colors are likewise available to you.
---
8
The Adidas Adissage is a massaging slide sandal that provides soothing relief and comfort.
The sandal has a single strap upper that is adjustable with a Velcro closure.
The uppers strap is synthetic EVA.
There is a Combined Cloudfoam midsole and outsole and massaging nodes on the footbed for comfort.
The slide sandal is also available in more color selections.
---
Index Table: Top Rated Comfortable Slides
---
---