Whether you were born with it or where your feet have widened with age, trauma, or other reasons, wide feet mean you will need a wider fit shoe, which also counts for sandals.
However, in this article, we want to look at some of the best slide sandals for wide feet, as they are normally the best options in sandals for wide feet because of their wider fit nature.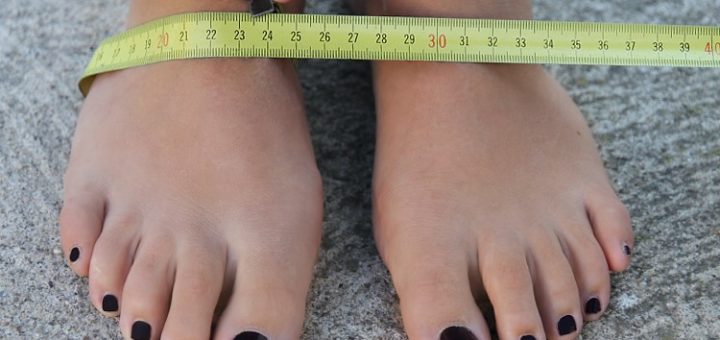 ---
Wide Feet and How They Affect You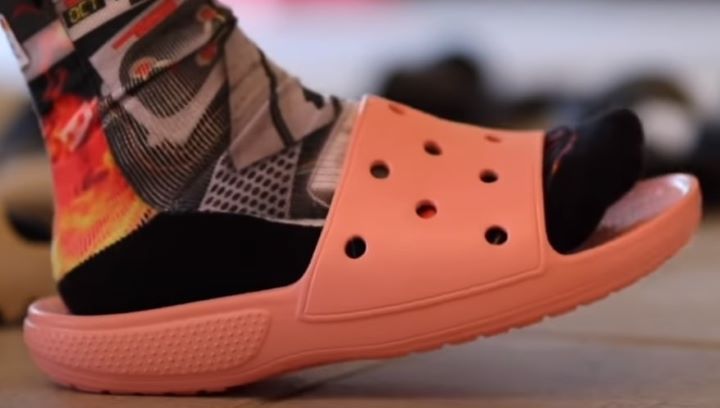 Wide feet are naturally nothing that you should be worried about, although there are some issues related to having wider feet.
But first, let us look a bit into the causes and some issues found in wider feet;
Causes of Wide Feet – Your feet may be naturally wide because of genetics, and there may also be other causes. With age, the width and shape of your feet may change. Your feet may also become wider with pregnancy. Swelling and certain foot deformities can likewise result in wider feet.
Concerns Associated with Wide Feet – Wide feet themselves do not cause any problems unless you have a very low or fallen arch which can affect the way you walk and how your feet absorb impacts. Wearing shoes that are unsupportive, too small, have a pointy toe r high heel, in turn, can cause issues. You may suffer from Bunions, Calluses, Crossover Toes, and even Hammerytoes from improperly fitting shoes and sandals.
Finding the Best Shoes for Wide Feet – I would suggest that you firstly look at shoes and sandals that offer wider width options, and look at brands that generally are known for having wider shoes and slides. With slides overall, they are generally a wider fit. It may also be necessary to measure your feet and compare their measurements with the shoes in question.
---
Making Wide Feet Appear Slimmer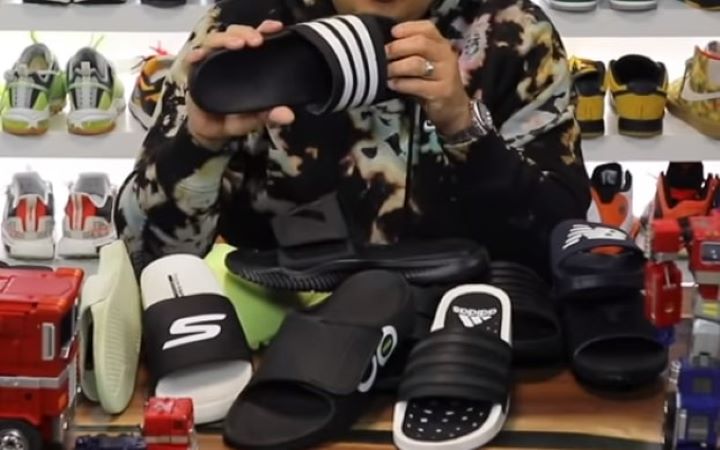 You may not have any issues with your wider feet shape, but they may be bothering you a bit when it comes to appealing.
Not all shoes and sandals are very flattering for wide feet. Thus you may want to choose options that make them look more narrow.
Generally, a sandal with a more anatomical and supportive footbed will have a slimming effect on wider feet. The slide sandal we have chosen will likewise have a narrowing effect on our feet.
Choose darker colors in sandals and slide, which in turn will make your feet look slimmer.
---
Features of a Good Slide Sandal for Wide Feet
Uppers – Most Slide sandals have single band uppers that may be adjustable with Velcro closure or that are solid. There are two strap option slide sandals with buckle or velcro closures likewise suitable. The uppers can consist of genuine or synthetic leather, plastic or rubber, and a textile or mesh lining for comfort.
Cushioning and Support – Most slide sandals for Wide feet will offer an anatomical fit and cushioning for comfort and support. You can look at EVA, Phylon, memory foam, Crosslite, and other forms of cushioning. There may also be arch support and other support and stability features.
Outsole – Most slide sandals will either have a rubber or a synthetic outsole. They usually have a lug tread for better grip and support. There are also EVA and foam option outsoles. The OUtsole should likewise offer some firmer support and be durable enough for wearing regularly.
Options – Slide sandals do come in many different colors and designs. I have included models available in wider widths for wider feet in the chosen range. Some models have adjustable upper straps to get a customizable wider fit. Remember that slide sandals in design are generally wider n width because they are usually a casual or recovery sandal type.
---
Reviews: The Best Slide Sandals for Wide Feet
In our below list, you will subsequently find some of our top favorite Slide Sandals that are truly suited to a Wider foot shape;
We hope you love the products we recommend!
So that you know, We may collect a share of sales or other compensation from the links on this page.
---
1
Slide Sandals for Wide Feet
The Kiwi slide sandal is a leisurewear sandal with a few color options.
It is available in wider widths and has adjustable uppers to get a customized fit.
The Kiwi slide has an anatomical-shaped footbed for support and EVA cushioning.
The Uppers are comfortable lined with Nubuck leather.
---
2
From Propet, we have the June and Vero Slide sandals.
They are more formal in style with genuine leather uppers and double straps.
The sandal is available in wider widths for wider feet.
They have comfortable cushioning and a supportive footbed.
---
3
Slide Sandals for Wide Feet
From Dr. Comfort, we have the Kelly and Connor slide sandals.
They are both available in wider widths and offer a roomy fit for wide feet.
The sandal has a dual-density shock absorbing midsole and a supportive integrated shank.
They have a single leather uppers strap and a foam sole.
---
4
Slide Orthopedic Sandal for Wide Feet
The Oofos Oofoam slide sandals are soft and foamy recovery sandals.
They are ideal for painful foot conditions and after exercise.
They have a soft foamy construction for plenty of cushioning.
They also offer a very wide and roomy fit, which is simply ideal for a wider foot shape.
The sole has a rocker design that takes the pressure off your feet.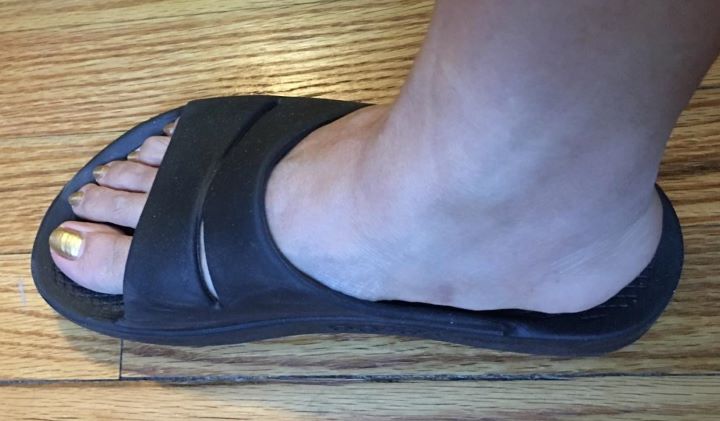 ---
5
Massaging Slide Sandals for Wide Feet
From Adidas, I have chosen the Adissage with massage nodules for comfort.
They have a wide and roomy fit and comfortable single strap uppers, so your feet will not feel cramped or under pressure.
The massaging footbed is comfortable and soothing and ideal if you have aches and pains in your feet.
There is an EVA sole, which is impact absorbing and durable, and more colors available.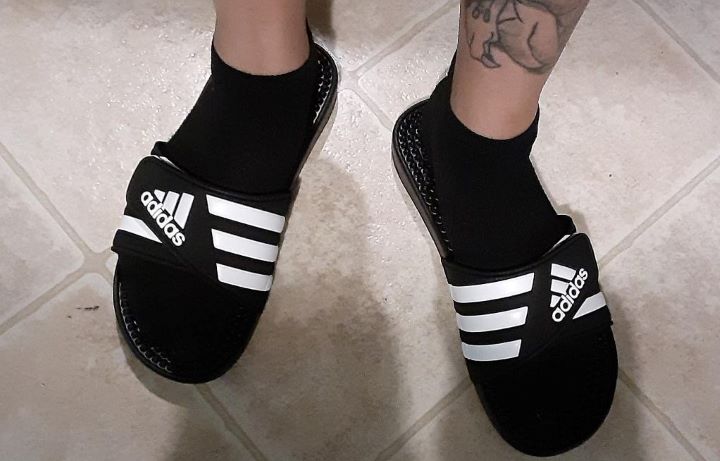 ---
6
Slide Sandal for Wide Feet
From Crocs, we have the classic slide sandal models.
The perfect water sandal for wider feet will allow you to enjoy a day at the beach or pool in style and comfort.
They come in wide widths and generally have a wide and roomy fit.
The slide sandal has soft and foamy cushioning, which will absorb impact and support your feet for comfort.
They are likewise available in more colors so that you can pick from your favorites.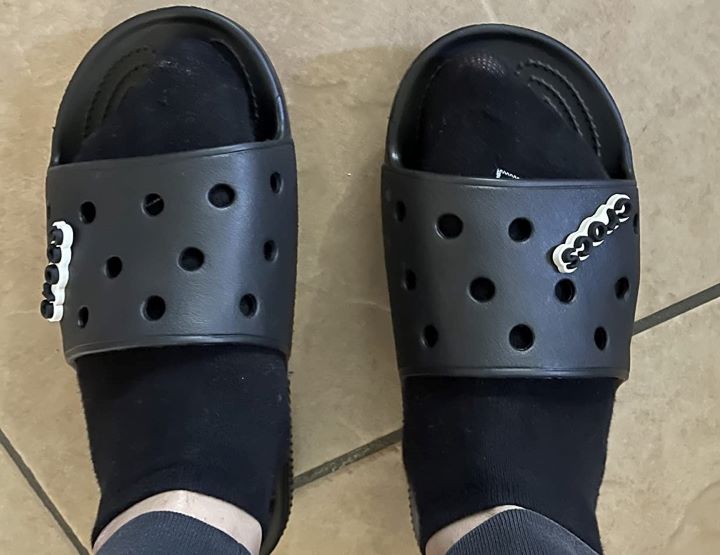 ---
7
The Birkenstock Arizona slide is available in wider width fit options.
The soft leather uppers are adjustable so that you can get a good fit.
The sandal has a cork and latex cushioned footbed and a durable rubber outsole.
There are also more colors available.
---
8
Wide Comfort Slide Sandal
The Cushionair slide sandal has soft leather uppers that are adjustable.
The sandal is available in wider widths.
The footbed has a supportive contoured design and cork cushioning.
There are a few more color options available.
---
9
The Adidas Adilette slide is a popular slide from Adidas.
It is water friendly and well-cushioned.
There is a Cloud foam cushion plus a footbed and contoured design.
The sandal has a wide fit and is available in more colors.
---
10
Sporty Comfortable Slide Sandals for Wide Feet
From Under Armour, we have comfortable wide-fit slide sandals.
The uppers have adjustable straps with a Velcro closure.
The sandal has, an EVA outsole and anatomical cushioned footbed.
There are also some more colors available.
---
Index Table: Top Rated Slide Sandals for Wide Feet
---
---