Slide sandals are an excellent choice for a comfortable casual sandal that you can wear as leisurewear or to the beach and pool. They are similar to a flip flop but have a single or more cross strap across the sole.
The best memory foam slide sandal has a memory foam footbed that provides plush underfoot comfort and cushioning.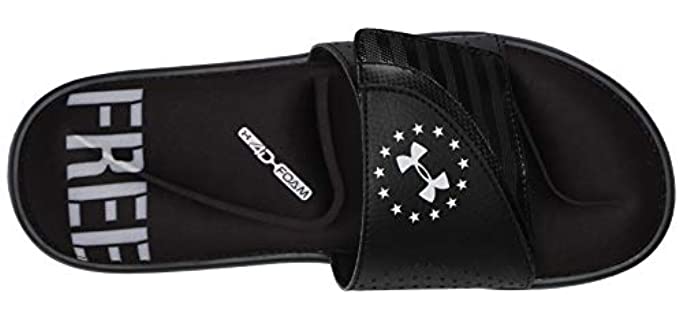 ---
---
Benefits of a Slide Sandal
Slide sandal is an extremely versatile and comfortable sandal all in all, and here is why;
Recovery Sandals – Slide sandals, especially those with memory foam or foam-cushioned footbeds, are excellent sandals to wear post-injury or surgery on your feet or legs. Most slide sandals have an adjustable strap so you can adjust the fit or are generally roomier in the toe box. This helps with swelling and when you need to reduce pressure on your feet. Plus, they are easy to slip on and off when you get out of bed. They can also be a great option in summer as a hospital shoe or slipper.
Easy Slide On and Off – The easy slip-on and off design of a slide sandal makes them that great"in-between shoe'. When you are in bed and need to go outside, barefoot in your home quickly, and need to step into the garden or outside for a while. After a shower, they are great for when you need something to step into in a hurry or eat the beach or pool in and out of the water.
Beach and Pool Sandals – Slides are just as good as flip-flops to wear to the beach. They are comfortable, mostly water-resistant, and quick, and easy to put on and take off.
Leisure Wear – Slide sandals generally have a more casual leisurely style to them, so they are best suited for leisure wear at home or in informal situations.
After Sports or Excercise Wear – The slide sandal is an excellent choice to slop into after an exercise session or sports activity. They are also great to wear after a gym or even inside the shower for protection.
---
Why Memory Foam in Your Slide Sandals
Slides sandals are comfortable leisure sandals, and having a slide sandal with a memory foam footbed is so much more comfortable and efficient.
Memory foam conforms to the shape of your feet, providing targeted cushioning and support. Memory foam also reduces pressure and absorbs impact, as well as returning energy to your feet.
Memory foam slide sandals will help with pain relief and recovery and provide much comfort and support in these leisure shoes.
---
Features of a Good Memory Foam Slide Sandal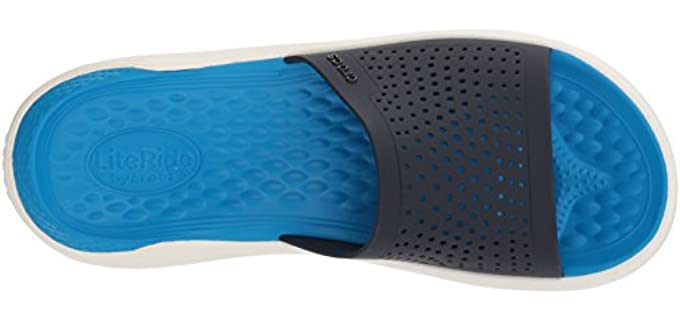 Uppers -Generally, a slide sandal will have a single upper strap. There are models where there may be two straps or more and other effects such as buckle closures or a velcro closure design. The Upper can consist of synthetic or genuine leather, textile materials such as polyester or crosslite, and other materials. The upper may be a single layer, a lined layer to wick away moisture, or a cushioned and lined layer to provide more comfort. The Upper will also give you some notion in colors depending on the brand and model of the slide sandal. Most slide sandals are designed to slide on and off with ease.
Midsole and Footbed – The Midsole may consist of a firmer layer of foam such as EVA or rubber or also consist of memory foam. Memory foam is very soft, and plush is mainly used in the footbed for comfort. Other technologies and foam layers may be employed in the footbed. There may also be a contoured or anatomical design in the footbed and a deeper heel cup for support and comfort.
Outsole – The outsole is usually a more durable rubber or may consist of EVA or other synthetic materials. Sometimes a shank is added to the sole for better stability and underfoot protection. The sole should have a patterned tread for better grip and traction.
Options – Slide sandals, depending on the brand and model, are usually available in a variety of colors as well as size options.
---
Reviews: The Best Memory Foam Slide Sandals
Below are our top picks in Memory Foam Slide Sandals;
We hope you love the products we recommend!
So that you know, We may collect a share of sales or other compensation from the links on this page.
---
1
Memory Foam Slide Sandals
The Crocs LiteRide is a memory foam slide sandal with a sporty appeal.
The Sandal consists of soft and water-resistant crosslite foam.
There is a single strap that has perforations for ventilation.
The footbed is a plush and soft memory foam design.
The outsole provides excellent grip and durability.
---
2
The Under Armour Ignite is a slip-on sports sandal with a plush and comfortable Memory Foam Footbed.
The Uppers has an adjustable synthetic leather strap with Velcro closures for a comfortable fit.
The footbed is anatomically contoured, consisting of 4D Technology Memory Foam.
The outsole consists of Re-engineered EVA materials with built-in traction pods and a slight heel for stability.
The sandal is lightweight and ideal for casual wear.
---
3
The Nike Kawa Slide is available in sizes that fit both men and women and has a memory foam footbed.
the Upper strap is synthetic and adjustable.
The sandal features Solarsoft foam in the footbed that contains memory foam to conform to the shape of your feet.
The Wavy design outsole and flex grooves allow for smooth movement and good traction.
There are also more colors available.
---
4
These are comfortable memory foam slide sandals for everyday wear.
the Skechers Start Up has a platform sole and strappy textile uppers.
The Izod is a flat sandal with a velcro upper strap and a plush memory foam padded insole.
The Skechers Strat Up model has memory foam and a Dual-Lite response cushioned footbed.
Both sandals feature a durable rubber outsole.
---
5
The Underarmour Ignite Freedom is a comfortable memory foam sports slide sandal.
The Upper consists of a soft fabric and synthetic leather material.
There is a durable and slip-resistant rubber outsole.
The Footbed has 4D memory foam and foam layers, and there is a re-engineered EVA outsole with traction pods.
The upper strap is fully adjustable for a more comfortable fit.
---
6
The Nike Slide is a sporty slide sandal with a plush memory foam insole.
The uppers strap is synthetic leather that is also padded and lined for comfort.
There are many solid or two-tone color options available from which you can choose.
The footbed is stacked with memory foam layers for plush and luxury comfort.
The footbed likewise has a contoured design for better support and arch support.
---
7
Memory Foam Slide Sandals
The Under Armour Graphic range have a plush memory foam footbed.
The uppers have an adjustable strap, and there is a rubber outsole.
The footbed has plush memory foam cushioning.
The HeatGear technology helps to regulate the temperatures of your feet.
---
8
Memory Foam Slide Sandals
The Slide Sandal from Nike also features a plush memory foam cushioning footbed.
The uppers offer a standard and comfortable fit.
There are flex grooves in the sole for natural striding.
More colors are likewise available to you.
---
9
Slide Sandal with Memory Foam
The Voya range is also great memory foam sandals.
They have a slide-on style for easy on and off.
The footbed has a soft and moldable foam for your comfort,
The uppers are leather and textile.
There are also a few more colors available to you.
---
10
Memory Foam Slide Sandals
The Uppers are polyester and elastane.
There is an anatomically contoured memory foam cushioned footbed.
The EVA outsole is Re-Engineered and has durable traction pods.
There is a sublimated graphic on the footbed.
---
Index Table: Top Rated Memory Foam Slide Sandals
---
---