Having flat feet means having a very low or completely dropped arch type.
You will need proper footwear for flat feet, which helps prevent foot conditions and issues associated with this arch type.
Sandals are not generally considered the most comfortable or supportive footwear type, especially for flat feet.
Thus, we have chosen Vionic sandals for flat feet, a brand that offers many features and technologies for support and comfort.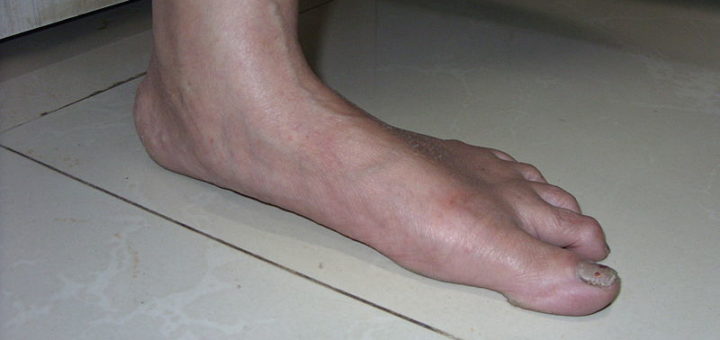 ---
---
What are Flat Feet and the Issues Associated with Flat Feet
People with flat feet either have a lower than usual or a collapsed arch type.
The foot is flat on the ground, with little or no space between the mid-foot and floor areas.
Having flat feet means that you have a very low or now arch that can cause many issues because you do not get the right amount of support for your feet, and there is very uneven weight distribution.
People may be born with flat feet or develop over time for several reasons, such as foot conditions, injuries, or other medical conditions.
Obesity and pregnancy, where extra weight on the feet also contribute greatly to having a lower-than-normal arch and, in turn, flat feet.
Flat feet can cause some issues such as;
Plantar Fasciitis – Mostly, persons with a low arch or flat feet will suffer from plantar fasciitis, inflammation in the tissues connecting the toes to the heel. These tissues support the arch, and with a lack of arch, they can also become strained and damaged.
Uneven Weight Distribution – Excess weight will be passed to the heel and balls of the feet when there is a lack of arch and weight is distributed unevenly. This means that you have much more strain on your feet muscles and the muscles in your legs, knees, ankles, and hips. This can all lead to muscle pain and fatigue.
Instability – Because of the lack of proper arch support and weight distribution, you will also find that you are likely more unstable on your feet, and your feet are also generally wider in shape.
---
What to Look for in Plantar Fasciitis Shoes and Sandals
Here are some tips on how to choose sandals for flat feet;
Width – Flat feet are generally wider than normal, and you will need much more toe room or a wider width sandal design.
Arch Support – You will need arch support specific to a low arch. Luckily finding sandal and shoes for low arches are much easier than for higher arch types.
Cushioning – Cushioning in the footbed is required to absorb shock and provide comfort. However, look for firmer midsole cushioning and a comfortable contoured footbed design.
A Rigid Sole – A more rigid sole design is advised; it should only flex in the ball of the foot area.
Stability and Motion Control features – If you have flat feet and tend to Overpronate, which means your feet roll inward excessively, which is also common in a person with flat feet, you will need stability or motion control features. A stability feature in a sandal is ideal for light to moderate overpronation, whereas motion control features are required for excessive overpronation.
---
Features of a Good Vionic Sandal for Flat Feet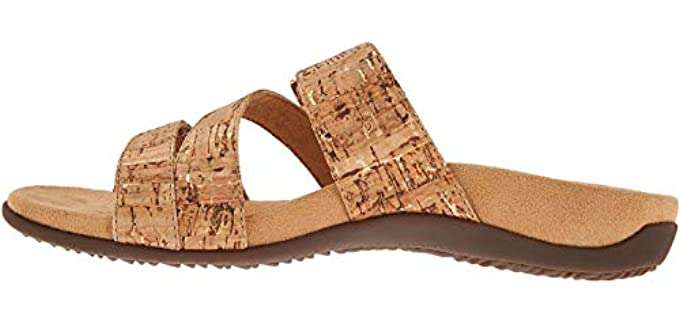 Uppers – Most Vionic shoe models have genuine leather uppers in various styles, such as flip flops, slide-on, and strappy or sporty styles. Some models offer adjustability in the uppers, and some have textile-lined and padded uppers. Some models may also have textile or synthetic leather uppers.
Support and Comfort Features – The footbed of most Vionic sandals will offer a contoured design with EVA cushioning in the midsole, and most models have Vio Motion Support. Vio Motion support employs three layers of comfort with arch support.
Outsole – Vionic sandals generally have high traction and grip rubber outsole or synthetic outsoles, depending on the model.
Options – Most Vionic sandal models are available in a wider width for flat feet and extended sizes. They also usually offer some color variations you can choose as needed.
---
Reviews: The Best Vionic Sandals for Flat feet
Here are some of the top favorite Vionic Sandals that are ideal for Plantar Fasciitis;
---
1
Here we have two sandals from Vionic for Plantar Fasciitis and Flat feet ideal for all occasions.
The Vionic Canoe has adjustable leather uppers and a podiatrist design cushioned and supportive footbed with a rubber outsole.
The Vionic Amber has synthetic uppers with a cork and microfiber wrapped footbed and adjustable hook and loop closure.
The Amber likewise provides three layers of Vio Motion and arch support for flat feet.
Both sandals are available in more color selections.
---
2
Flat Feet Flip FlopSandal
The Vionic Tide is a flip-flop sandal for flat feet.
The sandal has leather uppers straps and a durable rubber sole.
The footbed is EVA with a podiatrist design for optimal support and stability.
There are also more colors available.
---
3
The Vionic Kiwi is a comfortable slide sandal for leisurewear if you have flat feet.
There is a single uppers strap, and the sandal is easily put on and removed.
They have a synthetic sole and nubuck leather uppers.
The Vio Motion footbed offers to cushion support and arch support for flat feet.
The footbed consists of a lightweight and firmer EVA foam.
---
4
Something more on the formal side is the rest of Skylar and Ludlow's sandals which are leather.
The Ludlow has two leather straps and buckles closure details with a leather-wrapped EVA cushioned footbed.
Skyler has triple straps with adjustable closures and a Bio Motion layered support footbed and cushioning with EVA.
Both sandals can be obtained in more color variations.
---
5
Another excellent Flip Flop model from Vionic is their Wave model.
The flip-flop sandal has a neoprene toe post and a durable rubber sole.
There is a Vio Motion support footbed and cushioning.
The footbed is also biomechanical and podiatrist-designed for optimal support, cushioning, and alignment.
Furthermore, there are some colors from which you can choose.
---
6
Some more stylish thong sandals from Vionic for flat feet are the Elijah thong for men and Kirra Thong.
The Elijah has leather uppers, and the rest of Kirra has synthetic leather uppers, and both are available in neutral colors.
The Elijah features an EVAcushionedg footbed with a leather cover, while the Rest Kirra has a biomechanical design cushioned and supportive EVA footbed.
Both sandals have a durable rubber sole.
---
7
Slide Sandals for Flat Feet
The Vionic Kiwi slides are perfect for flat feet.
They have adjustable uppers for a comfortable fit.
The Kiwi slides are available in a few color options.
They have a cushioned and supportive footbed and a durable rubber outsole.
---
8
These are flip flops for flat feet.
The footbed is fully cushioned and contoured for stability and support.
The uppers are leather and synthetic,
There are also a few more neutral colors available.
The rubber outsole is durable and supportive.
---
9
The Vionic Tide Rider and Aloe are excellent Flip Flop designs for flat feet.
They both have a cushioned and supportive footbed for stability and shock absorbency.
The uppers are leather and textile for comfort.
There is a durable and high traction rubber outsole.
---
10
These are two slide sandals from Vionic that are ideal for flat feet.
They have leather and textile uppers and a durable rubber outsole.
The footbed is a podiatrist-designed for optimal support and cushioning.
There are also more color options available.
---
Index Table: Top Rated Vionic Sandals for Flat Feet
---
---