Flat feet are not a condition. It's more of a foot shape that you may have been born with or developed with time. Now, there are many reasons why you may have flat feet, and you may suffer from pain or certain issues because of your flat feet. Or you may not have any issues with your flat feet. Though, when you have flat feet, you must have shoes that offer proper arch support and cushioning for your feet to prevent future issues.
In our article today, we will be looking specifically at Skechers sandals for flat feet. Skechers sandals provide a supportive footbed with proper cushioning and a more comfortable and roomy fit for flat feet.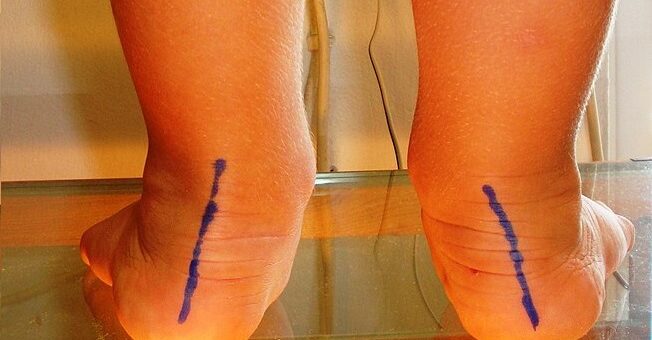 ---
---
Flat Feet Issues
Having flat feet may not cause you any problems. However, they are individuals that do suffer from some issues that are caused by flat feet;

Heel Pain – When you have flat feet, you lack arch support, which means when you walk or run, there is a harder impact and pressure, which especially impacts the heel of your foot. He'll paint all the conditions. Plantar Fasciitis is mainly caused by having flat feet or by overpronation, which we will also discuss.
Overpronation – Overpronation occurs when your feet roll inward excessively as you walk or run. With natural pronation, your feet roll inward slightly; with overpronation, they roll inward excessively. People with flat feet are much more likely to overpronate than those who do not.
Ball of the Foot Pain – There may also be more impacts and shock absorbed by the foot area due to having flat feet, which can cause problems such as metatarsalgia or Morton's Neuroma.
Improper Alignment and Joint Pain – Having flat feet may put your body off balance, as your feet cannot properly align your weight or impact. Thus, you may suffer from other issues, such as knee pain, back pain, or hip pain, because of improper body mechanics. Mechanics.
Wider Feet – Lastly, individuals who have flat feet will also tend to have a wider footage shape. The wider feed may make it difficult for you to find proper shoes and sandals, and wearing shoes or sandals that are too narrow can lead to issues such as hammer toes and bunions.
---
Sandals for Flat Feet
When looking for the best sandals for flat feet, it is important to first look at the fit. Sandals for flat feet should have a wider and more roomy fit, especially in the toe box area. The sandals need to have a supportive and well-cushioned foot bid. And the footbed needs to support the arches of your feet fully.
You can also look for sandals with large stability features to help you balance and proper alignment, especially if you tend to Overpronate.
---
Features of a Good Skechers Sandal for Flat Feet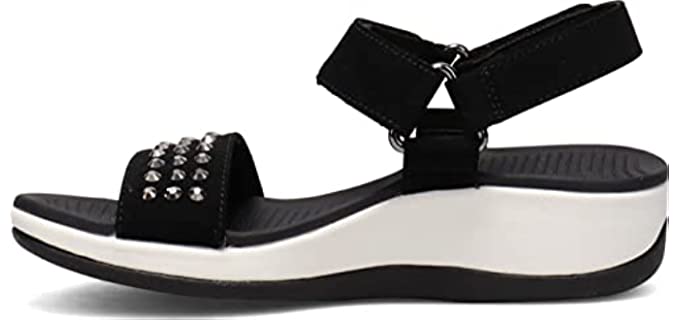 Uppers – Skechers sandals generally have a wide and drew me fat, and they are also available in wider width fits. Skechers sandals can have leather, synthetic leather, or textile uppers. They will mostly have adjustable uppers, allowing you to adjust the fits of your sandals comfortably.
Support and Cushioning – Sketches sandals, do you have a supportive and well-cushioned footbed, which also brings much to the brand and the sandal model that you select? They usually use either memory foam Goga Mat or luxe foam cushioning. Most of these sandals have a more contoured and supportive footbed, which helps support the arches of your feet.
Outsole – The sandals may have either a rubber or an EVA outsole, offering good traction and slip resistance.
Option – Depending on the specific model, more colors may be available, wider width fits, and more sizes.
---
Reviews: The Best Skechers Sandals for Flat Feet
Our review section has some of our favorite Skechers sandals for flat feet.
---
1
Here I have chosen 2 sandals from Skechers from their arch fit range.
The sandals have an arch-fit contoured footbed, which is podiatrist certified to support your feet, which is ideal for flat feet.
The sandals have fully adjustable uppers and are comfortable, athletic, and stretchy fit.
They are well cushioned for flat feet to absorb impact.
The sandals come in a few color options and have a thick, durable rubber outsole.
---
2
The Reggae and the Mission sandals are two more sandal models from the Orchard range.
Both sandals have an athletic style, and they have adjustable uppers.
They have leather and synthetic uppers that are lined to wick away moisture.
The sandals have a durable high-traction rubber outsole.
An arch-fit insole is well-cushioned and supports the arch on flat feet.
---
3
The undergo and the go walk sandals from Skechers are comfortable, athletic sandals with soft textile uppers.
The sandals have comfort, and pillar technology under your feet, which reacts to every step you take.
There is lightweight Ultra go cushioning and the footbed is more contoured to support the arches of flat feet.
The sandals are available in more colors, from which you can choose.
---
4
Here we have two stylish sandal models from Skechers; the arch fits Sunshine and the Arch Fit Impactor.
Both these sandals feature the arch-fit contoured footbed that supports the arch of your foot, which is ideal for flat feet.
The sandals have adjustable uppers and a roomy and wide-toe box fit.
There is a durable and high traction Eva and rubber outsole.
More colors are available in the men's sandal model from which you can choose.
---
5
Flat Feet Fisherman Sandals
These are two closed fisherman's style sandals from Skechers with suede and leather uppers.
The sandals feature a softer and more comfortable luxe foam footbed.
They have a durable and high-traction outsole ideal for indoor and outdoor use.
The sandals are adjustable and available in wider widths for flat feet.
You can easily choose from a few neutral colors that are available.
---
6
The Louden and the woman's sporty sandals are also ideal for flat feet.
The sporty sandal for women has soft stretch fabric uppers. And it's synthetic heels slingback strap.
The sporty sandal for women has an odd comfort footbed that supports flat feet.
The men's sandal model has a more relaxed fit design and a roomy and comfortable fit.
Likewise, the main sandal model has fully adjustable uppers and a supportive, shock-absorbing midsole and footbed.
---
Index Table: Top Rated Skechers Sandals for Flat Feet
---
---