Achilles tendonitis is a painful injury of the Achilles tendon, which can cause pain in the muscles at the back of the leg and in the ankles. Mostly for Achilles tendonitis, you would need to wear either an athletic shoe, an Orthopedic shoe, or a shoe with a higher top to support your ankle.
However, there comes a time when we need to wear sandals for summer or warmer conditions. Skechers sandals for Achilles tendonitis or ideal as they offer the perfect features and fit to support your ankle and cushion the heel area to reduce tension on your Achilles tendon.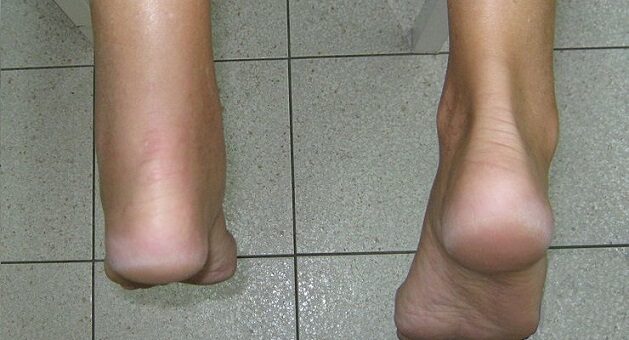 ---
---
Achilles Tendonitis Symptoms and Causes
So firstly, as we have mentioned, Achilles tendonitis is an overuse injury of your Achilles tendon. Your Achilles tendon is the band of tissue that connects your cough muscles at the back of your lower leg to that of your heel bone.
Achilles tendonitis occurs most in runners, significantly when they have suddenly increased the intensity all the time of their training.
Mostly Achilles tendonitis can be treated relatively simply at home just by wearing proper footwear and taking a break and using some self-care medication and methods.
Symptoms – Achilles tendonitis pain can store as mild pain in the back of your leg, which will radiate to the ankles and the heel. The pain can become more severe, and you may have tenderness or stiffness in the area.
Causes – Achilles tendonitis is generally caused by repetitive and more. And the more intense strain on your Achilles tendon or the tissues that connect to the Achilles tendon. When you walk, run or jump, and push off your toes, there is much strain on your Achilles tendon, which can lead to Achilles tendonitis. On the other hand, your Achilles tendons also tend to become weakened with age. So taking part in sports suddenly, or deciding to run suddenly when you are older, may cause strain on the Achilles tendon, which can lead to the condition.
Risk Factors – Risk factors for Achilles tendonitis include, as we have said, age, which causes the Achilles tendon to the weekend. Achilles tendonitis is also more common in men. Physical problems such as having a flatter arch and a lack of arch support may also increase your risk of getting the condition. Then again, your choices in training, the intensity, and the way you train may also lead to Achilles Tendonitis.
Complications – You can easily treat the condition at home by using ice or heat on the painful area or anti-inflammatory medications. You will need to take a break from the activities that may have caused the condition in the first place. One of the. The best way to treat and prevent Achilles tendonitis is to wear proper footwear.
Prevention – Prevention is always better than cure, and to prevent Achilles tendonitis, there are a few steps that you can take. Try to increase the intensity and the time of your training sessions or run gradually to reduce strain on the Achilles tendon. Make sure you stretch before you exercise to warm up the muscles, and keep the tendons. Keep in mind, as you age, that the Achilles tendon does become weakened. Lastly, proper footway even when you wear sandals, especially when taking board in sports or athletics.
---
Sandals for Achilles Tendinitis
As I have seen from my research, a rocker outsole is one of the main characteristics of shoes and sandals for Achilles tendonitis. What I love about most of the sandals from Skechers is that many of them have a rocker-style outsole.
Then again, you want to sand all that is a secure back strap that offers adjustability on the uppers. Look for a sandal that supports your foot's arch and has plenty of cushioning, especially in the heel area.
---
Features of a Good Skechers Sandal for Achilles Tendonitis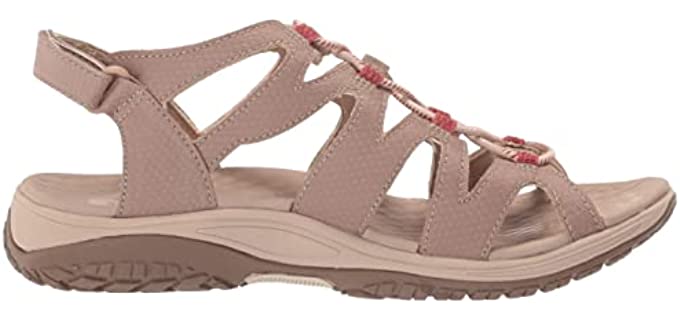 Uppers – Most Skechers sandals will have fully adjustable uppers, so you can get the perfect fence. They may have textile mesh leather, synthetic leather, or a jersey knit upper texture.
Footbed – Skechers sandals use various cushioning and support systems. Most of their sandals will feature the supportive luxe cushioning system that has a higher density than most other cushioning systems. Some sandals may have EVA or memory foam cushioning. Most Skechers sandals will have a more supportive and contoured footbed.
Outsole – Skechers sandals generally have either a rubber or an EVA outsole. Some models may have a rocker-style outsole or a thicker platform-style outsole.
Options – You may find Skechers. and wider with selections. More sizes and sometimes more color options. sandals
---
Reviews: The Best Skechers Sandals for Achilles Tendonitis
Our review section has some of the best available sandals for Achilles tendonitis from the brand Skechers.
---
1
Achilles Tendonitis Sandals
I have chosen the two casual Skechers sandals or ideal for Achilles tendonitis.
Firstly, the sandals have a supportive back strap which will help to give stability to the Achilles tendon.
They have an odd support cushioned footbed and a well-cushioned heel which will reduce impacts on the Achilles tendon.
The sandals have fully adjustable uppers to get the perfect fit.
The outsole is a durable and high-traction rubber that offers excellent slip resistance.
---
2
Achilles Tendonitis Sandals
The casual sandal models from Skechers are sporty in style with a closed back, which is ideal for Achilles tendonitis.
The women's model has a Jersey net upper, while the men's model has a leather upper with a fabric lining.
The men's model sandal features a luxe foam footbed that is soft and will absorb impact, while the woman's model sandal has a yoga foam footbed.
The sandals have a thick, durable outsole and a platform style.
---
3
Achilles Tendonitis Sandals
Yeah, we have two fishermen styles and models from Skechers, one with suede leather uppers and one with regular leather uppers.
Both sandals have a closed-toe design and adjustable back straps, which are ideal for Achilles tendonitis.
The sandals have a cushioned and contoured footbed that will support the arches of your feet and provide good shock absorbency.
The sandals have a durable and high-traction rubber outsole for indoor and outdoor use.
They are both available in some lovely neutral color models.
---
4
Sandals for Achilles Tendonitis
The Skechers Arch Fit Range offers excellent support and cushioning for Achilles tendonitis.
The sandals have an arch-fit contoured footbed and an insole system that is podiatrist certified to support the arch and provide cushioning, which can help with issues such as Achilles tendonitis and plantar fasciitis.
Both these sandals feature stretchable textile uppers, which are comfortable and offer a more adaptable fit.
They have a durable rubber outsole that will ensure good traction on wet and dry surfaces.
The sandals are available in more colors, from which you can choose.
---
5
Achilles Tendonitis Sports Sandals
The sketches on the Go Flex and Go Walk sandals are more flexible sandals for walking and outdoor excursions that are also ideal for Achilles tendonitis.
They have soft and flexible uppers that are fully adjustable and a heel strap to support the Achilles tendon.
The sandals have ultra-go cushioning and footbeds, and comfort pillar technology under your feet, providing good shock absorbency.
The outsole has a dual density which absorbs shock and reduces tension on the Achilles tendon.
---
6
Achilles Tendonitis Sandals
Two more lovely sandals from Skechers have the ideal Achilles tendonitis features.
As you will see, both sandals have a closed back strap which helps to support the Achilles tendon.
The sandals have soft and flexible textiles, swayed uppers lined for comfort and are fully adjustable to get a more comfortable fit.
They are generally roomy, relaxed, and fit with a wider toe box.
The sandals have a luxe foam footbed and a supportive midsole.
You can likewise choose one of your favorite colors and sandal models.
---
Index Table: Top Rated Skechers Achilles Tendonitis for Achilles Tendonitis
---
---