Achilles tendinitis is a very painful condition for which you need shoes that offer proper support.
Most shoes with a snug heel collar or longer-length cut are ideal for Achilles tendinitis.
On the other hand, what about sandals? There is not much provision in sandals, especially Flip flops, for Achilles tendinitis.
That is why we went and looked at some other great features that are especially prevalent in flip flops for Achilles tendinitis.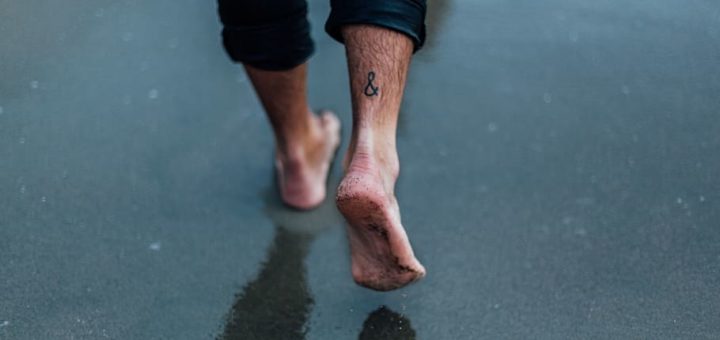 ---
---
Achilles tendinitis Symptoms, Causes, and Risk Factors
Achilles tendinitis is an overuse injury of your Achilles tendon, which is the band of tissue connecting your calf muscle at the back of your leg to your heel bone,
Achilles tendinitis is more prominent in runners that have suddenly increased the pace of their runs or sportspersons that have changed their routines and increased the pace.
You will also find older individuals that stiffer from this condition because they decided to start a new activity or exercise and do not practice regularly enough.
These are the main reasons for the condition. However, there are some other risk factors.
Symptoms – Symptoms of Achilles tendinitis include a mild ache or pain in the calf and heel area. The pain may worsen with time and be more aggravated after exercise or running.
Risk Factors – Older men are more likely to develop Achilles tendinitis. People with physical issues such as flat feet and that are obese are also at greater risk. Certain medical conditions, medications, and training choices may likewise increase your risk for this condition overall.
Prevention and Treatment – You can prevent Achilles tendinitis by only gradually changing or increasing the intensity of your runs and exercise routines, stretching daily, and keeping your calf muscles strong. Using proper footwear that supports and cushions your heels and ankles will help prevent the conditions and is ideal for treating Achilles tendinitis.
---
Choosing Shoes for Achilles Tendinitis
Well, with closed-style shoes, it is quite easy to select Achilles' tenon support and stability. However, with sandals, especially flip flops it becomes more tricky.
I would advise you to select a flip flop with secure fitting straps or a toe post in which your feet will not slide from side to side easily.
The footbed needs to support your arch and cushion your feet, especially in the heel area of the flip flop, for Achilles tendonitis relief and prevention.
A flip-flop design with a deeper heel cup is also quite ideal, as it provides better stability and support for your heel and ankle as a result.
---
Features of a Good Flip Flop Sandal for Achilles Tendinitis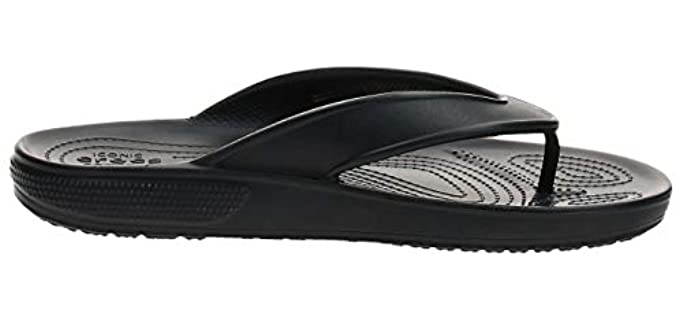 Uppers – Flip Flops generally have a toe post upper design that fits between your toes, with thin or thicker straps. They can consist of leather, rubber, synthetic leather, plastic, or canvas materials, with or without a textile lining.
Footbed – Flip Flops for Achilles Tendinitis need to have a slightly more supportive footbed in terms of protecting the Achilles Tendon. Thus, it would help to consider a more anatomical shaped footbed for better alignment and support, with a more stable heel and heel cushioning. Cushioning in EVA, memory foam, and other foam forms is ideal for shock absorbency and comfort. Likewise, you can look for a lined footbed that will help absorb and wick away moisture from your feet t keep them dry and prevent slipping.
Outsole – A good material for the outsole will be rubber or EVA a strong foam. Look for a slip-resistant tread that offers a good grip and traction. You do want proper balance and traction when you have Achilles tendinitis, as you do not want your ankles to have a chance to straining or a sprain, and you want them kept in a proper position. Slipping in your flip-flops can, in turn, damage the Achilles tendon and worsen the condition.
Options – As you will see from the range of flip flops that we have chosen, there are some color options, as well as size, and sometimes wdth options available, which all depend on the specific brand and model.
---
Reviews: The Best Flip Flops for Achilles Tendinitis
In our list below, we specifically show you some of the most sought after flip flops for Achilles Tendinitis;
---
1
Achilles Tendinitis Flip Flops
The Vionic Tide is a comfortable beach-style sandal ideal for Achilles tendinitis.
It has a biomechanical design footbed that provides excellent stability and support,
The deeper heel cup is ideal for Achilles Tendinitis, as it cradles the heel in a better alignment and provides stability.
There are also a few more color options available to you.
---
2
Achilles Tendinitis Flip Flops
The Footmindres Baltra flip flop sandal is another favorite for Achilles tendinitis.
They have anatomical support, footbeds, and excellent arch support.
The cushioning helps to absorb shock and is quite comfortable.
These are Orthopedic style supportive flip flops.
---
3
Achilles Tendinitis Support Flip Flop
From Teva, we have the Voya, which is also ideal for Achilles tendinitis.
They are supportive and water-friendly flip flops with textile uppers,
There is a mesh footbed that is cushioned and nd molds to the shape of your feet.
A few more color options are likewise available to you.
---
4
The Collin and Shannon are the perfect casuals and supportive flip flops for Achilles tendinitis.
They have a dual-density midsole for cushioning ad an integrated post and shank.
There is a durable rubber outsole and comfortable uppers.
Extended sizes and widths are available.
---
5
Flip Flop Sandal for Achilles Tendinitis
The Spenco Yumi flip flops are also perfect for Achilles tendinitis.
They have a compression-molded EVA midsole and a comfortable lined footbed, which wicks away moisture and keeps your feet dry.
The uppers are synthetic and comfortable, with a design that will not cuase friction.
The slight heel design makes them ideal for Achilles' Tendinitis, as they will support your Achilles tendon and provide stability.
---
6
Orthopedic Achilles Tendinitis Flip Flops
The Olukai Ohana Flip Flops are similarly perfect for Achilles tendinitis.
They are water-resistant and perfect for beachwear.
A contoured drop-in footbed for stability and support, with comfortable cushioning.
The lug outsole ensures superb grip on most surfaces, which will keep you stable on your feet.
---
Index Table: Top Rated Flip Flops for Achilles Tendinitis
---
---