With so much to manage when you have diabetes, such as checking your blood sugar levels, making sure your food is healthy, finding time to be active, taking medicine, and going to doctor's appointments, the last thing that you may think of is your feet.
However, more than half of people with diabetes have some or other form of nerve damage, which mostly affects their feet and their legs. A detrimental effect on your feet, especially if you lose feeling in your feet because of nerve damage. One of the best ways to help when you have feet affected by diabetes is obviously to wear proper footwear that protects your feet. However, when it comes to sandals, it may be a bit more challenging.
So in this article, I want to introduce to you Skechers sandals for diabetics that are comfortable and adjustable and that will provide. Excellent underfoot protection.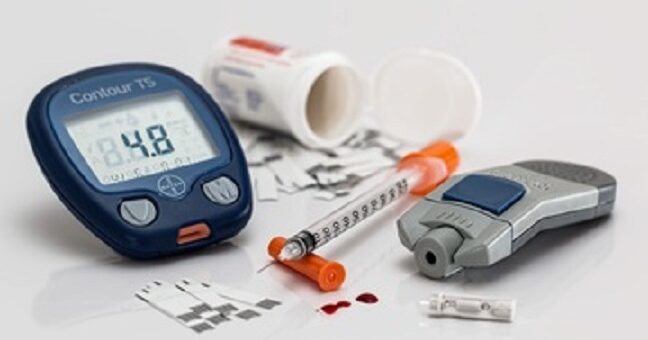 ---
Why You Need Proper Shoes and Sandals
So why do you need special shoes or sandals if you have diabetes? Well, firstly, if you have nerve damage from diabetes, and you have no feeling in your feet, you will need shoes that will provide protection, as you will not feel an injury. It would help if you also had shoes that will protect your feet against forces, which can cause damage to the skin and can cause soreness and ulcers.
Generally, wounds in patients with diabetes will. Heal very slowly, because they have poor circulation. The condition of neuropathy also reduces the ability of your nerves to yield and sense damage to your feet at. This means that many foot problems go unnoticed and unaddressed, which can cause sores and wounds, ulcers that may become infected, and that given eventually lead to gangrene.
There is also the risk of swelling in your feet for which you will need a shoe or sandal, which can accommodate for this.
So all in all, you need a shoe that will protect your feet, not cause any pressure or friction on your feet, and will provide good support and comfort.
---
How Diabetes Affects Your Feet
But let us also look at how diabetes can affect your feet. Now, there are a few other conditions and issues that diabetes can cause, which all affect your feet;

Neuropathy – We start with diabetic neuropathy, or, as it's known, peripheral neuropathy, which causes damage to the nerves in your feet. This will result in you having pain, numbness, burning or tingling feeling in your feet, and even completely losing feeling in your feet. This can be dangerous because you can suffer an injury without feeling it, and you will also not feel if something is hot or cold.
Blisters – Did you know that diabetes can increase your risk of blisters in your feet in several ways? First of all, if you have neuropathy, you will not know when your feet are being injured when your shoes don't fit, or when they cause friction on your feet. Some people with diabetes also develop a condition called Bullous Diabetic Corum, which refers to the spontaneous formation of blisters. Blisters may become infected and cause much pain. They can also increase your risk of infection that may spread throughout your entire body.
Ulcers – With the combination of poor blood circulation and nerve band damage, you may not notice ulcers and sores on your feet until they become quite severe. Weak circulation can slow their healing. And if left untreated, ulcers can severely damage your feet and become badly infected. They can make walking painful and using shoes and socks can also intensify the symptoms of your ulcers.
Calluses – A callous is an area of hard thickened skin sounds. Large calluses on your feet can make it hard for you to walk, and it can also change the way how your shoes fit. The biggest risk with calluses is that they can become ulcers, and they can become infected. So it is important to keep them clean and to remove them when necessary.
Infections – Untreated ulcers and sores on your feet can quickly become infected when you have diabetes. The infection can split, split your bloodstream, it can damage organs, and it also can endanger your life. Sometimes there may be tissue death, which can lead to Gangrene, which means there may have to be an amputation.
---
Features of a Good Skechers Sandal for Diabetics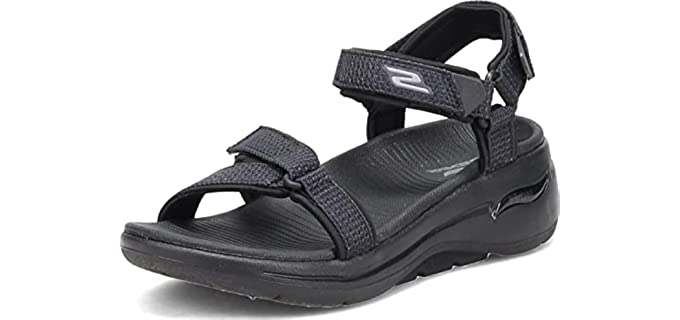 Depth – Look for a shoe or sandal that has an extra depth design or a wider toe box to make room for orthotics or insoles, and also that reduces pressure and friction on your feet.
Heel – It is advanced to opt for sandals that have a closed heel or a heel strap to give some lateral and rearfoot stability.
Uppers – Your sandals need to have a roomy enough toe box with comfortable and soft uppers. It is. It is advisable to get a sandal that has adjustable uppers.
Sole – Look for a sandal that is a comfortable footbed and well-cushioned midsole to protect your feet against hard impacts. The outsole of the sandals should also protect your feet from hot protruding objects and shop objects.
---
Reviews: The Best Skechers Sandals for Diabetics
In our review section, we have some excellent Skechers sandal models for feet affected by Diabetes;
---
1
Sandals for Diabetic Feet
Here we have two sporty sandals with a relaxed and comfortable fit.
They have a secure heel strap and offer good stability.
The sandal has a cushioned footbed with arch support.
The thick outsole will provide good underfoot protection.
---
2
The adjustable sandal is ideal for Diabetic feet.
They have a secure heel strap and are fully adjustable in fit.
Both sandals have a durable and high-traction rubber outsole.
The footbed is cushioned for comfort and support.
---
3
Adjustable Sandals for Diabetic Feet
The Arch Fit sandal is ideal for walking.
They have built-in arch support and are well-cushioned for comfort.
The uppers are soft and flexible and will not cause any friction.
The thicker outsole will provide ample protection.
---
4
Sandals for Diabetic Feet
These sandals are a closed style offering more protection.
They have a roomy toe box and are available in wider widths.
The sandal has soft and comfortable leather uppers.
They have a cushioned footbed.
There is a durable and protective outsole.
---
5
Sandals for Diabetic Feet
Here we have some comfortable and more flexible sandals for walking.
Both have soft fabric uppers that are adjustable in fit.
They have a supportive and well-cushioned footbed.
The rubber outsole provides good traction and protection.
---
6
Sandals for Diabetic Feet
These two models are likewise a more closed sandal design for optimal foot protection.
They have comfortable and soft uppers with a relaxed and roomy fit.
There is a soft cushioned footbed and a supportive midsole.
The rubber outsole is durable and ensures good stability.
The closed heel is ideal for lateral stability.
---
Index Table: Top Rated Skechers Sandals for Diabetics
---
---