When you have Achilles Tendonitis it is usually advised to wear a closed style Orthopedic or athletic shoe. However, in warmer weather,r you may find yourself reaching for some sandals, especially for outdoor excursions or wearing to the beach.
Though, your ankles should still be kept stable and protected especially on uneven ground.
That is why we recommend Merrell sandals for Achilles tendonitis if you are looking for something more casual and versatile.

---
Achilles Tendonitis Explained
Achilles Tendonitis occurs because of an overuse injury if the tendons connect the calf muscles at the back of the leg to the heel bone. It is mostly common in runners and athletes that have increased the intensity and duration of their routines, or in middle-aged individuals who have started a new exercise routine.
Symptoms – You may start to feel a mild ache at the back of the leg, above the heel, especially after activity. There may also be tenderness and stiffness, and more severe pain eventually.
Causes – The conditions Are mainly caused by repetitive and intense strain on your Achilles tendon.
Risk Factors – Mostly your Choices in training routines could pose a risk factor, as well as other instances such as age, physical problems, and medical conditions. Risk factors
Complications – Achilles Tendonitis may start to weaken your Achilles tendon and make it more vulnerable to tears and ruptures.
Treatment – Good exercise, stretching, and strengthening the Achilles tendon can prevent the condition and support the tendon. Over-the-counter medication and some rest can also help.
---
Sandals for Achilles Tendonitis
Merrell sandals do offer a much more stable and secure heel and ankle fit which will prevent excessive motion of the Achilles Tendon to help with the healing process.
Sandals with a shock-absorbing cushioning midsole and insole are ideal for comfort and reduce the impact on the Achilles tendon. Most Merrell sandal models also have Air Cushioning n the heel which is ideal for Achilles Tendonitis.
---
Features of a Merrell Sandal for Achilles Tendinitis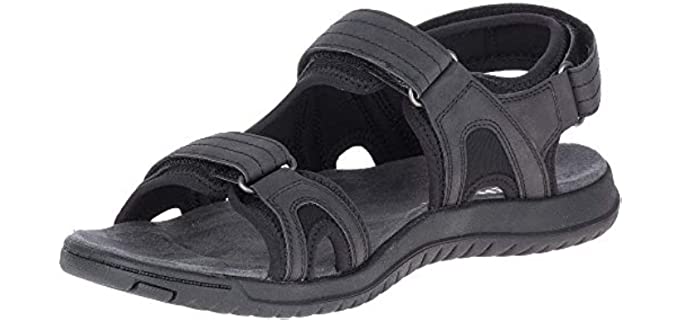 Uppers – Merrel sandals have a roomy toe box fit with a more rounded toe and fully adjustable uppers. They offer a secure back strap that you can adjust the fit to keep your heel and ankles stable. Merrel sandals will have nubuck leather, full-grain leather, or textile uppers with a moisture-wicking lining.
Footbed – Merrell sandals offer an ergonomic footbed for stability and support, lined with Microfiber to wick away moisture. They have an EVA foam cushioned midsole, or sole and some models shave a nylon stability shank.
Outsole – Most Merrell sandals will have a rubber, or Vibram rubber outsole depending on the terrains and purposes they are intended for. They offer excellent stability, grip, and slip resistance.
Options – Merrell sandals are available in different sizes and colors, however, do not offer wider-width models.
---
Reviews: The Best Merrell Sandals for Achilles Tendonitis
In our review section you will find some outstanding Merrell Sandal models with all the best features for Achilles Tendonitis;
---
1
The Bravada backstrap sandal for women offers a very secure heel and ankle fit that is ideal for Achilles tendonitis.
They have very soft and breathable mesh uppers that have a hook and loop system for adjustability in the fit.
There is an Integrated EVA foam Insole and midsole for comfort and cushioning.
The sandal features a Mountain Grade Quantum Grip rubber outsole for grip and stability.
They are available in a few colors from which you can choose.
---
[/super_product]
2
The Merrell Terran 3 Cush Lattice is the perfect sandal for Achilles Tendonitis and here is why.
There is a secure heel strap and a more contoured ComfortBase Active insole that provides good stability, cushioning, and support.
Furthermore, the sandal has full-grain leather uppers and a hook and loop closure with full adjustability.
The sandal is Cleansport NXT treated to prevent bad odors and provide natural comfort.
It has a lightweight EVA midsole for comfort and stability and a durable TPR rubber outsole.
---
3
The Merrell Alpine Cush is a Back strap design Wedge sole sandal for Achilles Tendonitis.
It is a sporty, yet slightly more formal-styled sandal for ladies.
The sandal has full-grain leather uppers with a hook and loop closure system and buckles.
There is a ComfortBase Active insole that is contoured for support and cushioned for comfort.
The EVA midsole is shock-absorbing and there is a light rubber outsole for traction.
The sandal is available in quite a few color options for your perusal.
---
4
The Terran Lattice 2 for women offers a secure fit and good underfoot cushioning for Achilles tendonitis.
It has nubuck leather uppers and a textile design with a PU coating for durability,
The adjustable straps meet at the ankles and heels fur a secure and stable fit, they are padded with neoprene for comfort.
There is an EVA footbed with a Microfiber lining for cushioning, and to wick away moisture.
The M-Select Grip outsole ensures traction on wet and dry terrains.
The Sandals are available in a vast array of bright and bold solid colors, and also a few neutral colors.
---
5
The Terran Convertible Sandal has a toe loop design and secure heel strap, perfect for Achilles tendonitis.
There are nubuck leather uppers that have an adjustable hook and loops system for a more comfortable fit.
The footbed is lined with microfiber to keep your feet cool and dry, and there is a Remember Me Foam fit bed that cradles your feet for comfort.
The Molded nylon arch shank provides good stability and arch support, which in turn, is also ideal if you have Achilles tendonitis.
There is an Air Cushion in the heel for added stability and shock absorbency for this area.
The sandal has a durable and high-traction gum rubber outsole.
---
6
The Merrell Breakwater Strap sandal is a sporty sandal for Achilles Tendonitis in men.
It is a textile sandal with woven uppers that are quick-drying and lightweight.
The uppers are fully adjustable with a hook and loop closure system,
The contoured EVA foam midsole provides good arch support, stability, and cushioning.
There is a Vibram Mega Grip Outsole with a 5mm lug tread that is ideal for trails and hiking.
---
7
The Merrell Alpine Strap Sport Sandal for men offers a very secure and comfortable fit for Achilles Tendonitis.
The Uppers consist of quick-drying polyester, with stretchable textiles and cushioning neoprene.
There is a dual back and top strap with a hook and loop closure ensuring quick and easy adjustability.
For comfort, you have an integrated EVA Foam midsole.
The rubber outsole is durable and offers very reliable traction.
---
8
The Sandspur Oak sandal from Merrell is a more formal-styled sandal for men.
The Leather uppers have a synthetic Lycra Neoprene lining for comfort.
There are dual top and back adjustable straps for you to get the perfect fit, with and easily adjustable hook and loop closure.
The sandal has a classic style and a securely closed heel for ankle support.
The M Select Grip outsole is durable and ensures excellent traction on a variety of surfaces.
---
Index Table: Top Rated Merrell Sandals for Achilles Tendonitis
---
---