Skechers offers some of the most fashion-forward and innovative shoes and accessory options that provide great style and comfort.
Besides their trendy and highly comfortable and supportive casual and work shoe ranges, they also have some of the best flip flop models.
In this article, we will specifically be concentrating on the best Skechers flip flops and what they have to offer.


---
Skechers Flip Flop Models
Skechers offers few but some of the best Flip Flop models, here are some of their top ranges;

Meditation – The Meditation range comes in a variety of designs with regular flip flops, slides, and flip flops with back straps. The Meditation range features a comfortable flip flop with a soft yoga foam sole and decorated uppers that may have rhinestones and availability in many colors.
Arch Fit – For good support I highly recommend their arch fit range flip flops. These have soft jersey fabric uppers and a supportive, cushioned, and arch-fitting footbed with a rubber outsole.
On the Go 600 – The On the Go 6000 flip flop is a sporty style flip flop sandal from Skechers. The flip flop has a three-point style webbing with mesh fabric and a contoured cushioned footbed for full support.
On the Go Arch Fit – Then there is also the similar On the Go arch fit flip flop. It is a supportive flip flop sandal designed for walking with Ultra Go cushioning and leather uppers, as well as an arch fit design and durable outsole.
Sargo – The Sargo Flip Flop is a men's model is a handsome and comfortable. The flip flop has soft woven canvas uppers and a memory foam 360 cushioned footbed, with a durable outsole.
---
Benefits of Wearing Flip Flops
Most people wear flip-flops to the beach and pool only and sometimes at home. Flip flops are generally not the most comfortable and supportive footwear, despite our Skechers flip flop range.
But besides this, there are many benefits to wearing comfortable and supportive flip flops;
Budget Friendly – Flip flops are generally extremely budget-friendly, even the more advanced models. You can have more than one pair, and because they generally go with any outfit, you can easily chop and change colors and styles.
Easy to Use – Flip Flops are the easiest design to quickly put on and take off, and you don't even have to use your hands. They are so versatile when you need something to quickly place on your feet.
Comfortable – Many Flips flops, such as the Skechers Flip Flops range we are discussing today, come with good comfort and support features for walking and leisurewear. They have cushioned footbeds and contoured support or arch support, as well as balanced and durable soles, and comfortable soft uppers webbing with quick-drying materials for water resistance. Their open design makes them a very cool and well-ventilated option for summer.
---
Features of a Good Skechers Flip Flop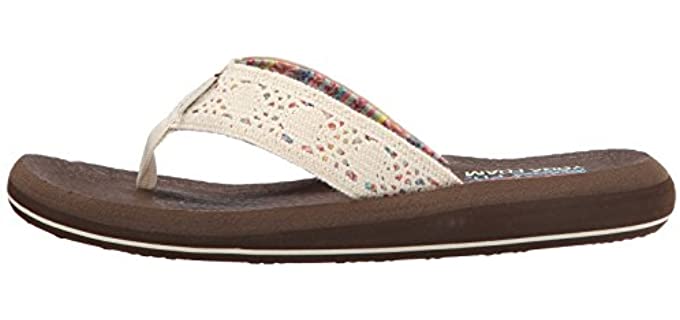 Uppers – Skechers Flip Flops come in a variety of casual and decorative designs for men and women. The uppers can be leather with a textile lining. Knit, Jersey Knit or canvas fabric materials. Some models are decorated with rhinestones and have more colorful uppers. Most Skechers flip flops offer a more roomy and relaxed fit design.
Footbed – Skechers Flip flops have an anatomical designed footbed in some models and a flat footbed in other models. Memory foam cushioning can be used, Ultra Go, energizing cushioning, EVA, or Yoga foam. There are also some models with a podiatrist-designed arch support footbed called the Arch Fit range.
Outsole – the Outsole can vary from Yoga foam ad EVA to a Flexible rubber traction outsole, or a Multi-Directional traction rubber outsole depending on the flip flop model.
Options – Most flip flop models from Skechers are available in more color selections. You also have wider width and extended size options available, depending on the specific model.
---
Reviews: The Best Skechers Flip Flops
Below are some of our top favorite flip flop sandal models from Skechers;
---
1
These are two flip flop models from the arch fit range from Skechers.
They have a synthetic sole and stretchy jersey fit uppers.
The footbed is cushioned and features the arch fit arch support system.
They are also available in quite a few more color options.
---
2
The Skechers Go Walk Five Flip Flops are cool and lightweight with a comfortable fit.
The Go Walk 5 Flip Flops have Goga Mat top cushioning and a supportive contoured footbed.
There is a durable rubber outsole in both flip flop models.
The Fabric and Synthetic leather On the Go 600 is a sporty flip flop sandal for ladies.
The Skechers On the Go 600 is lightweight with 5Ge cushioning and a Goga Mat footbed.
---
3
The Skechers Evented Rosen is a textile uppers flip flop with a synthetic sole and a relaxed fit.
The Ladies Flip Flops have an EVA sole and Multi-colored knit uppers.
They can be machine washed and air-dried.
The flip flops are ideal for beachwear and quick drying.
They are both available in more color options.
---
4
The Skechers Cobano Flip Flops offer a more relaxed and comfortable fit.
The Cobano Flip Flops have synthetic leather uppers and a synthetic sole, with a 360 degree cushioned memory foam footbed.
The Skechers GOwalk Smart flip flops for ladies have a rubber outsole and smart flex technology in the sole.
The Flip Flops for the ladies are lightweight with responsive Ultra Go cushioning and soft knit uppers.
Both flip-flops models are available in more color options.
---
5
The Pelem Emiro flip flop sandal has synthetic leather uppers and a synthetic sole, with a relaxed fit and memory foam cushioning.
The Asana Flip Flops have crochet-knit uppers a yoga foam and a memory foam footbed, along with a durable rubber outsole.
They are both available in more color options.
---
6
The Skechers Sargo Flip Flops have a relaxed fit, synthetic sole, and memory foam footbed for comfort cushioning.
The Cali Flip Flops from the meditation range have canvas webbing and a soft yoga foam footbed with rhinestones on the uppers.
Both have a durable and high traction outsole.
The flip flop sandal is available in more colors and sizes.
---
Index Table: Top Rated Flip Flops from Skechers
---
---