Merrell sandals for flat feet are comfortable and accommodating in fit, and they are more of an outdoor and athletic style sandal.
Having flat feet means you need extra support, especially arch support from your shoes and sandals. Most hiking sandal brands provide excellent stability and arch support in general for walking on uneven trails, which can also be ideal for flat feet.
Therefore, in this article, we will look specifically at Merrell sandals for flat feet that provide good orchid support and stability and are also comfortable for daily wear.

---
Flat Feet and How They Affect You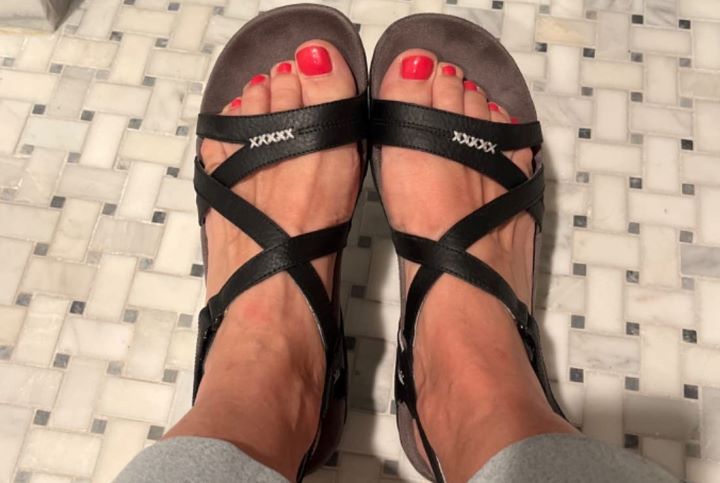 Having flat feet is not an actual condition, and many individuals who have flat feet go through their lives without any problems with this foot shape.
Flat feet can be caused by an injury, an increase in weight can cause them, other foot conditions and deformities can cause them, and collapsed arches can also cause them in your feet.
Individuals who have flat feet have, basically have a collapsed arch in their feet. The arch of your foot is the bottom part of your foot that runs between the heel and the toe. To know if you have a flat foot or flat feet, you can wet your feet and stand on concrete to show the shape of your foot in the print. When you have a normal arch, there will be a slight space on the insides of your feet between the toes and the heels, with a small line for the outsides of your feet. When you have a higher-than-normal arch, you will only see an imprint of the toes and the heels on the other hand, if you have a flat arch, you will see an imprint of your entire foot.
The arch area of your foot distributes the weight of your entire body evenly on your feet. It also absorbs impact and spreads it evenly throughout your foot. When you lack arch support, the impact can be felt in certain areas such as the heels, the balls of the feet, and the sides of the feet, which can cause damage and improper alignment, which in turn can lead to pain and discomfort in other areas of the body, such as your knees, your back, and even your hips and ankles.
Flat feet can also lead to other issues, such as Planter fasciitis or Overpronation. Plantar Fasciitis is a painful condition causing heel pain because there is damage or inflammation in the Plantar Fascia, a band of tissues running from the heel to the toes at the bottom of your feet. With normal Pronation, your feet generally roll inward slightly as you land when walking or running. With Overpronation, they roll inward excessively towards the ankles.
---
Choosing Shoes and Sandals for Flat Feet
You can look at a few things in a shoe and a sandal if you have flat feet to help support the arch of your feet and make the fit more comfortable.

Arch Support – Arch support is one of the most important features you need in a shoe or sandal if you have flat feet, as flat feet completely lack any form of arch support. Most sandals, such as Merrell sandals, will have a contoured or naturally curved footbed that is perfectly fine to support the arches of your feet.
Stability – Especially when you overpronate, opting for a sandal with more stability features is important. You want something that will prevent the excessive inward rolling of your feet and keep your feet in a more stable and settled possession. Luckily, Merrell sandals, mostly athletic and hiking-type sandals, offer excellent stability features you can rely on.
Cushioning – Cushioning is important to absorb impact. Remember, if you have flat feet, no arch support can absorb hard impact on your feet. So the impact will be felt on your heels, the sides of your feet, or even on the balls of your feet, which can lead to pain and issues further down the line. It can also lead to a horrid impact on your knees and the rest of the joints in your lower limbs. This is why it is important to choose a sandal or a shoe that has a fully cushioned sole or footbed or that has to cushion, especially on the hill and in the forefoot area.
Wider Widths – Naturally, most flat feet will be more comprehensive in their shape. Thus you will need a shoe or a sandal with a wide and roomy fit and toe box and adjustable uppers, or that gives you the option of choosing a wide-width fit.
---
Features of a Good Merrell Sandal for Flat Feet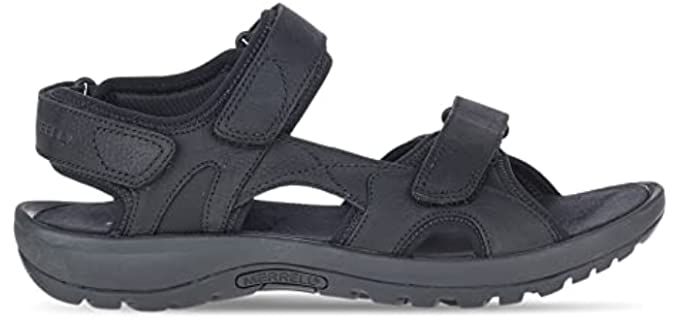 Uppers – Merrel sandals will have either Nubuck leather uppers or a quick drying Textile upper. They are mostly adjustable in fit.
Cushioning and Support – Merrell sandals have a contoured footbed for arch support, an EVA cushioned midsole, and EVA Foam top sole for comfort and shock absorbency.
Fit – Merrel Sandals offer a wide and roomy fit; some models are available in wider-width fits.
---
Reviews: The Best Merrell Sandals for Flat Feet
In our review section, we have some excellent options in comfortable Merrell sandals for flat feet;
We hope you love the products we recommend!
So that you know, We may collect a share of sales or other compensation from the links on this page.
---
1
The Slingback sandal has synthetic and adjustable uppers with full-grain leather.
They have a contoured and cushioned footbed and EVA midsole.
The M Select Grip outsole is durable rubber for excellent grip.
The sandal has a strappy, slingback style.
---
2
The Bravada Cord sandal has soft, comfortable webbing uppers with hook and loop closure.
There is an integrated foam insole and midsole with a Quantum grip rubber outsole.
The Outsole offers excellent slip-resistance
The sandal is available in more color options and sizes.
---
3
The Merrell Terran 3 Cush is are slide sandal for flat feet.
They have Nubuck leather uppers with polyester webbing.
There is a Comfortbase Active contoured footbed for comfort and support.
A molded nylon arch shank provides lightweight stability with the cushioning of an EVA midsole.
The Outsole is a durable TPR design.
---
4
The Bravada Backstrap is a sporty style sandal for flat feet.
It has mesh uppers that are lightweight and breathable.
The uppers are adjustable in fit, with a hook and loop closure.
There is an EVA foam insole and an EVA foam midsole.
The Outsole is a Mountain-grade Quantum Grip rubber.
---
5
The Merrell Cedrus Convert is a sporty sandal for flat feet.
It has secure Waterproof TPU Uppers that are fully adjustable in fit.
The footbed is contoured and cushioned for support.
There is additional Merrell Air cushioning in the heel.
---
6
The Merrell Alpine Strap sports sandal is ideal for flat feet.
It has an adjustable fit, flexible Textile, and Lycra Neoprene uppers.
There is an Integrated EVA foam insole and midsole.
The rubber outsole provides reliable traction and grip on most surfaces.
---
7
The Merrell Sandspur 2 Convert is a comfortable leather sandal for flat-foot men.
The uppers are leather with a padded neoprene lining.
They are adjustable with hook and loop straps//
There is a contoured and cushioned footbed for arch support and comfort.
The Air cushion in the heel provides good shock absorbency.
The midsole is a compression-molded EVA, and the Outsole is a durable rubber.
---
Index Table: Top Rated Merrell Sandals for Flat Feet
---
---