Some individuals that have flat feet may feel no pain or have no issues at all with their flat feet. However, others may suffer from pain and conditions such as plant or fascia and other foot issues.
Having flat feet means that you have completely flat and collapsed foot arches. The arch of your feet provides proper support and even weight distribution, which you may lack when you have flat feet.
This is why you must wear proper footwear when you have flat feet to support the arches of your feet and cushion your feet against hard impacts. Generally, most sandals do not provide much cushioning or support, and that is why we want to look at Dansko sandals for flat feet.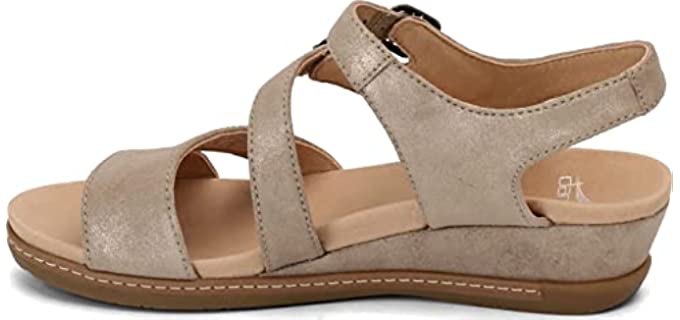 ---
How Flat Feet May Affect You
As I've mentioned, individuals with flat feet generally, have a collapsed or completely flat arch in their feet.
The arches of your feet are the pots on the inch side at the bottom of your foot, between the hill and the toes. This area should be slightly erased from the ground when you are standing on your feet.
If you have flat feet, you can test this by wetting your feet and standing on a concrete floor. If the print shows the entire outline of your foot, it means you have flat feet. If there is a gap between the toe and the heel, you have a normal arch.
Not keeping in mind the arch of your feet. Support the weight of your entire body. They help to spread impact evenly when you walk, run or stand, and to keep your body in proper alignment. Having completely collapsed or flat arches in your feet could lead to some problems.

Plantar Fasciitis – Plantar Fasciitis is a condition that causes heel pain. You have a band of tissues running from your heel bone, to the toes on the underside of your feet called the Plantar fascia. When these tissues become damaged or inflamed you have what they call Plantar Fasciitis, which causes sharp shooting pain in the heel. Most individuals who have flat feet tend to get Plantar Fasciitis, or other forms of heel pain, because there may be more impact on the heel area.
Overpronation – Individuals who have flat feet also generally tend to Overpronate more. Your feet naturally roll slightly inwards as you go through the process of running and walking, this is called normal pronation, yet when they roll inward towards the ankles excessively it is called Overpronation. Overpronation in turn can lead to other issues.
Wider Foot Shape – Most individuals who have flat arches or feet may also have a wider foot shape. If your feet have flattened gradually by a cause, or suddenly, you may notice your shoes fit slightly snugger. Flat feet will generally have a wider shape, and may also be longer
Imbalance – Some individuals have reported that they are not as stable on flat feet, which means you may need a light stability shoe. Without proper alignment from a functioning arch in your feet, you may suffer some lack of balance and instability.
---
Choosing Sandals for Flat Feet
When choosing shoes or sandals for flat feet, you must choose something that has good arch support. One of the main reasons for flat feet is the lack of arch support.
You may need to choose a wider-width, shoe or sandal, because, in most cases, individuals who have flat feet also have a wider foot shape.
It would help if you opted for shoes and sandals that have good cushioning, especially in the heel and the four-foot era that will absorb hard impact because there is a lack of arch support and impact absorption naturally.
I would also suggest a slight stability shoe or sandal that offers better balance and alignment for your feet, and that will also help in the case of overpronation.
Sandals should offer a comfortable and adjustable fit, and they should have a proper supportive, contoured, or arch-support footbed that is. That is cushioned and has a firmer foam midsole for shock absorbency. You want a sandal with a more rigid sole, ideally, a rubber outsole that will provide good traction on a variety of surfaces.
Dansko sandals are generally an excellent choice in sandals for flat feet because of their wider and more roomy toe box fit as they are much similar to Swedish Clogs in design.
---
Features of a Good Dansko Sandal for Flat Feet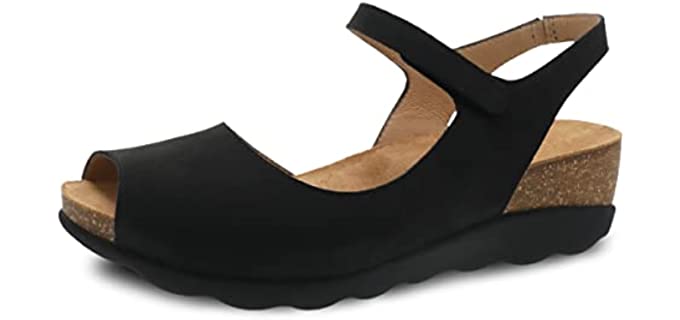 Uppers – Dansko sandals are 100% genuine leather and fully adjustable in fit.
Comfort and Support – Dansko sandals have a contoured arch support footbed with EVA Cushioning, and sometimes a Dr-Lex moisture-wicking lining. For comfort, many Dansko sandals have a Memory foam insole for soft moldable comfort.
Outsole – Dansko sandals will have either a rubber, TPU, or PU outsole with a regular flat sole, low heel, or wedge sole.
Options – Dansko sandals are available in full and half sizes, the half size mostly offers a wider fit. They are also available in more colors.
---
Reviews: The Best Dansko Sandals for Flat Feet
In our review list, we have some of the top available Dansko sandals that are ideal for flat feet;
---
1
The Dansko Tricia is an elegant wedge sandal ideal for flat feet.
It has a simple style with adjustable leather uppers and a roomy toe box.
The footbed has a comfortable and supportive contoured and cushioned design.
The Midsole is PU and cork for shock absorbency.
---
2
The Dansko Racquel is a sporty sandal for flat feet.
It has fully adjustable leather uppers and is available in many bright colors.
The sandal has a comfortable EVA midsole and footbed with arch support.
The Outsole is a very durable rubber.
---
3
The Season sandal is a formally styled sandal with a wedge outsole for flat feet.
It has leather uppers and a Dri-Lex sock liner to keep you dry.
The sandal has a Lightweight fit and cushioned footbed.
There is additional cushioning in the forefoot area.
---
4
The Dansko Angela Sandals are flat sandals for flat feet.
They have adjustable leather uppers and a roomy fit.
The Molded EVA footbed has memory foam cushioning.
There is a PU Wedge sole and durable TPR outsole.
---
5
The Dansko Reece sandal is a casual sandal for flat feet.
It has a leather upper that is adjustable.
There is a memory foam molded footbed, and EVA midsole for support and cushioning.
The outsole is a durable and high-traction rubber.
---
6
The Dansko Karl Mule is a leather slide-on sandal for men.
It has a roomy closed toe and open heel.
The sandals have a PU outsole that has a rocker bottom.
There is a cushioned and supportive footbed.
---
Index Table: Top Rated Dansko Sandals for Flat Feet
---
---