What I love about Dansko shoes and sandals for bunions is their amazing fit and softer material that places no pressure on already painfully bunions and gives you all the toe room that you need.
Dansko sandals for bunions come in many options, and the most comfortable fits with adjustability features to accommodate your foot shape.
Furthermore, you can rely on Danso sandals for excellent underfoot comfort and support.

---
Bunions Causes and Symptoms
bunions can be Painfully, and they do not look good on your feet. They make your shoe choices very limited, especially when it comes to sandals.

What are Bunions – Bunions can also form a deformity from Arthritis and other medical conditions. Bunions form when there is excessive pressure or trauma to your feet when your toes are pressed together, forcing the bone at the joint of the base of the big toe to stick out.
Causes – The main cause of bunions is wearing narrow-fitting shoes and high heels. Furthermore, bunions can be caused by injuries and conditions such as arthritis.
Symptoms – Bunions will start off as a small bump at the base of the big toe that will grow larger with time. It may start to feel stiff and painful, and there may even be swelling and redness in the area.
Treatments – There are few treatments to remove bunions, except for surgery. However, with proper footwear and using ice or heat for pain and swelling, it can easily be treated at home.
Prevention – Wearing shoes with a roomy and accommodating toe box, as well as lower heels and shoes with good arch support, can help to prevent bunions.
---
Sandals for Bunions
Sandals are not always ideal for bunions as the straps can really dig into your skin, the bunions will show, and they do not always provide the best underfoot comfort systems.
That is why we specifically chose Dansko sandals for bunions.
Because Dansko sandals offer a much roomier and accommodating toe box fit, they are generally more ideal for bunions.
Dansko sandals have softer leather uppers and synthetic uppers that will not cause unnecessary pressure on bunions.
Furthermore, good underfoot cushioning and shock absorbency is ideal for helping protect your feet and reduce pain associated with bunions.
---
Features of a Good Dansko Sandal for Bunions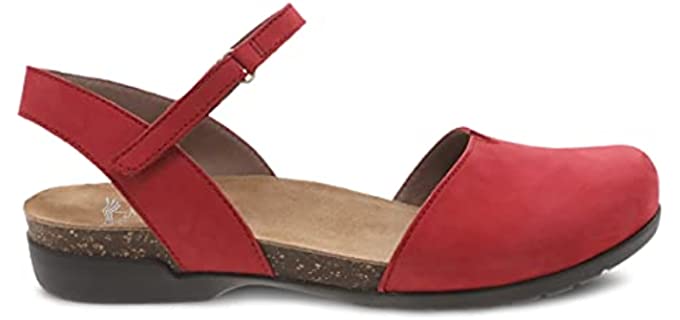 Uppers – Dansko sandals have either genuine leather, LITE leather Nubuck Leather or their Chrome-free leather uppers options available. Some sandal models have a 3M Scotch guard-treated leather uppers to prevent stains, and some leather models are water resistant. Most Dansko sandals do have an adjustable fit. With multiple points of adjustability. I have chosen a few models that have a more closed-toe design to hide unsightly Bunions without placing any pressure on them.
Support Features – Mainly, Dansko uses EVA foam in the footbeds and Midsoles of their sandal for secure cushioning that is lightweight and shock absorbing. Some models have more plush and soft Memory Foam cushioning. Dansko sandals come with arch support and feature a Propel Forefoot design and heel stabilizers for stability. Some models may also have a nylon underfoot shank.
Outsole – Dansko sandals mainly feature a slip-resistant rubber outsole or an EVA outsole that will mostly be suitable for wet or dry surfaces. Most Dansko sandals are not suitable for outdoor trail use, though.
Sizes – Unfortunately Dansko sandal only offer full and half size options, and no extended widths.
Options – Most Dansko sandal models will be available in more colors from which you can choose; however, they do not offer wider width options, just full and half sizes.
---
Reviews: The Best Dansko Sandals for Bunions
Our review section has some of the best options available in Dansko sandals that are ideal if you have bunions.
---
1
The Dansko Susie Slide is a comfortable sandal for bunions.
It has adjustable and roomy-fitting leather uppers that will give you a more comfortable fit around Bunions, which will not cause pressure or irritation.
There is a durable EVA sole, and an EVA and Cork cushioned midsole to absorb shock and provide cushioning.
The sandal has a closed-toe strap design that will hide your bunions.
There are also more colors available for your perusal.
---
2
The Marcy is a cork wedge sandal with a slingback and peep toe.
The peep toe will hide your bunions with soft leather uppers and a roomy toe box for comfort.
It has LITE technology uppers and a Chrome-free lining, meaning the leather uppers are a much softer and more lightweight Nubuck design.
There is an EVA and cork footbed for cushioning and a durable EVA outsole.
---
3
The Season sandal is more elegant for formal occasions.
The front straps help to hide bunions and look quite flattering and feminine.
There are soft leather uppers and a Dri-Lex lining to manage moisture.
The footbed is comfortable, and there is a shock-absorbing midsole.
The shoe has a slight heel and platform design.
---
4
The Dansko Kandi is a comfortable slip-on sandal for leisure wear.
It won't place pressure on painful bunions.
The sandal has EVA uppers and EVA soles.
There is a cushioned and contoured footbed for comfort.
---
5
The Dansko Remi has a gorgeous design that covers bunions.
It is a flat sandal with leather uppers and a rubber outsole.
There is a Molded Memory foam footbed and EVA and cork midsole that supports your feet while providing shock-absorbing cushioning and comfort.
The sandal is available in more colors from which you can choose as needed.
---
6
The Dansko Rowan has a Closed toe with a roomy fit for bunions. Thus they will not show and still feel comfortable with no pressure on them.
It is a soft leather sandal with a durable rubber outsole and a low heel.
There is a molded Memory foam footbed, EVA, and Cork Midsole for shock absorbency.
You can also get this sandal in more colors so that you can pick from a few of your favorites.
---
Index Table: Top Rated Dansko Sandals for Bunions
---
---