Generally, men are not catered for much when it comes to bunions, as they are more prevalent among women.
However, many men may have bunions.
In this article, we will look at men's sandals for bunions that have a comfortable fit, and that can hide unappealing bunions.

---
A Bit On Bunions
As you have noted, a Bunion forms a bump on the side of your big toe exactly where the base of the toe joint is. The Bump may grow gradually, especially when aggravated.

Causes – Bunions are mainly caused by narrow-fitting shoes that squeeze your toes together or high heels that force them forward to the front of your shoes. That is why they are more likely in women. Other causes include medical conditions such as Diabetes and arthritis or hereditary traits, which may be more why men get them.
Symptoms – A bunion is a bony bump that may be red, painful, and swollen. Bunions will cause your big toe to push against the other toes, making them form corns and calluses from the pressure.
Treatments – The right shoes and sandals are important if you have bunions, you need shoes and sandals with a wider and roomier toe box that will not place pressure on bunions. You can use orthotic Bunion pads, ice for pain and swelling, and medication to relieve symptoms. In more severe cases, surgery may be needed.
---
Sandals for bunions and How We Chose Them
It is a great advantage that most men's sandals have three-point adjustability features, meaning you can adjust all the straps, even in the forefoot area, to accommodate bunions.
Men's sandals generally have a wider width, and we have also chosen sandal models available in wider width fits.
We have chosen sandals that will hide your bunions without aggravating them and provide support and cushioning, reducing impact, which may cause pain to bunions.
---
Features of a Good Men's Sandal for Bunions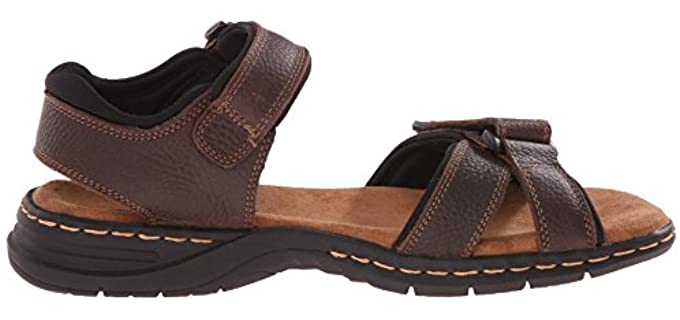 Uppers – Men's sandals for bunions usually have an adjustable open-toe design with three-point adjustability or more of a Fisherman's style. The uppers may be leather, suede, nubuck leather, synthetic leather, polyester, or canvas, depending on the sandal. The fit will be wider and roomier to accommodate bunions.
Comfort and Support features – For comfort and support, you can first look at a footbed with a more contoured design, arch support, or a deeper heel cup to provide stability and alignment for your feet. For comfort, there may be a cushioned insole, shock-absorbing midsole, or an entire cushioned footbed consisting of EVA, Memory Foam, and other foam technologies.
Outsole – Most men's sandals for Bunions will have a durable, high- traction rubber outsole. However, some sandal models have polyurethane, synthetic, or EVA outsole option.
Options – Sandals for bunions usually do come in wider width options. The sandal we have chosen offers a few more colors and extended size options for men.
---
Reviews: The Best Men's Sandals for Bunions
In our list of sandals, you will find sandal models with fit and comfort features for bunions that specifically cater to men;
---
1
From Dr. Comfort, we have an FFisherman-style sandal.
It is an Orthopedic sandal, thus ideal for foot conditions such as bunions, and has a closed design to hide unsightly bunions.
The sandals have genuine soft leather uppers, extra depth, and a roomy toe box fit.
An adjustable closure allows you to customize the fit to your liking fully sandal has a breathable open-air design to keep your feet dry.
Here is a fully cushioned and supportive footbed to give you stability and absorb shock.
The sandals are also available in a few neutral colors, wider widths, and extended sizes.
---
2
The Hush Puppies sandals for men are casual and comfortable if you have bunions.
As you will see, all the straps on the sandal are fully adjustable, so you can customize the fit entirely.
A secure back strap is also adjustable to prevent heel slippage.
The uppers are vegan-friendly leather with a soft, gentle lining against bunions.
There is a Soft Comfort foam insole that provides good underfoot support.
The hard-wearing rubber sole is thick to absorb shock, with a tread that offers excellent grip.
The sandal is available in more colors and wider widths.
---
3
The Dr. Scholls Gus sandal is also an Orthopedic brand sandal that is ideal for bunions in men.
The sandal has genuine leather uppers straps with a closed design to hide bunions.
There are ankle straps, and the straps are adjustable with a hook and loop closure so that you can get a more comfortable fit.
The sandal has a plush cushioned memory foam insole that is soft under your feet and bunions.
The lightweight and flexible synthetic sole moves with you and provides good traction.
The sandal is more neutral in color availability, and extended sizes are available.
---
4
Here we have an open-toe slingback sandal model from Clarks that is ideal for bunions.
You can fully adjust the uppers at all points to get the perfect fit to accommodate bunions.
The uppers are soft premium Nubuck leather with a soft textile lining and Buckle closures.
There is an Ortholite insole that absorbs shock and wicks away moisture. The footbed has PU foam, and the outsole consists of EVA and Rubber cushioning and offers good traction.
The sandal is sporty in style and available in more colors from which you can choose.
---
5
The Birkenstock Arizona is a top favorite slide sandal that has some excellent features for bunions.
The Uppers straps consist of two bands of soft suede leather with buckles, so you can fully adjust the fit.
The footbed has a fully supportive anatomical shape with cork and latex that offers more moldable underfoot cushioning to accommodate bunions.
There is a durable rubber sole that provides good traction.
The sandal has a lining to wick away moisture and keep your feet dry.
They are also available in various narrow, normal, wide, and wide widths.
There are likewise many colors from which you can choose as needed.
---
6
The Rockport Rocklake sandal has a fisherman style with an open toe and a design that will still hide your bunions.
They have Leather uppers with a soft and gentle texture, with a roomy toe box fit.
There is a closed heel, and you can adjust the fit with a hook and loop closure.
There is a shock-absorbing EVA midsole, and a footbed is a latex that offers soft and moldable cushioning for bunions.
The sandals are available in neutral colors and wider widths.
The outsole is high traction and durable rubber.
---
Index Table: Top Rated Men's Sandals for Bunions
---
---