Bunions are a common foot condition that many individuals suffer from. bunions can make your choice in shoes, especially sandals, quite difficult.
You want a sandal that is comfortable and accommodating in fit but that also slightly hides your bunions.
Naot sandal for bunions will do exactly that. The Naot sandal models we have chosen offer a flattering, comfortable fit around bunions, with comfort features that will help with the painful symptoms.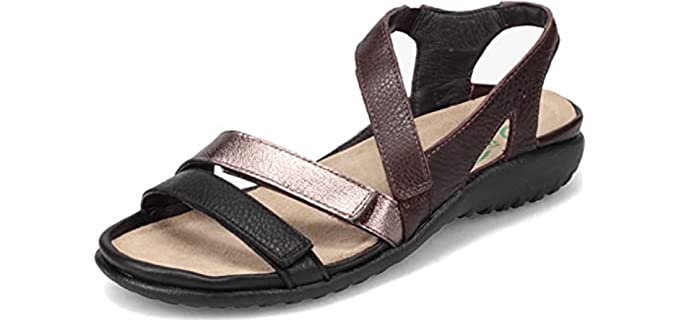 ---
Bunions Causes and Symptoms
A Bunion is a Bony Bump that forms at the base of your big toe on the joint.
Bunions occur when the bones in this area become out of place and stick out, usually because of pressure on the toes.
Symptoms – A Bunion will form as a Bulging bump in the outside base of your big toe. It can become red and swollen, and corns or calluses may develop where your first and second toes rub against each other. Bunions may be painful and can limit movement in your big toe.
Causes – Bunions can be caused by stress or an injury to that part of the fit. Narrow or high-heeled shoes can place your feet where the toes are squeezed together, forcing the toe joint to stick out into a Bunion. Sometimes a Bunion may be hereditary or a birth deformity.
Risk Factors – The two greatest risk factors for bunions are tight-fitting shoes and high heels. Rheumatoid arthritis may also cause bunions, or they may be hereditary.
---
Managing Bunions with the Right Sandals and Shoes
You can easily manage Bunions and reduce painful symptoms by wearing the right shoes and sandals.
Make sure your shoes and sandal have a roomy fit on the forefoot with no straps that rub against or place pressure on your toes or Bunions. You must be able to splay your toes in your shoes or sandal fully.
Many Naot sandal models have adjustable uppers so that you can widen the fit.
Then it would be best if you also underfoot had comfort and cushioning to absorb impact and give your feet a soft platform.
Look for sandals with a supportive footbed that is well cushioned and supports your foot's arch.
Naot sandals likewise come in some very flattering designs that will help to hide your Bunions without causing any pain.
---
Features of a Good Naot Sandal for Bunions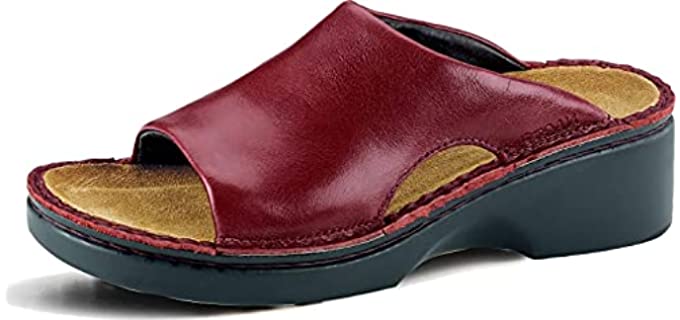 Uppers – Naot sandal mainly has a leather or synthetic leather uppers, with some models that may have soft fabric uppers. They usually have a medium fit with a roomy toe box design to accommodate Bunions. Naot sandals are available in Orthotic friendly designs, and they do come with adjustable straps so that you can adjust the fit of the sandal.
Midsole – Naot sandals mostly come with the blended cork and latex footbed that will mold to the shape of your feet to provide optimal support and shock-absorbing cushioning. Some models have a softer foam footbed for cushioning.
Outsole – Naot sandal may come with either a rubber outsole or a more flexible Polyurethane outsole. Some models do have a slip-resistant outsole.
Support – For support, some Naot sandal models will have a padded heel cup for heel stability and cushioning, as well as good arch support features.
Options – Naot sandal are available in narrow or medium width options. They also do offer quite a selection of colors and prints from which you can choose.
---
Reviews: The Best Naot Sandals for Bunions
We have chosen a few specific sandal models from Naot that are quite ideal for bunions;
---
1
The Naot Karenna sandal is a more casual and supportive sandal for bunions.
The fact that the front and back have adjustable features with Velcro closure is ideal for bunions as you can adjust the sandal's width and fit.
The uppers are 100% genuine soft leather and the front strap is padded for comfort.
The fit is medium and the sandal has a low heel.
There is a shock-absorbing cork and latex footbed that will mold to the shape of your feet.
The sandal has a durable rubber outsole and is available in a few more color options from which you can choose as needed.
---
2
The Naot Wand sandal is slightly more formal and elegant for certain occasions.
The front design will hide bunions, and the soft leather straps will not place any pressure on them.
There is a secure and adjustable fit ankle strap that looks flattering.
The Cork and Latex footbed offers excellent support and shock-absorbing cushioning.
The fit range available in this model is narrow or medium.
The back of the sandal is padded for comfort, and the sandal does have additional arch support.
The sole is a polyurethane material, with a low heel.
---
3
The Kayla sandal from Naot is casual and comfortable if you have bunions.
The straps will hide your bunions, and the roomy toe design will not place any pressure on them.
The uppers are genuine leather with a back strap for stability and adjustable fit.
There is a Shock absorbing foam midsole and comfortable footbed.
The sole is more flexible with a cork design and rubber tread.
The sandals are a medium fit and come in a few more neutral color selections.
---
4
The Naot Rome Sandal is a slide sandal for bunions with a peep toe and more closed sides to Hide bunions.
The fit is medium with a roomy toe box that will not place pressure on painful bunions,
The uppers are 100% genuine leather with a single strap with openings on the sides for ventilation.
There is a cork and latex footbed that is cushioning and will mold to the shape of your feet for comfort and support.
The sandals also have additional arch support and are very lightweight on your feet.
The outsole is a thick and durable rubber with a more flat design.
---
5
The Naot Whetu is an elegant and feminine flat sandal with a very low heel and a more formal design for everyday wear.
The flattering front straps will hide bunions without causing friction on them.
There is a secure ankle strap for a non-slip fit.
The uppers are leather, and the sandal's design is also Orthotic friendly and wider.
The sandals have a removable cork and latex footbed, allowing you to use your own orthotics as needed for bunions.
The outsole is a durable Polyurethane, with a high traction tread.
The sandal is available in a few more color selections from which you can choose.
---
6
The Naot Fiona is a closed-back Wedge sandal with a unique style for bunions.
It has a solid front strap and a high closed back for a secure non-slip fit.
There is a peep toe front that will hide bunions but with a wide enough fit not to place strain on bunions.
The sandals are leather and synthetic and available in various colors and animal prints.
They have a supportive cork and latex footbed that absorbs shock and cushions your feet.
The sole is polyurethane with a wedge design that is slightly more formal and stable.
The sole is flexible, and there is a padded heel cup, and arch support for added comfort and support.
---
Index Table: Top Rated Sandals of Bunions
---
---