Plantar Fasciitis is one of the main causes why you may be having heel pain.
The condition is mostly found in individuals who participate in high-impact sports and activities, have abnormally high or low arches, or are overweight.
Plantar Fasciitis can easily be treated, and you can reduce the symptoms with the right footwear.
However, you cannot spend all your time in athletic or Orthopedic shoes, and sometimes sandals are needed. So, we have chosen the best Dansko sandal for Plantar Fasciitis to help.
Dansko sandal for Plantar Fasciitis offers good underfoot cushioning for shock absorbency, along with a stabilizing heel and arch support, which is ideally what you will need for this condition.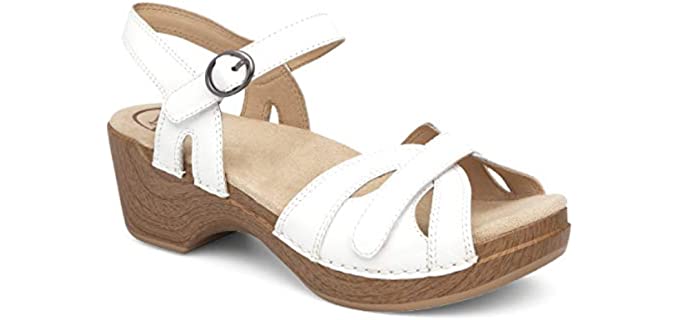 ---
Plantar Fasciitis
Did you know that there is a band of tissue running underneath your feet from your toes to your heels, at the bottom of the arch of the foot, connecting your toes and heel bone?
When something happens to these tissues, or Plantar Fascia as they are known, they can suffer micro tears and become inflamed and painful, which we then refer to as Plantar fasciitis.

Main Causes – Mainly when you take part in repetitive exercises or routines where there is a hard impact on your heels or arches, or when you work on very hard floor surfaces on your feet all day, you are likely to suffer Plantar Fasciitis. Individuals who have a flat arch or very high arch, where there is a lack of arch support, especially when they are overweight, are also very prone to Plantar Fasciitis.
Symptoms – Plantar Fasciitis is no regular heel pain. It is more of a sharp and stabbing pain in the heel or bottom of the foot area. You will notice that the pain is felt most after you get up in the morning or if you have been off your feet for a while.
Treatments – Well, the pain can be managed with anti-inflammatory medication, Ice, and some rest. However, for prevention and healing, you will need proper footwear or insoles to cushion and support your feet.
---
Shoes and Sandals for Plantar Fasciitis
Firstly, I want to add that if you have Plantar Fasciitis because you have a very low or flat arch, it is important to find sandals or shoes with stability features, with a more firm sole and good arch support. For Plantar Fasciitis in a higher or neutral arch type, which is more unlikely, a neutral support shoe or sandal with good cushioning is ideal.
By supporting the arches of your feet, you are already taking the strain off the Plantar Fascia tissue and helping them to heal.
Good cushioning, especially in the heel area, to absorb shock and hard impact will help to reduce pain and further damage.
Furthermore, you will also need a shoe or sandal that has a more roomy and comfortable accommodating fit, especially f you have low arches or flat feet.
---
Features of a Good Dansko Sandal for Plantar Fasciitis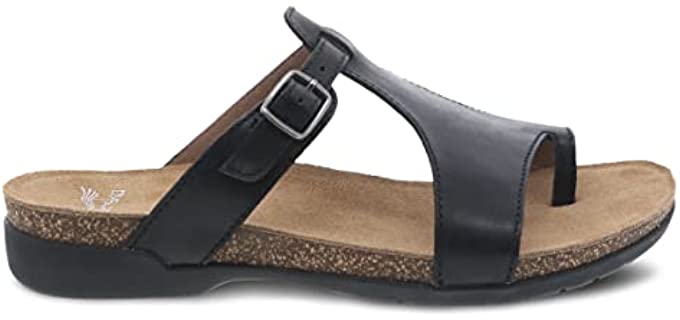 Uppers – Dansko sandals generally offer quite a roomy fit, with adjustable features so that you can customize the fit of your sandal. They may have leather, LITE leather, Nubuck leather, or treated leather uppers that are water resistant and stain resistant. Most of their sandals have a comfortable textile lining and a leather-lined footbed.
Support Features – Dansko sandal uses Mainly EVA cushioning in most of their sandal models, which offer excellent shock absorbency and firmer cushioning. They have arch support and heel stabilizers for stability, along with a Dri-Lex sock liner in the footbeds of their sandals. There are, however, sandals with memory foam cushioning and more natural arch support features.
Outsole – depending on the type of sandal, Dansko sandals may have an EVA or rubber outsole that offers a good grip on wet and dry surfaces.
Sizes – Dansko sandal do offer availability in full and half sizes, but not width options.
Options – Dansko sandals are available in some lovely color options from which you can choose as needed.
---
Reviews: The Best Dansko Sandals for Plantar Fasciitis
In our list, we have some of the best available sandal models from Dansko for Plantar Fasciitis;
---
1
The Dansko Athena is a strappy sandal with plenty of cushioning and a supportive heel for Plantar Fasciitis.
It has leather uppers and a Thermoplastic elastomer sole.
There is a Molded and covered EVA footbed with memory foam.
More colors are available in this sandal.
---
2
The Dansko Kandi is a very comfortable slip-on sandal with two straps and adjustable buckles.
The cushioned and supportive footbed will help with Plantar Fasciitis pain.
It is an EVA-based sandal designed to be water friendly and easy to clean.
Thus, there are EVA uppers and an EVA sole.
The Midsole and footbed have a very lightweight and supportive design with heel cushioning and arch support.
You can get this fun sandal in many more colors and prints.
---
3
The Dansko Susie is a comfortable slide sandal with comfort features for Plantar Fasciitis.
It has very soft leather uppers and a high traction EVA outsole.
The leather uppers are Nubuck treated with 3M Scotchguard for stain resistance.
It has a Molded memory foam footbed and an EVA and cork midsole that absorbs shock.
The molded footbed supports your arch and cups the heel.
---
4
The Dansko Giana Mule is a comfortable clog style Mule with a supportive footbed for Plantar Fasciitis.
The sandal has soft leather uppers and is available in many more colors.
The uppers are LITE technology and are treated for stain resistance.
It has a textile lining for odor resistance and cushioned memory foam and an EVA footbed and midsole.
---
5
The Dansko Vince is a flat Fisherman's style sandal for Plantar Fasciitis.
It has soft leather uppers and a slip=resistant rubber outsole.
The uppers are water-resistant leather.
For Plantar Fasciitis, there is a triple-density EVA footbed with arch support and a heel stabilizer.
---
6
The Dansko Kane is a slip-on sandal with a closed toe.
It has holes for breathability and a roomy fit.
The uppers are Injected with EVA, and there is an EVA outsole.
Ideal for beach and pool functions.
The sandal features an EVA footbed with an arch support design for Plantar Fasciitis.
---
Index Table: Top Rated Dansko Sandals for Plantar Fasciitis
---
---