Merrell is a sandal brand that offers more casual and outdoor style sandals that are comfortable and ideal.
Merrell sandals for bunions have an adjustable and roomy fit that will not place pressure on bunions and also come with cushioning and support features to reduce pain caused by impact from walking or standing.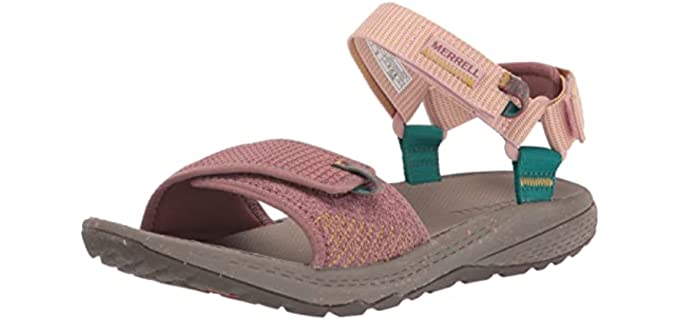 ---
Shoes and Bunions
You may think that your choice of shoes or sandals has nothing to do with your bunions. However, your shoes or sandals may cause or aggravate your bunions.
Narrow-fitting shoes and sandals squeeze your toes together in an unnatural position that can lead to bunions.
High heels are also a large culprit for bunions, as they tend to push your toes forward into the shoes.
On the other hand, your bunions may be hereditary or because of an injury or condition such as arthritis or diabetes.
---
Using the Right Shoes and Sandals for Bunions
If you choose more comfortable shoes and sandals for bunions, the condition will not be aggravated, and you will feel less pain and more comfort. It may also help to correct the issue slowly.

Fit – Choose shoes and sandals that will have a wider and roomier fit in the forefoot area; make sure that there are no straps or sides that pressure your bunions. Some sandals have adjustable uppers, allowing you to get a more accommodating fit.
Stay Clear of Heels – Avoid shoes with very high heels as these push your toes forward and place unnecessary pressure on bunions.
Comfort and Support features – Choose shoes and sandals with comfort and support features. Look at sandals with a shock-absorbing midsole and cushioned insole for comfort under your feet. A contoured footbed and arch support also place your feet in a better-aligned position.
---
Features of a Good Merrell Sandal for Bunions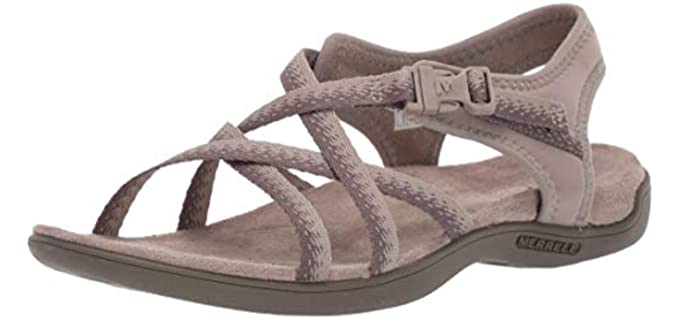 Uppers – Merrell sandals for bunions will have a roomy and accommodating fit with adjustability features to accommodate bunions and to hide them. Depending on the Model Merrell, sandals may have different uppers materials. You get the Full grain leather or Nubuck leather uppers models that may have a padded textile lining to wick away moisture and are more comfortable against your skin. Some models have Mesh or Textile Lycra uppers, usually water-friendly, quick-drying models. Merrell sandals may have adjustable uppers with Velcro closure or hook and loop Velcro closure.
Comfort and Support – Similarly, Merrell sandals have different comfort and support features. Depending on the sandal model, The Integrated EVA foam midsole for cushioning is wrapped with a microfiber lining to wick away moisture. You get the more contoured EVA footbed that offers support and arch support with cushioning. You also get the ACTIVE contoured insole for all-day comfort. Some models may have a molded Nylon arch shank for arch support. Then there are models with Air Cushioning, especially concentrated in the heel for stability. Mostly Merrell sandal features a lightweight EVA cushioned footbed that is water friendly.
Outsole – Merrell sandal may have the Quantum Grip rubber outsole or the M Select GRIP outsole that offers durable and high traction grip on various wet and dry surfaces. There are also models with a regular rubber outsole with a textured tread or a TPR outsole.
Options – Merrell sandals do come available in more color options, as well as ample size selections.
---
Reviews: The Best Merrell Sandals for Bunions
The Following Merrell sandal are all ideal in fit and comfort features if you have bunions;
---
1
The Sandspur Rose is a sporty but still feminine, elegantly styled sandal with soft uppers straps and a slingback heel.
The soft uppers straps allow open toes but still hide unsightly bunions without placing any pressure on them.
The Uppers are full grain leather with a soft textile lining to wick away moisture, which is gentle against your skin.
There is a Microfiber covered insole and a nylon arch shank for arch support.
The Footbed has foam cushioning and a contoured design for soft underfoot comfort.
The uppers are adjustable to get a more comfortable fit for bunions.
There is a durable lug rubber outsole for optimal traction and grip on various surfaces.
Furthermore, you can get the sandspur Rose in a few lovely and feminine color options.
---
2
The Merrell Slingback sandal has an open-toe design that is cool and breathable with light straps that will flatter your feet and hide unsightly bunions.
It has full grain leather uppers with a soft synthetic lining to wick away moisture.
The Footbed has a Comfort Base design that is contoured and cushioned, wrapped with leather.
There is an EVA midsole for lightweight shock absorbent.
The straps and upper design are roomy and will not place any pressure on painful bunions.
The outsole has an M Select rubber design for grip and traction on indoor and outdoor surfaces.
There is an adjustable ankle strap for a more secure fit.
The sandal is available in a few more color selections.
---
3
The Merrell Alpine Cush is a Backstrap Wedge style sandal that is slightly more formal for all occasions.
It has a thicker wedge sole in a contrasting color that will go well with most outfits and will suit all occasions.
The straps are wide and comfortable with a peep toe design front that will hide your bunions and not place excess pressure on them.
There is a secure backstrap with an adjustable closure for the perfect fit.
The sandal has full grain leather uppers with hook and loop and buckle closures for full adjustability in fit to accommodate bunions.
The footbed is cushioned with a contoured design for comfort and support.
The rubber outsole is durable with a thick wedge design.
There are a few neutral color options available in this specific sandal model.
---
4
The Merrell Terran Cush is a comfortable slide sandal with cross straps that will hide unsightly bunions.
It has a wide and roomy fit that will not pressure your bunions and an easy slide-on and off design for casual everyday wear.
The sandal has a low heel and flat sole with a rubber outsole for grip and traction.
For comfort, there is an ACTIVE Contoured insole with a Molded Nylon arch shank for support and a lightweight EVA midsole for cushioning and stability.
The sandal is available in a few neutral and light hues from which you can choose.
---
5
The Merrell District Muri Lattice us a comfortable and fully adjustable strappy sandal that is water friendly and ideal for use at the beach or pool.
It has Textile and Lycra uppers straps that are stretchable and soft against bunions.
The uppers have adjustable clip closures to get the most comfortable fit.
There is a Microfiber wrapped contoured EVA footbed for cushioning and good arch support, there is an Air Cushion in the heel for stability and to reduce heel pain,
The M Select grip outsole offers exceptional grip and traction on wet and dry surfaces.
The sandal is available in a few more color selections.
---
6
The Merrell Bravada is a Backstrap sporty sandal with the perfect design and fit of bunions.
The single closed upper strap with peep toe will hide bunions but is wide enough not to place pressure on them.
As you will see, the front and back straps are fully adjustable in fit, which is a plus point in you have bunions.
The sole has a slightly raised heel for sophistication and consist of a durable and high traction rubber,
There is an EVA foam midsole for shock absorbency and an Integrated EVA foam insole that is softer for comfort.
The Uppers consist of a breathable mesh fabric that is lightweight and quick drying.
The outsole has a Quantum grip rubber design for grip and slips resistance.
A few more colors are available for your perusal.
---
[/super_product]
Index Table: Top Rated Sandals of Bunions
---
---