Naturalizer sandals for bunions offer you some very stylish and elegant options.
Naturalizer sandals come in some casual models and very formal ones that you can wear for dressy occasions, which is why we love them so much.
They have an accommodating fit and flattering design to hide bunions without causing pain and further aggravation.
Naturalizer sandal also has cushioning and comfort features to absorb shock and support your feet in a more natural alignment.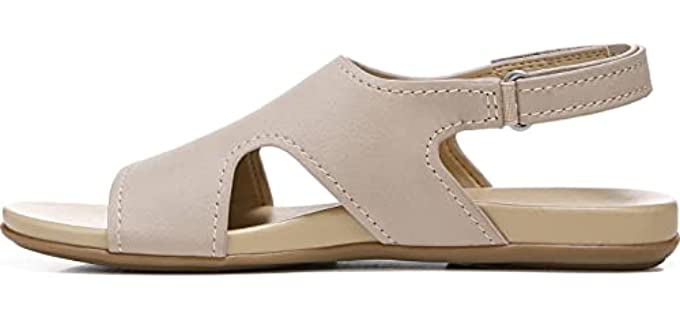 ---
Bunions Causes and Symptoms
As you will see, a Bunion usually forms the base joint on the side of your big toe, and it looks like a large bony bump that sticks out and can become red and swollen.
Symptoms – When a Bunion starts to form, there may be stiffness and pain at the base of the big toe joint, you m. Your notice a bony bump on the side that can grow with time. Bunions can cause calluses and corns on the rest of your toes that rub together because of the pressure of the big toe leaning against them.
Causes – Bunions are caused by excessive pressure or an injury where the toes are squeezed together, forcing the bone at the joint to be pushed out. Bunions may be hereditary or caused by medical conditions, including arthritis, which also affects the toe joints.
Risk factors – Shoes with a very pointy or narrow toe will squeeze your toes together, resulting in bunions. Similarly, very high-heeled shoes push your toes forward into your shoes or sandal in an unnatural position that can cause bunions. Medical conditions such as Rheumatoid Arthritis that affects your joints may also result in the formation of bunions. Sometimes bunions may be an inherited problem from birth.
---
Prevention of Bunions
Unless Arthritis causes bunions, is hereditary, or because of an injury, you can prevent them or prevent further aggravation.
This can be achieved by wearing the right shoes or sandals that have a proper fit and comfort features.
Always ensure space between the tip of your longest toe and the end of your shoes. The fit should be wide enough to allow you to fully extend and stretch out your toes without any pressure placed on them.
Look for shoes and sandals with a cushioned footbed that offers comfort under your feet and a sock-absorbing midsole that reduces impact. A contoured footbed will also support the arches and help to align your feet properly.
---
Features of a Good Naturalizer Sandal for Bunions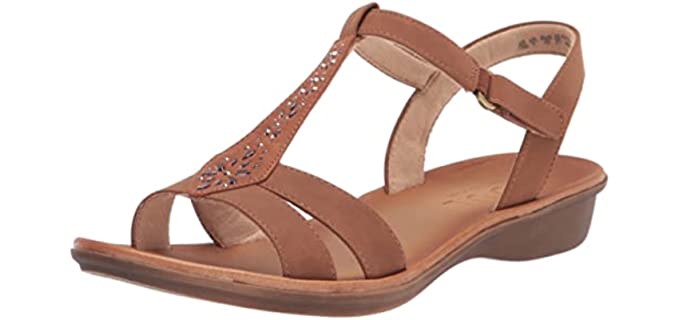 Uppers – Naturalizer sandals have various upper materials, including synthetic leather, leather, or fabric with different round or square toe designs. Some models have an adjustable buckle closure, while others have a hook and loop Velcro closure, allowing you to adjust the fit for your needs. There are more closed styles with metallic or Nubuck leather, or very strappy styles. Some models may also be adorned with Rhinestones or leather features, or have decorative cut-outs.
Comfort and Support – Most Naturalizer sandals feature the N5 comfort system, which means they are lightweight, have flexible soles, balanced cushioning, and good support. They mostly have anatomical or contour technology cushioning with good arch support, and some models have memory foam cushioning for comfort and support.
Outsole – Naturalizer sandals come with rubber or Polyurethane outsoles that are more flexible and slip-resistant.
Heel – As they are a more formal sandal style, there are different heel heights. The lowest is 0.5 inch, then half inch, 2.5 inch, or the higher 3.25-inch heels. Some models may have a wedge or platform-style sole.
Options – Naturalizer sandals are available in wider width options, as well as quite a few color varieties depending on the specific model you choose.
---
Reviews: The Best Naturalizer Sandals for Bunions
In the review, I have added some formal and casual sandal models from Naturalizer, aiming to accommodate bunions. Naturalizer sandals are a great comfortable sandal option if you need a more formal style sandal for an evening out or a special occasion.
---
1
The Naturalizer NXTGEN-Scout is a flat comfort sandal for everyday leisure wear.
I have chosen it for the more closed design with a peep toe and ankle strap for a secure non-slip fit.
The sandal has soft synthetic uppers that are flexible and lightweight, so it will not cause friction on your bunions.
The toe has a more rounded design and an adjustable hook and loop closure for you to adjust the fit.
The footbed has contour technology with cushioning and arch support for your feet.
The outsole is a durable rubber that offers good traction.
The sandals are available in a few neutral color selections.
---
2
The Naturalizer Riviera Sandal has a slight wedge sole and is a comfortable day-to-night sandal for all occasions.
The sandal has a peep toe design and a secure high ankle strap for a comfortable fit.
The Uppers are available in smooth, metallic, or Nubuck leather.
The design will hide bunions, and the roomy fit will not place pressure on them.
The ankle strap is adjustable in fit.
The sandal has contoured cushioning in the footbed to support your feet and to absorb shock.
There is a polyurethane sole that has a non-slip design with a wedge height.
The sandal is available in more colors and textures.
---
3
The Soul sandal from Naturalizer is a feminine, strappy sandal that will be very light and gentle on your feet, and your bunions.
The flattering straps will hide bunions and will be gentle against them.
There is a secure ankle strap with an adjustable fit to prevent slippage.
The sandal gave synthetic leather uppers with an adjustable hook and loop closure.
There are some lovely Rhinestone decorative details on the uppers, and the toe is round and open.
The footbed is comfortable with a soft foam lining and arch support, as well as memory foam that molds to the shape of your feet.
The sole is more flexible with a low heel and consists of a durable polyurethane.
---
4
The Naturalizer Sausalito is a flat sandal with a high ankle strap and a more closed strappy toe design to hide bunions.
It has a roomy fit to accommodate bunions and soft fabric uppers that will not cause friction, with a more rounded toe.
The ankle strap has an adjustable fit and buckle closure that s also quite decorative.
It features Contour cushioning and support technology that is anatomically sculpted to support your feet and cushioned to absorb shock.
The sole is quite low with a half-inch heel.
There are also a few neutral color varieties available in this model.
---
5
Now we get the slightly dressier options from Naturalizer.
The Taimi is a sandal dress suitable for an evening or special occasion. However, I would not wear it all day for bunions, as high heels are not ideal.
The sandal has Nylon fabric uppers that will not chafe bunions and the very strappy design will hide them and flatter your feet.
The heel strap will give you a more secure fit and no heel slippage.
There is an N5 Comfort system, meaning the sole is flexible, balanced in cushioning, supportive, and breathable design.
The heel is 2.5 inches in height and very sturdy.
The sandal is available in neutral and more color options.
---
3
If you are looking for a formal sandal for a wedding, evening out, prom, or very dressy occasions, I have included the Danya.
As you can see from the peep toe and strappy details your bunions will not be showing in these stunning dress sandals.
The open rounded toe is quite roomy, so bunions have less pressure. However, the heels are very high, so I would not spend too much time on them.
There is an adjustable hook and loop back strap for a secure fit.
The front features decorative lazer cut-outs.
The footbed has balanced, flexible cushioning and support, and the 3.25-inch heels high but sturdy.
The sandal is available in neutral and more metallic colors.
The uppers do consist of soft synthetic leather.
---
Index Table: Top Rated Sandals of Bunions
---
---