Bunions are bony protuberances that form on the base of the big toe and can cause discomfort and pain when wearing certain types of shoes. Choosing the right sandals can help alleviate discomfort and protect against further irritation. Here are some tips for choosing the best sandals for bunions:
Choose sandals with a wide, roomy toe box: A wide, roomy toe box can provide enough space for the bunion to fit comfortably and reduce pressure on the toe.
Consider sandals with good arch support: Arch support can help distribute weight evenly across the foot and reduce pressure on the toes.
Opt for sandals with a cushioned footbed: A cushioned footbed can help absorb shock and provide added comfort for bunions.
Consider sandals with adjustable straps: Adjustable straps can help you achieve a secure, customized fit that supports your bunions.
Avoid sandals with a narrow or constricting toe box: Sandals with a narrow or constricting toe box can put extra pressure on the toes and worsen discomfort caused by bunions.
It is also a good idea to see a doctor or podiatrist if you have bunions and are experiencing discomfort or pain. They can help determine the cause of your bunions and recommend appropriate treatment options.
---
---
Bunions and Their Causes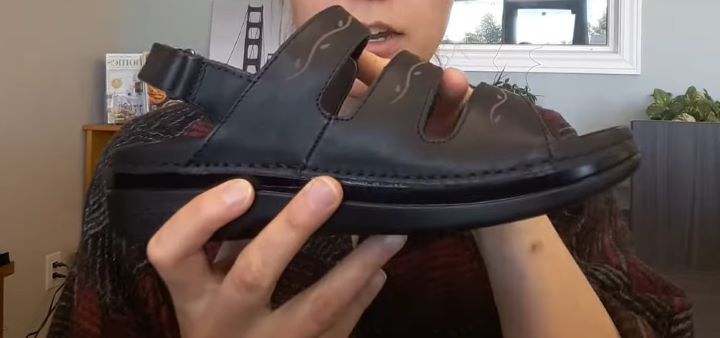 So, first of all, let us see precisely what a Bunion is. A Bunion is a bony bump that you have noticed forming on the base of your big toe. Why? Because your big toe is being pushed against the other toes or squeezed, which forces the joint to enlarge and stick out.
Bunionettes are similar, but they mostly occur on your little toe and may be noticed on other toes.
There are a few causes of Bunions, but the most likely culprit is your footwear, squeezing against your big toe and causing too much pressure.
Genetics – You may be genetically predisposed to developing Bunions, which means if other family members have Bunions, you may be likely to have them too.
Arthritis – Rheumatoid arthritis cause pain and inflammation in the joints, which may lead to Bunions; similarly, Gout and Psoriasis can also lead to deformities in this area of the toe and foot.
Other Condistions – Many other health and foot conditions may increase your chances of developing Bunions; these include neuromuscular diseases such as cerebral palsy and Marfan syndrome. Then there are also conditions related to loose ligaments, flexible joints, and low muscle tone.
Footwear – Last and the MAIN cause of Bunions generally is poorly fitting and improper shoes. Shoes that are too tight may rub against your big toe joints, causing irritation and Bunions to form; a high-heeled shoe pushes your feet forward and squeezes them in the front part of the shoe as well as narrow and tight-fitting shoes that squeeze your toes and forefoot and bend the big toe joints and cause bunions. The excess pressure on the nerves of the feet may also lead to much pain and discomfort.
---
Treating and Preventing Bunions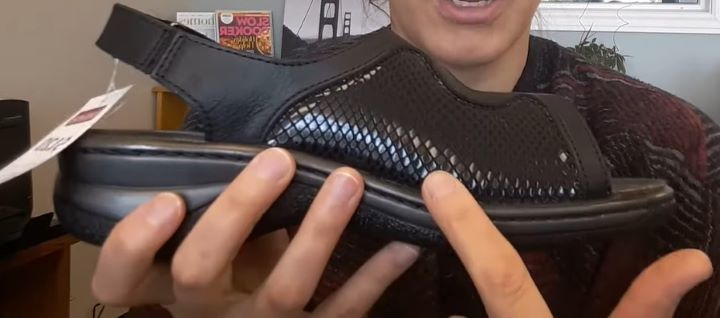 As we have now discussed so far, your leading cause of Bunions is improper and poorly fitting shoes, so addressing this issue will already make a huge difference; other than that, here are a few do's and don't's for Bunion treatment.
Always try to maintain an average weight, as a higher weight can affect your feet' shape and health.
You can protect Bunions with moleskin or gel-filled pads and use shoe inserts to position your feet appropriately inside your shoes.
Ice packs and heat treatment can help alleviate pain, and anti-inflammatory medication will ease pain and inflammation.
ALWAYS buy shoes that fit well and do not squeeze your feet; instead, opt for a roomier toe.
AVOID pointy toe and narrow fitting shoes, as well as HIGH HEELS and Stilettos
---
Features of a Good Sandal For Bunions

Style – Try to opt for a closed and more protective style toe or sandals with straps that make your Bunions less visible.
Footbed – A comfortable and supportive footbed with cushioning will prevent pressure and excess strain on your feet.
Uppers – Smooth and comfortable uppers straps will reduce pressure and friction.
Fit – Opt for a roomier toe box area and a more adaptable and customizable fit.
Outsole – A durable rubber outsole will provide a better grip and help to absorb shock.
---
Reviews: The Best Sandals for Bunions
Here are our top choices in the best sandals for bunions in 2023.
We hope you love the sandals we recommend!
So that you know, We may collect a share of sales or other compensation from the links on this page.
---
1
I have chosen the Terra-Float from Teva as this sandal has a closed upper design to hide and protect painful and unsightly Bunions; there are also mesh insets, so it stays breathable and cool.
Nubuck leather uppers with mesh inserts for breathability and a bungee lacing system for a more adjustable fit.
The toe area is closed and very roomy to accommodate foot deformities and conditions such as Bunions.
Designed for tough terrains and is durable with the Terra-Float active technology.
The outdoor adventure and all-terrain outsole are durable and offer superb slip resistance on wet and uneven surfaces.
A very breathable and still protective design ideal for walking.
---
2
This model from Chaco has a more open design yet is still protective and comfortable enough for Bunions and other foot conditions.
Durable and soft textile uppers and a more sporty style.
The uppers mainly consist of double Strapped jacquard weaving from polyester wraps around the foot and midsole for a more comfortable fit.
There is a LUVSEAT PU footbed for cushioned comfort, antimicrobial treatment, and odor control lining.
The webbing heel risers are very durable and completely adjustable.
A durable Non-Marking ChacoGrip, Rubber outsole.
---
3
This is a comfortable and elegant-looking leather slide-on sandal from MBT with two broad straps and buckles detail and a wide and comfortable fit.
Dark brown genuine leather two-strap uppers with buckle closures that are appealing and offer an adjustable fit.
A lug rubber outsole for better grip on all surfaces.
Deep heel cup for stability and heel support.
Hugging arch support for more natural foot alignment.
Cushioned footbed for further comfort,
---
4
The Clarks Arla Jacory is available in wider widths to accommodate fall foot shapes and conditions, including Bunions.
Features an Open Cell PU footbed and cushion soft padding on the inside.
A durable PU outsole for better traction, with a slightly elevated heel.
Adjustable Riptape Straps for a customized fit.
Lightweight and Breathable synthetic uppers that are flexible and comfortable with a smooth lining.
Available in a wider width and other color options to choose from as needed.
---
5
Hushpuppies are a therapeutic shoe brand that is well known for its superior comfort features. The Lyricale sandal is a stylish and elegant sandal ideal for every occasion with a design to accommodate and hide painful and unsightly Bunions.
Soft and supple leather uppers from Full Grain Nubuck Leather and an elasticated textile strap for an easy on and of and more comfortable fit.
Strategically placed Flexible Grooves for flexibility.
It helps with more even weight distribution.
A BioBevel beveled design toe and heel for natural balance and stability.
Comfortable Wider width design and soft cushioned padding.
Available in a few color options to choose from as you wish.
---
6
The Orthofeet Naples is another superb Fisherman's style sandal, usually your best option for Bunions, with a very lightweight and breathable style.
These are the perfect l sandals to alleviate back, knee, and heel pain and accommodate wider feet and deformities such as Bunions, hammertoes, and corns.
An Ortho-Cushioning system that is lightweight with an air-cushioned sole.
Shock absorbing and supportive of reducing pressure on painful Bunions.
A smooth and comfortable seamless interior design with extra depth and availability in wider widths to accommodate Bunions.
Durable, thick rubber sole for shock absorbency and traction on all floor surfaces.
---
7
The Keen Whisper Slipper is a lightweight and supportive shoe with an upper design, perfect if you have Bunions.
Closed upper design with soft polyester webbing and an adjustable bungee lace-up system.
Available in lovely feminine colors from which you can choose.
There is a supportive arch and cushioned footbed for comfort and a stability shank from TPU.
The rubber outsole is durable and ensures good traction.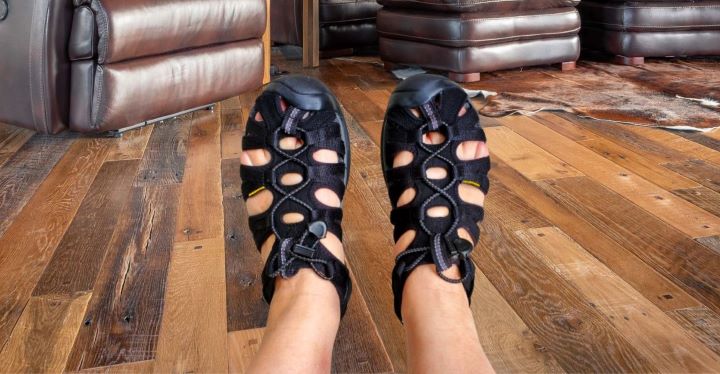 ---
8
The Clarks Morse Tour is a soft and comfortable leather sandal you can wear for all occasions.
The leather upper straps have a three-point adjustability feature, giving you a perfect and customizable fit.
The footbed is contoured and cushioned for your comfort.
There is a durable rubber outsole with excellent slip resistance.
You can choose between a few neutral colors in this sandal model.
---
9
The DR. Comfort Breeze has a closed and protective design, which is perfect for bunions.
Soft leather upper with a roomy and open Air design toe box.
There is a comfortable contoured and supportive cushioned footbed.
The heel counter provides excellent support and stability.
The closed design is very breathable and ensures that you have protected against bumps a chafing.
Choose between a coffee, Black, or Gold color option in this sandal model.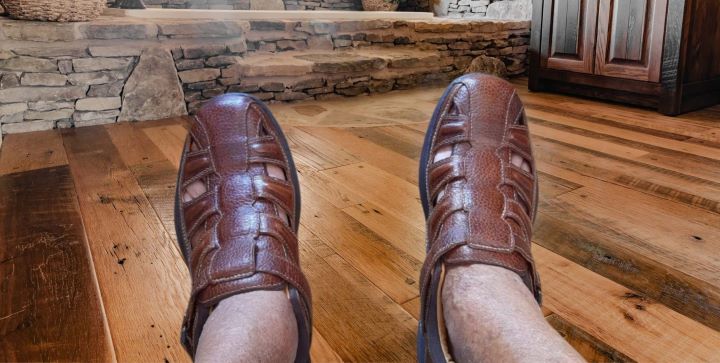 ---
10
The Orthofeet Laguna has a closed and roomy design that is perfect for hiding and accommodating Bunions.
The Upper is a soft and supple polyester fabric.
There are extended sizes and wider width options available, as well as more neutral colors.
The toe box is very roomy and accommodating.
There are a fully cushioned and supportive footbed and a durable rubber outsole.
---
11
The Propet Jocelyn is a classy and comfortable sandal with the perfect fit for bunions.
The uppers are adjustable and genuine full-grain leather with a soft neoprene lining.
The Lightweight PU and the rubber outsole are durable and offer excellent traction.
There are an extra cushioned footbed and a removable insole.
You can also select from a few neutral color options.
---
12
The Clarks Leisa Vine is a comfortable and supportive sandal with a roomy toe design to accommodate Bunions.
The uppers are full-grain leather and adjustable.
There is a soft cushion technology cushioned and a supportive footbed.
The sandal is also available in wider width options and more colors from which you can choose.
The durable rubber outsole ensures good traction and stability.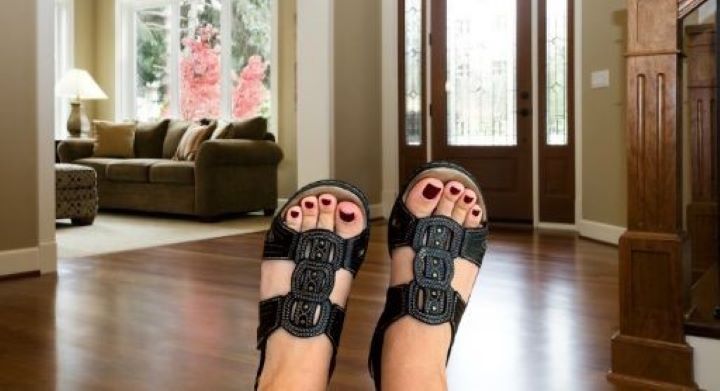 ---
13
The Dream pairs sandal have the ideal fit for bunions.
They are dressy style strappy sandals that have a flat sole.
The sandal is available n a wider width option.
The sandal is also available in more colors.
---
14
The Cushionaire Espadrille sandal is comfortable for bunions.
They have soft vegan leather uppers that are adjustable in fit.
There is a comfortable padded footbed and flexible sole.
More colors are available to you.
---
15
The Lulu Crystal sandal has a wide and roomy fit for bunions.
They have faux leather uppers with a microfiber lining.
The outsole is a slip-resistant rubber.
There is a cushioned and supportive footbed.
---
16
The Crocs Brooklyn are mid-wedge sandals for bunions.
They have a medium stability wedge sole.
The sandals are very lightweight and well-cushioned.
The uppers offer a roomy fit that is flattering.
---
Index Table: Top Rated Bunion Sandals
---
---