As you have most likely noticed, shoes' options and availability are endless regarding wider feet.
But what about a Narrow Foot?
For those with narrow feet, wearing even regular or medium footwear can cause irritations and blisters, not to mention instability, leading to injuries.
So in this article, I have narrowed down some excellent tips for choosing the best sandals for narrow feet in 2023.
---
---
Issues Related to Narrow Feet
Regular Sandals – The greatest issue with narrow feet is that most regular sandal types will fit loosely; even medium-width sandals will not fit properly. Improperly fitting and loose footwear can cause your feet to slide, decrease stability, and result in injury. Besides this, a loose sandal will irritate your feet, and the friction and rubbing can result in blisters and even Bunions, Calluses, and corns.
Finding Footwear – Finding footwear for a narrow foot is not easy, and most narrow styles are not all that appealing. You may need to look for a sandal brand that is naturally narrower than other brands or for brands that offer a narrow fit.
Proper Support – Most Narrow style sandals do not offer many comfort and support features, and most of your orthopedic sandals and comfort brands only offer wider width sandals options. Finding a therapeutic sandal in a narrow fit may be hard if you have a foot condition or deformity.
---
Tips on Getting Regular Sandals to Fit Narrow Feet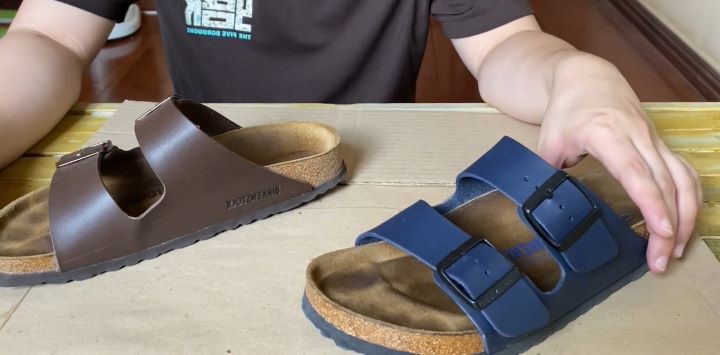 If you would like to fit into a regular pair of sandals, here are a few tips to try, although I would instead recommend opting for a Narrow fit option.
Straps – Strapping your sandals upright to the top and reinforcing the straps can provide a better and slightly more snug fit.
Heel Inserts – A heel insert can prevent your feet from slipping around in your sandal by creating a better grip.
Gel Pads – A Gel pad under the forefoot lifts your feet slightly and gives a more snug fit.
Insoles and Inserts – An insole or insert can provide comfort and cushioning while also taking up some space in your sandal to make them a bit narrower.
---
Features of a Good Sandal Narrow Feet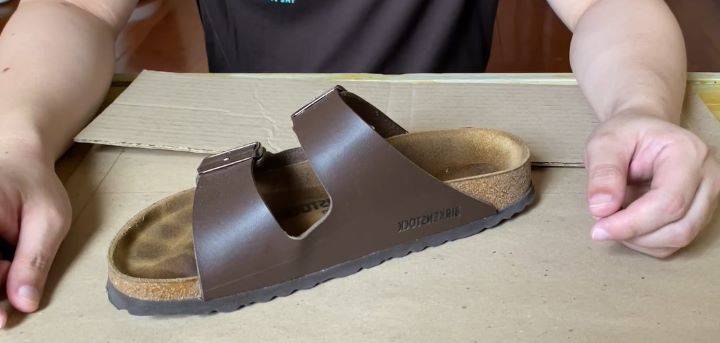 Fit – Comes in a Narrow fit option that you can select.
Uppers – Adjustable straps and a contoured design footbed are ideal for a more narrow foot type. Smooth linings and soft straps, and footbed design.
Footbed – Cushioning and padding in the footbed for comfort.
Outsole – Durable rubber outsole.
---
Reviews: The Best Sandals for Narrow Feet
Below are some of the most sought-after sandals that offer a more narrow fit;
We hope you love the sandals we recommend!
We may collect a share of sales or other compensation from the links on this page.
---
1
The Narrow fit Earth Origins sandal is a comfortable, sporty, adjustable sandal for women.
Synthetic uppers straps that are adjustable for the perfect fit.
Smooth and comfortable fabric linings to prevent chafing and irritation.
The leather uppers have decorative contrast stitching and are available in several color variations.
A comfortable and cushioned footbed and a durable and high traction rubber outsole.
---
2
This stunning dress sandal with a high stiletto heel from Naturalizer comes in a narrow fit and many color variations.
Dress-style sandals are available in many color options to choose from as needed.
It offers a snug and narrow fit with comfortable and soft leather uppers.
A tall stiletto design heel for formal occasions.
Features the popular N5 comfort system.
---
3
A stunning Dress Style sandal with a narrow and contoured footbed and gorgeous gem and beading details on the top.
It is adorned with gorgeous beads and Rhinestones, giving it a more formal and classy appeal.
Available in many color options to choose from as preferred.
Leather top straps with an adjustable buckle ankle strap.
A comfortable and cushioned footbed with perforation holes for breathability.
The footbed has a more contoured and narrow design for narrow feet.
A wedge-style sole for stability and sophistication and a durable and high traction rubber outsole.
Available in narrow, medium, wide, and extra-wide fit options.
---
4
A comfortable and casual wearing Narrow fitting slide sandal from the very popular Birkenstock has a narrow-fit option. It is available in many fun, bright, and neutral color options to choose from as you wish.
Options of colorful or neutral-colored leather straps with detailed buckle closures.
Two-strap design slip-on sandals.
Available in a Narrow fit option.
Very lightweight cork and latex footbed for pronounced arch support and cushioning.
The footbed molds to the shape of your feet with wear.
A lightweight and shock-absorbing EVA outsole.
Accommodates a Narrow and medium-width foot type.
---
5
The Ecco Yucatan has a naturally narrow-fitting design and is a comfortable and durable sandal ideal for casual and outdoor wear.
Durable and comfortable leather and synthetic uppers with soft linings for optimal moisture control.
There are three-point adjustability features for a customizable fit.
An anatomically molded footbed shaped to mimic the curves of your feet and your natural movement.
The ECCO Fluidform technology with high rebound cushioning and flexibility.
A durable Outdoor terrain high-grip rubber outsole that ensures excellent slip resistance.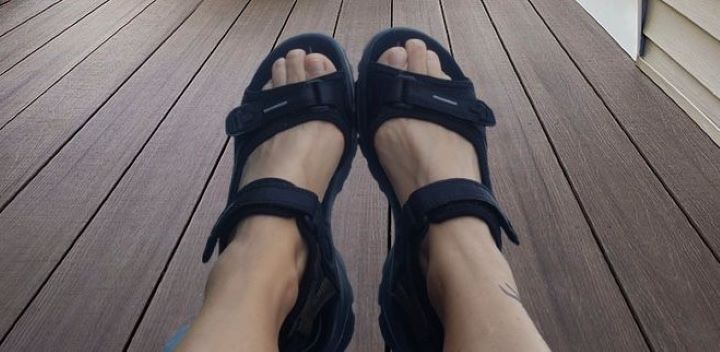 ---
6
The Terra-Float from Teva is an active sports sandal that offers a more narrow and comfortable fit and is ideal for rough outdoor excursions.
Smooth and comfortable Synthetic upper with breathability and appeal.
The Terra-Float Active technology ensures much better durability for rough outdoor terrain.
A slip-resistant and high-traction rubber outsole for outdoor terrains.
Comfortable uppers straps with a breathable design.
The footbed is cushioned for comfort and offers excellent support.
Available in a Narrow fit design for dainty feet.
---
7
Chaco is a well-known sports sandal brand offering an excellent narrow fit in its Classic Z range.
The upper webbing comprises quick-drying polyester fabric that is gentle against the skin.
The straps are adjustable for a customizable fit.
A LUVSEAT midsole is contoured and cushioned for comfort and a comfortable insole.
The rubber outsole is non-marking and offers exceptional grip.
You can also choose between a large variety of colors in this model.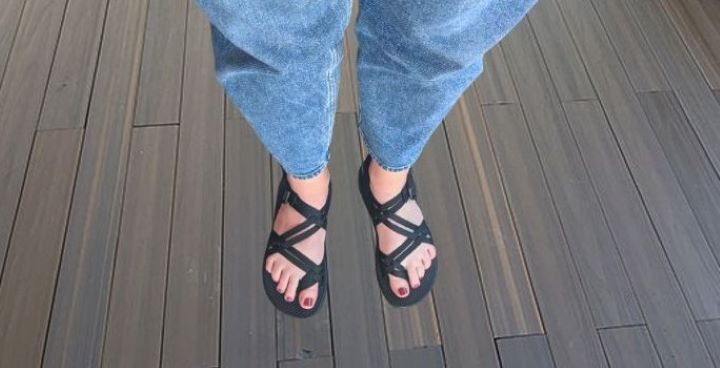 ---
8
Teva offers you a more sleek and narrow fit in their Olowahu sandal.
Textile materials are used for the uppers with a decorative thong strap.
The cushy sole features a contoured CUSH design.
There is also a shock-absorbing EVA outsole with a MUSH traction pattern for grip.
Some color options are available in this sandal model.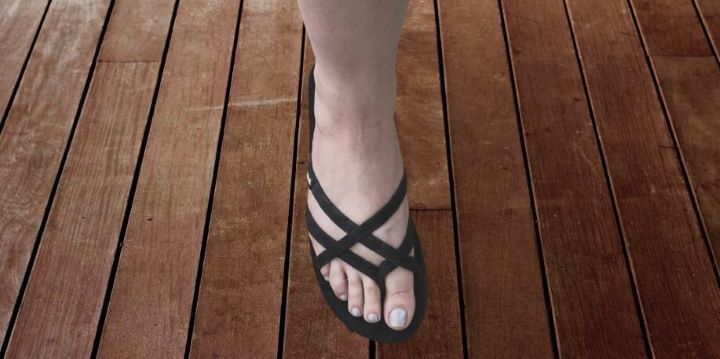 ---
9
Birkenstock is one of the most popular sandal brands. The Mayari from the Birkenstock range is one of their Narrow fit options.
Leather and synthetic upper straps in a unique design give the sandal a casual and fashionable appeal.
There is a cork and latex contoured footbed for comfort and support.
The Mayari also comes in Narrow width options and a few neutral color designs.
The rubber outsole offers good traction and comfort.
---
10
The Naot Sophia is available in Narrow width options, perfect for a more narrow foot.
The uppers are leather, and there is a durable rubber outsole.
This sandal feature a comfortable and supportive design with a cork and latex cushioned footbed and shock-absorbing midsole.
The sole is flexible, durable, and lightweight.
Many colors and narrow width options are available in the Leisa Sophia from Naot.
---
Index Table: Top Rated Sandals for Narrow Feet
---
---