When you have bunions, a sandal may not be the first choice of shoe that comes to mind. Though they may be more comfortable, they may also show off your bunions much more.
However, with Clarks sandal for bunions, we have opted to find a solution for a sandal that will hide bunions without placing pressure on them, and that will provide a comfortable and supportive fit.
Clarks sandal for bunions is chosen for their designs that offer an adjustable fit and are roomier to box, where you can comfortably hide your bunions.
Clark's sandals come with good underfoot cushioning and support systems that reduce the impact that could cause pain to your bunions.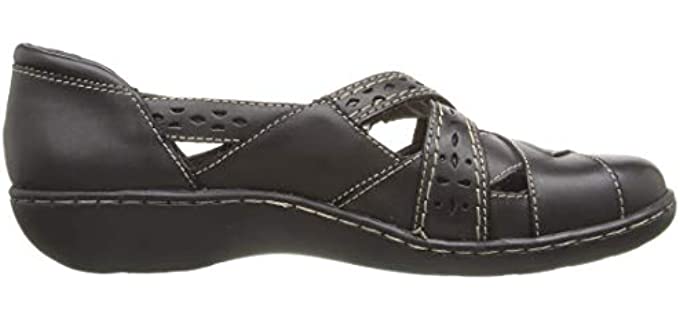 ---
Shoes to Avoid When You Have Bunions
Two of the Main Cause of bunions are ill-fitting narrow or pointy-toe shoes and high heels. So yes, there are shoes that can cause and shoes that will aggravate bunions.
When you already have bunions, you want a shoe that will not press against your toe or bunions, or that will squeeze your toes together. You want something with a roomy toe box that allows you to spread out your toes fully.
Then again, softer and more flexible materials such as stretch knit and leather are ideal, with a smooth lining and no hard edges that can dig into your skin.
A lower-heeled shoe or lower sole, not a flat sole, is ideal. Remember, you still want a thicker sole and cushioning to absorb shock that can be painfully on your bunions when you walk, stand, or run.
Flip flops and unstable slides in shoes or slippers may be more comfortable on bunions, but they lack stability and support features that can put you off balance and that can lead to other foot complications.
We do not always want to wear a closed shoe with bunions, but with Clarks, there are some exceptional options in sandals that you can wear bunions or not.
---
Bunions Causes and Consequences
A Bunion is a hard bony bump that forms ate the side of your big toe, the bone in the joint area sticks out to the side and can form growths or become swollen and inflamed. The bunions mainly occur because of pressure from a shoe that pushes all your toes together.

Causes – Besides narrow-fitting shoes and high heels, arthritis could also possibly cause bunions, as well as injuries to the big toe joint.
Treatments – You can get surgery for a Bunion. At-home treatments include pain medications and ice or heat on the are for pain relief. Pads and insole in your shoes can also help to evenly spread your toes and prevent friction.
---
Features of a Good Clarks Sandal for Bunions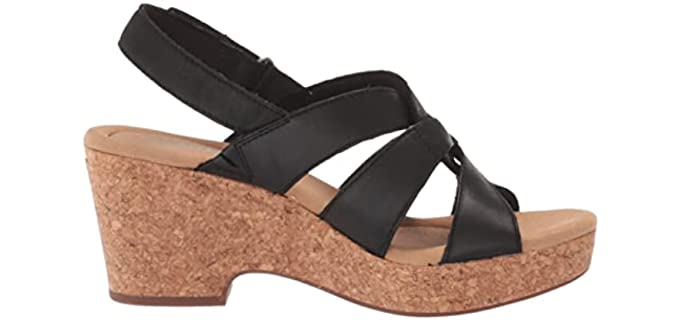 Uppers – All Clarks sandals are shaped and designed to be more ergonomic in fit and complement the natural shape of your feet. Clarks shoes and sandals have either nubuck or split leather uppers that are responsibly sourced. There are, however models with fabric uppers from recycled materials. Most Clarks sandals have easy hook and loop Velcro closures and fully adjustable uppers. They offer a roomy and comfortable fit.
Comfort Features -Clarks sandals may have a PU foam cushioned footbed. All Clarks sandal models have a Contoured footbed that offers light arch support. Depending on the model, it may have Cushion Plus technology, which is dual density, anatomically targeted cushioning that aligns your feet and is more concentrated in the ball of the foot area. Then there is the Cushion Soft Technology which is a high-rebound foam inlay concealed in the sandal to absorb impact and provide soft cushioning. Clarks uses Ultimate Comfort Baseline technology in the sandals that places targeted cushions in the heels and forefoot area with breathable features in the footbed of their sandal. Some sandals may also have an Ortholite Breathable footbed or EVA cushioning.
Outsole – Clarks sandal mainly have either EVA, or rubber outsoles.
Options – You do get Clark's sandal models available in wider width options, as well as more colors from which you can choose.
Heels – Clarks sandals have either a supportive flat sole, wedge heel or low or medium heel options.
---
Reviews: The Best Clarks Sandals for Bunions
In our list below, we have some of the best choices in Clarks sandals that are ideal if you have bunions;
---
1
The Clarks Merliah Lilac is a slight wedge heel sandal with a gorgeous design for bunions.
The uppers are soft and flexible with a peep toe and straps that will hide bunions.
There is a breathable Ortholite cushioned footbed with arch support.
The sole is a durable mid-height platform, wedge style.
It offers a good grip.
There are many colors and patterns available.
---
2
The Clarks Ashland Spin is a closed-style sandal that will hide bunions.
It has a Mary Jane style, with cut-outs that offer the breathability of a sandal.
The toe box is roomy and comfortable, with leather uppers.
There is a supportive cushioned, Ortholite footbed.
The outsole is a durable and high traction rubber.
---
3
Looking for the Perfect Dress sandal for bunions, then the Vista is your answer.
It has a high heel but a supportive arch and solid heel.
The straps are strategic to hide bunions.
There is an Eco Foam dual-density foam footbed for comfort.
---
4
The Giselle Beach Wedge sandal is ideal for all occasions.
The straps and peep toe design will hide bunions.
The leather uppers are soft with a roomy design.
There is a PU foam cushioned footbed for comfort.
Many more colors are available.
---
5
The Leisa Ruby Flat sandal is comfortable and elegant in style for bunions.
The straps offer much coverage with a soft texture.
There is an Ortholite footbed and textile lining for comfort.
The sandals are lightweight and available in more colors.
---
6
Comfortable and casual the Slingback sandals are ideal for beach and leisure wear.
The soft leather straps are adjustable for bunions.
There is an Ortholite footbed and PU foam Midsole, with an EVA outsole for soft cushioning.
The sandal has a textile lining and adjustable uppers.
You can likewise choose from a few more available colors.
---
Index Table: Top Rated Clarks Sandals for Bunions
---
---