Bunions can be painful and quite unsightly. Getting shoes that accommodate bunions and look flattering on your feet is even more difficult, not to mention sandals.
Keen casual and outdoor sandals are very comfortable for summer if you have bunions. Keen sandals offer a more accommodating and adjustable fit, with good underfoot cushioning and support features.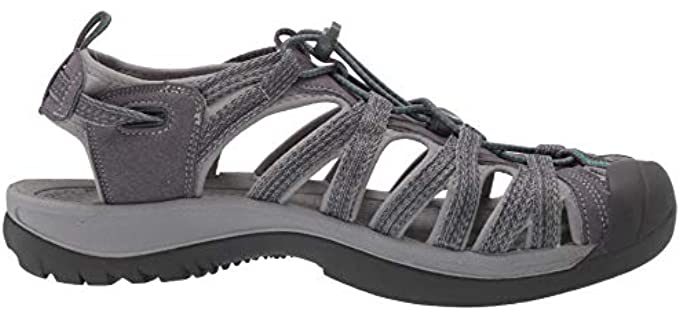 ---
Shoes Play A Role in Bunions
Bunions may be hereditary or caused by an injury or a medical condition such as arthritis.
However, one of the main reasons for bunions is ill-fitting shoes and high-heeled shoes.
Narrow fitting shoes or high heels that push your foot forward into a shoe squeeze the toes together to the point where the toe joint starts protruding and deforming into a Bunion.
---
Choosing Sandals for Bunions
Sandals with their open design are usually not the best option for bunions, and however, if you look for these features, you can get the perfect sandal for bunions;
Accommodating Fit – Look for sandals with a roomy toe box or uppers that you can adjust to so that you do not have the sandal squeezing your bunions.
Closed or Strappy Design – Sandals with a peep toe, closed sides, or thin strappy designs will hide bunions and give a more flattering feminine look.
Cushioning and Support – Cushioning and support features in the footbed reduce the hard impact on your feet, which could cause pain to bunions.
---
Features of a Good Keen Sandal for Bunions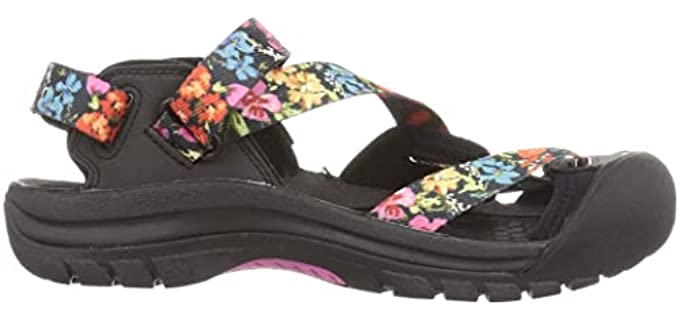 Uppers – Keen sandals are generally more sporty sandals that offer an adjustable and comfortable fit for bunions. The uppers may have a closed or open toe design with hook and loop Velcro closures. The uppers may consist of quick-drying polyester webbing or leather. Some models have a lace-up bungee system for an adjustable fit. The uppers may also have a hydrophobic mesh lining that is water-friendly and quick drying.
Midsole and Footbed – Keen sandals mostly come with an EVA foam footbed that offers durable and shock-absorbing cushioning that is also water friendly. Depending on the model, there are different designs. You get the Compression-molded EVA midsole or the Non-removable EVA footbed with additional arch support. Then there is also the Metatomical EVA molded footbed that comes with Aegis protection.
Outsole – Keen sandals have lug outsoles designed for optimal slip resistance, especially on trails and wet surfaces. They have non-marking rubber outsoles with razor siping and Multi-directional lugs for slip-resistance. The Aqua models have an Aquagrip rubber outsole designed especially for grip on wet surfaces.
Technology – A popular technology that Keen uses in many of their sandal models are their anti-odor technology and quick drying materials, which help to break down sweat that may cause odors.
Options – Keen sandals are mostly available in more colors, depending on the specific model, and they do offer many size options from which you can choose as needed.
---
Reviews: The Best Keen Sandals for Bunions
In our list, we have some of the best Keen sandal models that have a more comfortable fit and design for bunions;
---
1
The Keen Whisper is a closed-toe model with a rubber toe bumper that provides optimal protection for your bunions and toes.
It has Quick-drying textile uppers with a fully adjustable fit, a lace-up bungee system, and a roomy toe box to accommodate bunions.
A Compression Molded EVA footbed and midsole are non-removable to support your feet and have arch support.
The footbed is generally wider, which is more accommodating for bunions.
Furthermore, the outsole has Multi-directional lugs with siping for slippery and wet terrains, and it consists of a non-marking and durable rubber.
The Keen Whisper is available in various colors from which you can choose.
---
2
The Keen Rose sandal has a more feminine style and an almost Mary-Jane-like shape, making it ideal for all occasions.
Because there is a closed-toe design, your bunions will be hidden and well protected against bumps and bruises from the rubber toe bumper.
The uppers are a soft and comfortable polyester material that quickly dries and is gentle against the skin.
The uppers are fully adjustable with a hoop and loop Velcro closure so that you can get the best fit to accommodate bunions.
The Anatomical EVA footbed with a molded design supports the arch and provides comfortable underfoot protection and cushioning.
The footed is treated with Aegis antibacterial treatment to prevent odors and to break down sweat.
The sandal has a non-marking rubber outsole with multi-directional lugs for slip resistance and traction on wet and dry surfaces.
It is available in a few more colorful and neutral color options.
---
3
The Keen Astoria is a more open-toe style sandal with thinner and more straps that have a flattering design to hide bunions, and that will not place pressure on them.
The Astoria has water-ready Quick-dry polyester webbing uppers that are soft and comfortable, with adjustable features.
The fit is for women specifically, with three points of adjustability so you can customize the fit to your needs and accommodate bunions.
There is a Compression Molded EVA midsole for underfoot comfort and a contoured footbed to cushion and support your feet.
The outsole is an Aquagrip rubber that siping to disperse water underneath your feet for maximum traction on wet surfaces,
The sandal has an athletic heel lift and a comfortable design. It is perfect for use at the beach or pool.
---
4
The Keen Newport is a more heavy-duty hiking and water sandal with the perfect fit and comfort features for bunions.
It is quite a popular option from Keen with a closed design, Fisherman style, and bungee lace-up closure system so that you can easily adjust the fit.
There are quick drying and washable polyester uppers, quick-dry lining, and a protective rubber toe bumper for your bunions.
The midsole is a Compression Molded EVA, with an EVA insole and arch support for underfoot cushioning and support to reduce strain on bunions.
The fit is roomy in the toe box and true to size.
There is also a non-marking rubber outsole with multi-directional lugs on the tread for slip resistance on slippery and wet surfaces indoors and outdoors.
---
5
The Keen Venice H2 is also a closed-toe sandal that will hide unsightly bunions without placing any pressure on them.
The Venice has breathable and stretchable uppers straps, waterproof Nylon overlays, and a rubber toe bumper for protection.
It has a Hydrophobic mesh lining that is quick drying and keeps your feet dry and comfortable in all weather conditions.
The sandal has an adjustable bungee lace-up system so that you can get the perfect fit to accommodate bunions.
A compression-molded EVA footbed supports your feet and provides comfortable underfoot cushioning.
The outsole is non-marking rubber with razor siping for grip and traction.
---
6
The Keen Zerraport 2 is the latest in this elegant and feminine sandal model from keen.
The sandal has a closed-style toe to protect and hide your bunions.
It has lightweight uppers un a quick-drying polyester fabric that is gentle against the skin.
There is a toe bumper that is rubber for protection against bumps and to protect painful bunions.
For comfort, you have a compression Molded EVA footbed that supports and cushions your feet and reduces pressure on painful bunions.
The outsole has a lug design with non-marking rubber for indoor and outdoor surfaces.
Furthermore, the sandal also features anti-odor technology and quick drying materials to reduce sweat build-up and remove bad odors.
---
Index Table: Top Rated Sandals of Bunions
---
---