Bunions are painful, and many of us feel shy about bunions and do not want to show off our toes.
There is nothing prettier in hot summer weather than a pair of sandals. However, when you have bunions, the options for sandals are quite limited.
Ecco sandals for bunions have proven to have a few designs that are quite flattering for Bunions.
Ecco sandals offer adjustable uppers, a roomy fit, and good cushioning systems that are ideal for bunions.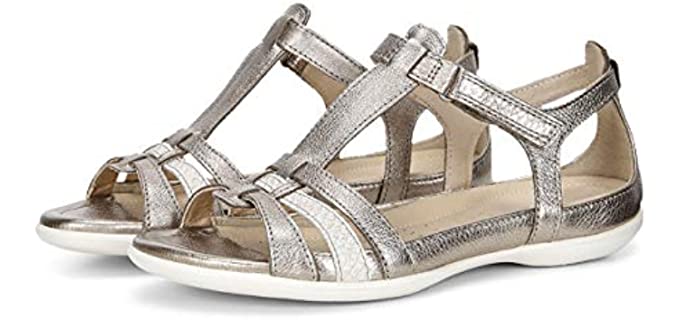 ---
Bunions Issues and Cause
Well, Firstly, a bunion is a Bony bump that forms at the joint of the base of your big toe that causes the bone at the side of the big toe to stand up.
Bunions are mainly caused because the toes are being pushed together to a point where the bone at the base of the big toe starts to push out.
bunions do not just form at the big toe, but likewise also at the small toe however, they are called Bunionettes.

Symptoms – You may notice the onset of a Bunion when there is a slight pain, a burning sensation, or stiffness at the base of your big toe. A bump will start to grow, and it may be red and inflamed. The Bump can carry on growing and cause other issues such as corns and calluses because the rest of the toes are pushed together.
Cause – There is no denying that bunions are caused by Ill-fitting shoes, shoes with a narrow toe, or high heels. Push the forefoot into the front part of the shoe and squeeze your toes together, which results in issues such as bunions and other conditions such as Hammertoes, corns, and calluses. Other causes may be an injury or a medical condition such as arthritis that can cause bunions to form.
Taking Care of Bunions – I would advise you to invest in a comfortable pair of shoes or sandals with a very roomy fit in the toe box that adds no pressure to your bunions. You can use ice, heat on painful bunions, and anti-inflammatory medication for pain and swelling. Toe spacers, insoles, or pads may be used for softer cushioning against bunions and to prevent corns and calluses.
---
Preventing Bunions
My best advice in preventing bunions is to stay clear of any shoe that has even the slightest narrow fit in the toe. Still, this does not mean you should pick shoes so wide and large that they slip on and off your feet.
Also, ensure that you opt for fewer heels or solid soled shoes, not flat soles. When you wear heels, choose Orthopedic design shoes with an arch support footbed to prevent your toes from slipping into the shoe.
Avoid shoes with a narrow and pointy toe and opt for shoes with a round toe or open style.
Sandals luckily have a more open design, but you need to ensure that the sandal straps do not press against the base of the toe or where there may be a Bunion. Also, avoid very high-heeled sandals.
---
Features of a Good ECCO Sandal for Bunions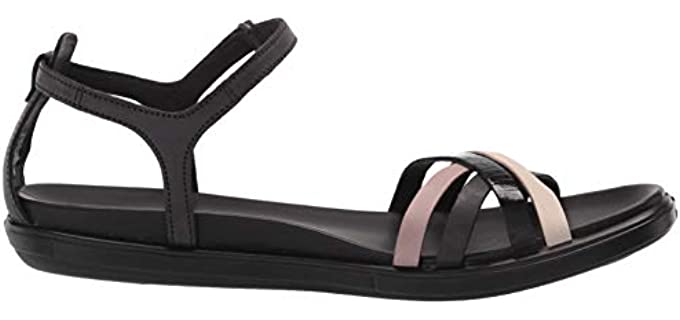 Styles – ECCO sandal for bunions are available in many styles that you can choose from. They have offroad and beach sandals and flip flops, more casual sandals, and formal style sandals from which you can choose.
Heel – ECCO sandals may have a slightly flatter sole that still offers good support, they may have a high traction sole that has a heel-to-toe drop in their athletic and outdoor models, or they may have a low or wedge heel, or high block heels.
Uppers – The Uppers will either be full grain leather from their tanneries or natural fibers and textiles. Their sandals have mostly adjustable uppers with hook and loop Velcro closures or buckle closures.
Support and Comfort – Every Ecco sandal has a well-cushioned, anatomical-shaped footbed. Some have a soft suede lining, and others a leather lining. There may be responsive PU cushioning, or an EVA footbed. Some models have a suspension cork footbed, and others have receptor technology in the heel for heel striking.
Outsole – The outdoor sandal models have a more rugged grippy rubber outsole for stability and slip resistance. Otherwise, most ECCO sandals will have a rubber or EVA outsole.
Fluidform Technology – You will see almost every sandal from ECCO features FLUID FORM technology. The technology means that lightweight liquid materials are injected directly into the shoe's sole, creating a more integral, flexible, lightweight bond between the upper sandal and the outsole for better comfort and durability.
Options – Ecco sandal are available in more colors, full and half sizes, however not different width options.
---
Reviews: The Best ECCO Sandals for Bunions
In our list, we have some of the best available ECC sandal models that are ideal for bunions;
---
1
The ECCO Yucatan is one of their most popular sellers.
Because the uppers are fully adjustable and have a soft padded lining, it makes them ideal for bunions.
The uppers are leather, and the sandal has Fluidform technology,
There is a foam midsole and cushioned footbed.
The outsole is a durable rubber.
There are also more colors available in this sandal.
---
2
The Flowt Strappy sandal offers soft and comfortable leather straps that are fully adjustable for bunions.
There is a leather-lined footbed with cushioning and arch support.
The sandal has a lightweight design and durable outsole.
You can also choose from a few more colors that are available.
---
3
Here we have the Banded version of the Flowt sandal for bunions.
The sandal has a large cross band that will hide bunions but not places any pressure on them.
There are fully adjustable straps for a comfortable fit.
The uppers are leather with a textile lining.
The footbed is cushioned and supportive with Fluidform technology.
The outsole is a durable polyurethane.
---
4
The ECCO Flowt Luxe is a very strappy sandal that hides bunions and has a comfortable fit.
There is a leather sole and leather uppers with wide Cross-over straps.
It has Fluidform technology, an anatomical comfort footbed cushioned, and absorbs shock.
The outsole is durable and offers good traction.
You can also choose from a few more available colors.
---
5
The ECCO Flash T-Strap sandal is an open design for bunions.
There are leather uppers and a durable rubber outsole.
The EVA footbed offers sift, anatomical cushioning and has a leather lining,
There is a sleek polyurethane outsole, and the uppers are fully adjustable in fit.
---
6
The Ecco Simpil is a comfortable ankle sandal with a platform sole.
The Peep Toe uppers will hide bunions easily.
An adjustable ankle strap and the uppers are full grain leather.
It has Fluidform technology and anatomical fit.
The footbed is cushioned and offers good support.
---
Index Table: Top Rated ECCO Sandals for Bunions
---
---