It may be hard to find the perfect sandal when you have bunions, as they may stick out, or the sandal straps may be uncomfortable against your bunions.
So, we have chosen a few sandal models from Rockport that will give you a more flattering and accommodating fit for your bunions, with good comfort and support features such as their truTech technology and EVA cushioning systems to reduce the impact on painful bunions.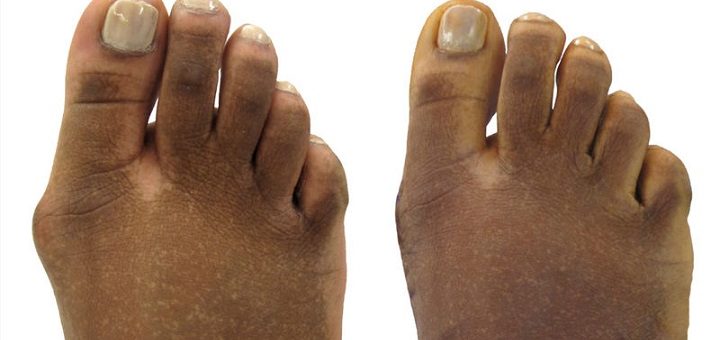 ---
Treating Bunions
Bunions can be painful and quite unsightly, and they may be aggravated by shoes that pressure them or by medical conditions such as Arthritis.
Bunions can cause other issues such as corns and calluses on the smaller toes that your big toe is pressing against.
Staying clear of narrow-fitting shoes and sandals when you have bunions and high heels is vital, as they will further aggravate the Bunion.
You can use soft orthotic pads for pressure relief inside shoes and sandals, and choose shoes and sandals with a wider, more accommodating fit.
Prescription or over-the-counter medication may help with pain relief.
Though, ultimately if bunions become very severe, surgery may be needed.
---
Why we Chose Rockport Sandals
Here are a few good reasons why we chose Rockport sandal for unions;

Comfortable Uppers – As you can see from the Features, Rockport sandals have mainly leather or synthetic Leather uppers, and they are mostly lined with a soft lining that will not chafe against bunions, especially when you sweat.
Fit and Design – Rockport sandals generally have a roomy toe box fit and are available in wider widths to accommodate bunions. We have chosen models that will hide your bunions without placing additional pressure on them that is unnecessary.
Good Cushioning – Rockport sandal offer excellent cushioning and support. They have a Moldable anatomical footbed with heel pad cushioning, and foam or EVA cushioning that supports the feet and absorbs impact.
---
Features of a Good Rockport Sandal for Bunions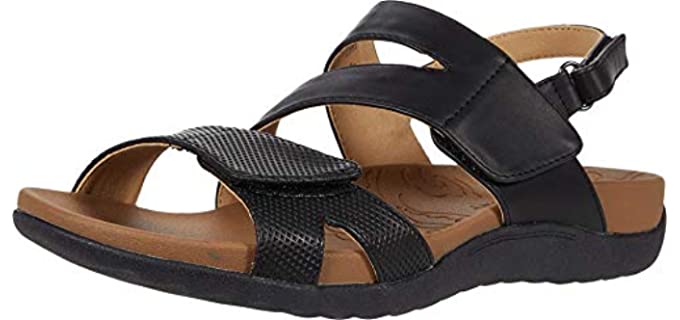 Uppers – Rockport Sandals have a comfortable and roomy fit that is accommodating for bunions and comes in some flattering styles to hide bunions. Most Rockport sandals will have genuine or synthetic leather uppers with a Microfiber or textile lining to wick away moisture. Some models may have textile uppers. There are also adjustability features in the uppers depending on the sandal model.
Support and Technology – Rockport sandal features truTech technology, a cushioned insole, a lightweight feel, and a shock-absorbing heel design. Some models have a more anatomically molded cushioned footbed with EVA, and models may have arch support and others with a PU or cork midsole for shock absorbency.
Outsole – Rockport sandals mainly have a rubber outsole, a TPR outsole, or a Thermoplastic Elastomer outsole. Some models have a PU sole lining for comfort. They have an outsole that offers good durability and traction on most surfaces.
Options – Most Rockport sandal models are available in wider widths, extended sizes, and more colors from which you can choose as needed.
---
Reviews: The Best Rockport Sandals for Bunions
In our list, we have some of the best available Rockport sandal models that are more comfortable and accommodating if you have bunions;
---
1
The Rockport Kells Bay is a comfortable and casual sandal with a style that will hide bunions and not place any pressure on them.
The uppers straps are flattering in synthetic leather with a smooth textile lining for breathability.
There is a truTech shock-absorbing footbed and heel with a soft cushioned footbed and PU outsole to provide comfort.
The footbed has a textile lining to absorb moisture and dry your feet.
The outsole offers good traction, and the sole has a more stable lower design.
The sandal is available in more colors and wider widths.
---
2
The Rockport Blanca T-Strap Sandals have flattering uppers to hide bunions and a Wedge sole for sophistication.
They are the perfect height with a solid wedge sole that is suitable if you have bunions.
The uppers have a roomy fit and soft full-grain leather with a textile sock liner for your comfort.
The Footbed offers good underfoot cushioning and arch support for stability.
There is a TPR outsole that is durable and ensures good traction.
The sandal is available in wider widths and more colors.
The slingback strap has adjustable features, allowing you a more secure fit.
---
3
From Rockport, we also have the fully adjustable strap Flat sandal that allows you to adjust the fit of the sandal so that it is more accommodating for bunions.
The flattering uppers straps will hide your bunions, and they are soft, lined leather that is comfortable against the skin.
There is a fully cushioned insole and built-in arch support to align and protect your feet against impact,
The sandal is designed with a flat sole for all-day comfort and comes in wider widths and extended sizes.
They have a durable rubber outsole and a few more colors available.
---
4
Something more elegant and formal from Rockport is the heeled Vivianne sandals.
You can wear heels with bunions if they are from Rockport, the heel is a solid block style, and the shoe offers good support.
The single front strap covers bunions and has a roomy fit.
There is a secure and adjustable back strap for a comfortable fit.
The uppers are leather and Microfiber lined for comfort.
There is a Cork midsole with a PU insole for cushioning and comfort.
Eva is added to the Midsole for Shock absorbency to reduce strain on bunions.
The rubber outsole ensures excellent traction and durability.
The sandals are more colors with the cork sole, and wider widths are available.
---
5
The Rockport Rodge Sling sandal has a completely open thong style toe, so your unions will be exposed with no pressure.
This is the perfect sandal if you cannot handle the pressure of straps against your bunions.
The open design is breathable and comfortable with soft genuine leather uppers, and a fully adjustable back strap, for a secure fit.
There is a contoured and anatomically molded EVA footbed for flexible cushioning, with a soft microfiber lining to wick away moisture.
The TPR outsole provides good stability and traction on most surfaces.
The sandal is available in more neutral colors, and wider width fits.
---
6
I have chosen something slightly different from the Cobb Hill range from Rockport.
These sandals have very different stretchable woven uppers that fully adapt to the shape of your feet.
They have a closed design to hide your bunions and come in many fun and feminine color options that you can enjoy.
They have a super plush memory foam footbed for underfoot comfort and an EVA sole that absorbs shock and reduces the impact on your bunions.
The sandal is fun, colorful, breathable, and extremely comfortable.
---
Index Table: Top Rated Rockport Sandals for Bunions
---
---