Wedge sandals generally have a more sophisticated and formal style that offers you the height of a heeled sandal, with much better support.
Wedge sandals for bunions will have an accommodating fit, wider width options, and a roomy toe box. They will have soft upper materials that will not aggravate bunions and a comfortably cushioned footbed for pressure relief.
We have chosen Wedge sandals for bunions that are not too high to push your feet forward in the sandal and that will offer good arch support.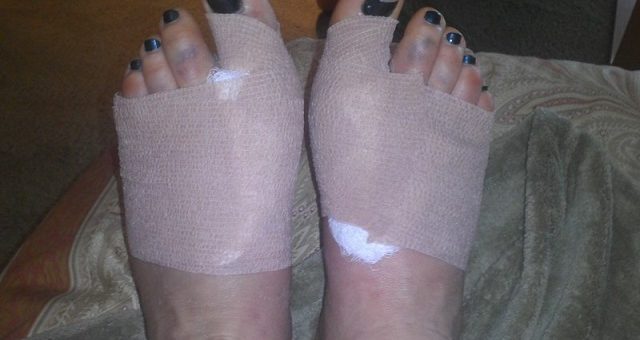 ---
Why Are Wedge sandals Better than Heels for Bunions
Wedge sandals are generally a much better option than heeled sandals, and they are also a much better choice when you have bunions;
Wedges are More Comfortable – Wedge soles distribute weight evenly and do not place it all in the heel or forefoot like high heels. They are more comfortable and stable than heels.
Add Height – Wedges add height similar to heel without the pressure on your feet and bunions.
Less Hazardous – You are much less likely to lose your balance with a wedge heel than with a regular or high heel, and you are less likely to sprain an ankle.
Versatile – Wedge sandals are more versatile and can be worn casually or dressed up for a formal event. You can easily replace heels with a wedge sole as it looks just as smart and formal.
They Last Longer than Heels – Heels can wear out quickly with uneven weight distribution, and you may need to replace them. Wedge soles are more stable and evenly distribute weight, thus, last longer.
---
How we Chose Wedge sandals for bunions
We aimed at choosing wedge sandals for all occasions, formal and casual.
The Wedge sandal we have chosen has a flattering fit to cover bunions and accommodate a roomier fit, and some models are available in wider widths.
We have also chosen Wedges sandals for bunions that have good underfoot support and cushioning features and more adjustability in their fit.
---
Features of a Good Wedge Sandal for Bunions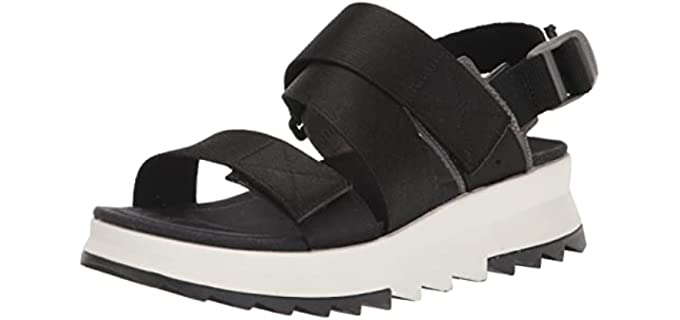 Uppers – A good Wedge sandal for bunions needs to have uppers that have an accommodating fit that will not place any pressure on your bunions and that will also hide them to make your feet look more flattering. Materials such as leather, fabric, textile, canvas, and synthetic leather are ideal in sandals for bunions. Many options that have a soft lining or are more stretchable are ideal. You can also look at Wedge sandals with adjustability features on the uppers to adjust the fit to accommodate bunions.
Comfort and Support – For comfort and support, we always look for a cushioned footbed with foam, EVA, r memory foam cushioning to absorb impact and take pressure off painful bunions. Support features such as a more contoured footbed, arch support, and a heel cup help to keep your feet more stable and in natural alignment. Many sandals also have a moisture-wicking lining to keep your feet dry and comfortable.
Outsole – The outsole needs to offer good traction and grip with a stable design or a more flexible design. In this article specifically, we look at sandals that have a wedge style sole which can be a low or higher wedge. The sole can be rubber, polyurethane, EVA, or synthetic.
Options – Most of the sandal models we have chosen are available in wider widths that will help to accommodate bunions. They are available in more colors and more sizes.
---
Reviews: The Best Wedge Sandals for Bunions
In our list are some comfortable and accommodating sandals for bunions that have a wedge design outsole;
---
1
The Merrell Alpine Cush is an extremely comfortable sporty wedge sole sandal for bunions.
The sandal has soft Full grain leather uppers with a moisture-wicking textile lining and a hook and loop closure with buckles to adjust the fit easily.
The insole is cushioned and contoured to support your feet and provide comfort, while an EVA midsole absorbs shock, reducing strain on your bunions.
The wedge sole is 0.5 inches which are quite low and stable.
There is a durable and high traction rubber outsole.
The sandal is available in more colors and size options from which you can choose.
---
2
From Clarks, I have chosen a very closed style loafer sandal that will hide your bunions, with a roomy enough fit not to place any pressure on them.
The Uppers are genuine leather with large cut-outs for breathability and a closed round toe.
A comfortable Ortholite footbed provides good cushioning under your feet and wicks away moisture to keep your feet dry.
The sandal has a 1.29-inch heel height that gives good stability and a durable and high traction outsole.
More colors are available, and wider width fits from which you can choose.
---
3
The Lifestride Yasmine is a more elegant, formal, low wedge sandal for bunions.
The sandal has faux leather, fabric, or canvas uppers, which depends on the color and model that you choose.
The asymmetrical uppers give a comfortable fit for bunions and also somehow hide them for a more flattering look.
A Soft System for comfort consists of cushioning, arch support, and heel support that fully supports your feet and absorbs shock.
The outsole is synthetic and more flexible with a high traction tread.
More colors and wider widths are available in this sandal model.
---
4
The Clarks Beach Wedge Sandals are a higher wedge design that is comfortable and accommodating for bunions.
The sandal has faux leather uppers with a stunning design to hide bunions and a roomy toe box that will not place any pressure on them.
There is an adjustable strap so that you can get a more secure fit to prevent heel slippage.
The wedge sole has a 3-inch heel height that is quite high yet suitable for stability.
The Footbed has PU foam and is a contoured design for comfort and support.
The wedge sole has a modern cork design that is ideal for casual wear.
The sandal is available in various colors with a similar cork sole.
---
5
The Cushionaire melissa is a Cork Wedge sole sandal with a comfortable fit for bunions.
The single wide forefoot strap will hide bunions, and the soft materials are gentle against your bunions.
A secure and adjustable heel strap gives you a comfortable and safe fit.
The sandals have a comfortable added footbed to reduce the impact on painful bunions.
The Uppers are soft vegan leather with a soft lining for your comfort.
The wedge Espadrille style sole is more flexible and has a 2 Inch heel.
The outsole is rubber with a high traction tread.
The sandal is available in more colors with the contrasting Espadrille wedge sole.
---
6
The Crocs Brooklyn and soft and foamy roomy sandal with a Wedge sole is ideal for bunions.
The outsole is a Thermoplastic rubber for good traction and slips resistance on wet and dry surfaces.
The uppers are lightweight and comfortable Crosslite foam with wide straps to hide bunions and a very roomy fit.
There is a secure ankle strap to prevent heel slippage.
The sandal has a comfortable LiteRide foam footbed with a contoured design for support and cushioning.
The sole is a high and solid wedge design.
The sandals are available in more colors and wider widths.
---
Index Table: Top Rated Wedge Sandals for Bunions
---
---