Orthofeet sandals offer excellent fit and wider width options, which you need for bunions.
Many of their sandals also have a more closed design to hide bunions with soft construction to prevent friction.
This, along with the support and cushioning technology, makes Orthofeet sandals for bunions most likely the best you will ever find.

---
---
Bunions in a Nutshell
Before we get into the sandal reviews, let us look into bunions and how they affect your feet.
Bunions are bony bumps that form on the joints at the base of your big toe. You also get these on the base of your small toe called Bunionettes.
Bunions can be painful, swell, and inflamed, causing much discomfort, not to mention looking very unsightly.
Bunions are mainly formed by footwear with a very narrow toe or high heel, pushing your foot forward into the shoes and causing the toes to be squeezed together.
Persons with Arthritis and other foot conditions may also suffer from bunions. Then again, bunions are likely hereditary.
Footwear is vital when you have Bunions or want to prevent them.
Most importantly, you want a shoe or sandal that places no pressure on your toes, provides good underfoot cushioning, and has a very roomy and deep toe box.
---
Why Choose Orthofeet Sandals for Bunions
So, all in all, why should you choose Orthofeet sandals for bunions?
For the most important part, Orthofeet has sandals such as their Fisherman-style sandal that has a closed toe to hide and protect your toes and bunions. Besides that, the Orthofeet sandal has adjustable fit uppers and a very roomy toe box, ideal for Bunions. Orthofeet sandals are also available in wider-width options.
Other than that, the Orthofeet sandal offers the following comfort features;

Ortho Cushioning System – The Orthofeet Cushioning system is innovative and orthotic, providing anatomical support and excellent shock absorbency. The light rocker sole reduces pressure off your feet and provides excellent stability.
Orthotic Biomechanical Insole – The Biomechanical insole is supportive and cushioning. It reduces heel and forefoot pain and also prevents corns and calluses.
Arch Booster Support – Some Orthofeet sandal models come with an additional arch booster that you can use on the insole to provide arch support for flat or high arches where additional support is required.
---
Features of a Good Orthofeet Sandal for Bunions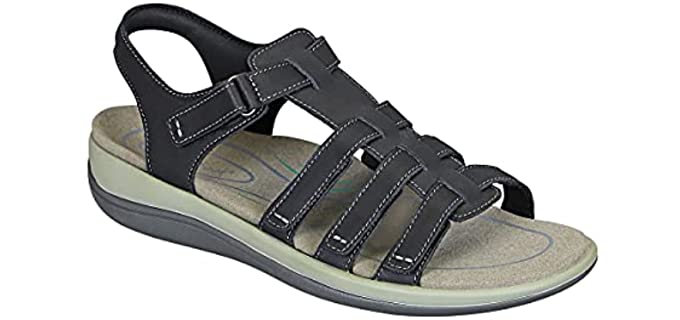 Styles – Orthofeet sandals come in various styles from which you can choose. There are sporty adjustable styles with an open toe. The slide and flip-flops styles. Also, the more closed-design Fisherman-style sandals. Furthermore, there are also more formal sandal styles available.
Uppers – Orthofeet sandals offer various textile, knitted, and leather uppers. Most of their uppers are lined to reduce friction; some even have padding. I love Orthofeet sandals because they offer adjustability on the uppers of most of their sandals so that you can get the perfect fit.
Insole and Cushioning – Orthofeet sandals have an ergonomic, Orthotic, and anatomically designed footbed with multiple layers of cushioning in the insole for comfort and firmer layers of cushioning in the midsole for shock absorbency. There is also more cushioning in the heel and the ball of the foot area.
Support – Orthofeet sandals offer exceptional arch support and a contoured footbed design for full support and comfort. The fit of their sandal is fully supportive and usually has a more roomy toe box for accommodating different foot conditions and requirements.
Options – Most Orthofeet sandals offer various colors, as well as extended widths and sizes.
Outsole – They usually have a slip-resistant rubber outsole with a more lug pattern for grip and traction.
---
Reviews: The Best Orthofeet Sandals for Bunions
Here are our top favorite Orthofeet brand sandals for bunions;
We hope you love the products we recommend!
We may collect a share of sales or other compensation from the links on this page.
---
1
The Orthofeet Cambria is a supportive sandal for men.
The open design will place no pressure on painful bunions, and the uppers are fully adjustable in fit.
The uppers consist of leather with a soft and padded lining.
There are a few neutral colors available and wider width options.
The footbed features cushioning and a supportive anatomical design with concealed arch support.
Furthermore, there is a durable and slip-resistant outsole.
---
2
The Orthofeet Clearwater is a Fisherman's style sandal for men, offering plenty of coverage and protection for painful bunions.
The uppers are a stretchable, flexible, soft textile material with a smooth lining.
The toe box is very roomy, and you can adjust the fit.
There are more colors as well as wider width options available to you.
Furthermore, there is a supportive and fully cushioned footbed for comfort.
The outsole offers exceptional grip, and the sandal is water-friendly and durable.
---
3
The Orthofeet Alpine is another closed-style sandal for men, ideal for bunions.
The closed toe hides unsightly unions and protects them against painful bumps and abrasions.
The uppers are soft and flexible leather with a textile lining, and the fit is fully adjustable.
Besides the roomy toe box, wider width options and more colors are available.
The footbed offers excellent cushioning, shock absorbency, proper arch support, and foot alignment for better stability.
The outsole is a highly durable rubber.
---
4
The Orthofeet Malibu I a comfortable casual sandal for ladies.
The toe is more open, with less pressure on painful bunions.
I love this sandal because you can adjust all the straps, even the back strap, and the leather uppers have a soft, lightly padded lining that will not cause pressure or friction against your skin.
The comfort features are ideal, with layers of cushioning and an ergonomic orthotic footbed with an anatomical arch support shape.
The outsole is a lower profile with durable rubber and lug patterns for grip.
You can also select from a few neutral color options to your liking.
---
5
The Orthofeet Verona is a Fisherman-style sandal for ladies with a more closed design.
The closed-toe conceals and protects painful bunions, while the roomy toe box adds no pressure.
The uppers are leather and textile with a soft lining and are fully adjustable.
A fully cushioned footbed ensures anatomical support and an ergonomic shape.
The outsole is very durable rubber with a grippy tread.
---
6
This strappy design sandal from Orthofeet still offers coverage without any pressure on your bunions.
It is adjustable with light leather uppers and a few color options.
The footbed offers plush cushioning and support with a contoured and anatomical design.
The sole is a durable and cushioning rubber.
The sandal has a roomy toe box available in wider-width options.
---
7
The Orthofeet Calypso is a breathable and open-design sandal for ladies.
The toe box is roomy, and the uppers are fully adjustable in fit to accommodate bunions.
The uppers are a soft textile material with a smooth, breathable lining.
The sandal is available in soft grey color only and wider widths.
The footbed has layers of cushioning for shock absorbency and comfort and an anatomical design.
The outsole is a durable and high-traction rubber.
---
8
From Orthofeet, we have the Orthopedic Paloma Sandal.
It has adjustable and comfortable uppers for bunions.
The footbed has layered cushioning and a supportive arch.
There are also more colors available to you.
---
9
The Naxos is an Orthopedic sandal ideal for bunions.
It has adjustable and comfortable uppers.
There is a fully cushioned and supportive footbed.
The sandal is likewise available in more colors.
The outsole is a durable rubber.
---
10
This is a fisherman-style closed sandal for bunions.
It has plenty of cushioning and arch support.
The uppers hide bunions and will not cause pressure on them.
There are likewise more colors available.
---
Index Table: Top Rated Sandals for Bunions
---
---