You may want to hide your bunions in a closed-shoe design for public wear, but for leisurewear, or even if you do not mind showing your bunions, a sandal could be ideal.
The best Flip-Flops for bunions will not place any extra pressure and are a cool and comfortable option for summer.

---
---
Bunions and How Your Shoes Affect Them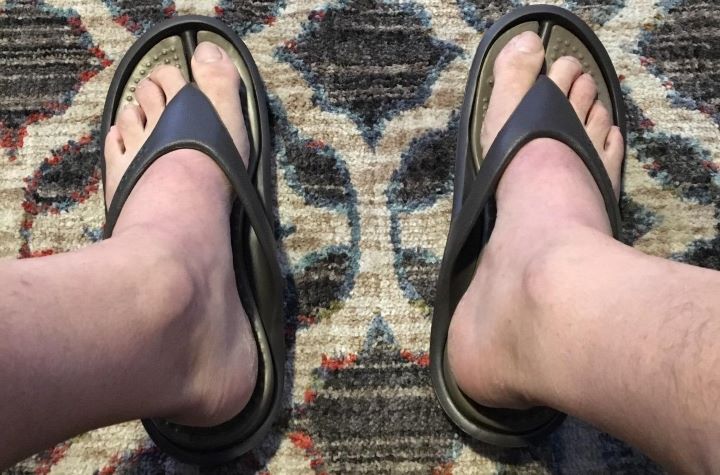 A Bunion is a Bony bump that usually forms on the joint at the base of your big toe.
This generally occurs when some of the bones in the front part of your feet move out of place, which causes the tip of the big toe to pull towards the smaller toes forcing the joints at the base of the big toe to stick out.
Tight and Narrow fitting shoes, as well as high heels that force your forefoot into the front area of the shoe, are the biggest causes of bunions.
However, bunions can also develop because of medical conditions such as Arthritis, deformities at birth, stress, or injuries to the feet, or they may be completely hereditary.
---
Why Choose Flip Flops for Bunions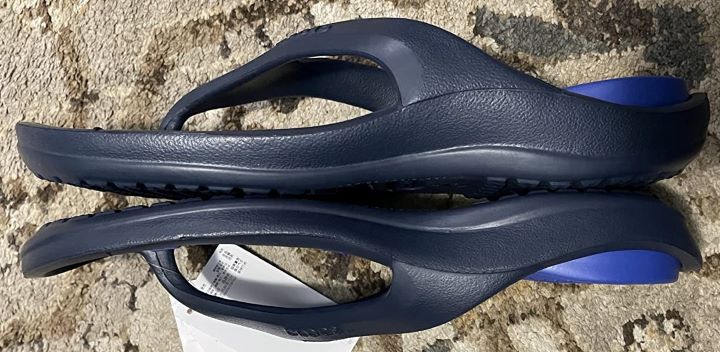 Open Design – Flip Flops has a very open design that will not place any pressure on a painful Bunion. Yes, they will expose your bunions, but they are a very comfortable alternative for leisure wear or wearing when you are not in public spaces. The open design allows for better air circulation and improves the healing of bunions.
Cool – When your feet get overheated, it may be extra uncomfortable when you have Bunions. A hot and swollen Bunion can be very uncomfortable. Flip Flop sandals have an open design that will keep your feet cool and comfortable. Not to mention sweating, which may cause chafing, extra blisters, and abrasions on your bunions.
Proper Support – Many Flip Flop sandals available today come with a full supportive footbed that offers proper alignment and arch support which is ideal for keeping your feet comfortable and stable.
Cushioning – Most flip-flop sandal brands and models also offer excellent cushioning options in the footbeds of their flip-flops, which reduce impact and pressure on your feet, which in turn may affect or cause bunions.
---
Features of a Good Flip Flop for Bunions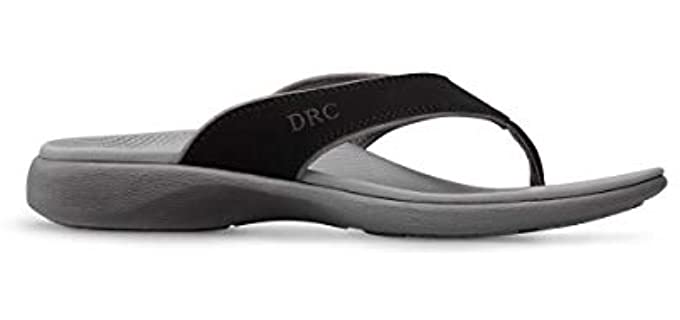 Uppers – Flip Flops come in various materials for uppers, such as genuine or synthetic leather, textile, or rubber. Some have padded or lined uppers for more comfort.
Footbed – For the footbed, you can expect cushioning in the form of EVA, memory foam, and other foam types with a comfortable lining or water-resistant material such as Crosslite and water-resistant foams. The footbed may have a contoured design with arch support. Some designs have a deeper heel cup or added cushioning in the heel and ball of the foot area.
Outsole – The outsole can be synthetic, EVA, Rubber, or EVA and rubber blend, with a patterned tread to offer maximum slip resistance. A thicker sole is ideal for better shock absorbency.
Fit – Most Flip Flops for Bunions will be available in wider width options or have a wider fit for comfort.
Options – Flip Flops for bunions may come in more colors and width options depending on the specific brand, and plenty of sizes should be available.
---
Reviews: The Best Flip Flops for Bunions
These are our top choices in Flip Flop sandals that are ideal for bunions;
We hope you love the flip-flops we recommend!
So that you know, We may collect a share of sales or other compensation from the links on this page.
---
1
I love the design of the Iqushion Flip Flop for bunions.
The uppers straps are skinny and flexible rubber that will not chafe against or place any pressure on your bunions.
The footbed is a soft and durable foam with an anatomical contour, arch support, and cushioning.
There is additional cushioning in the heel area and the ball of the foot area for optimal shock absorbency.
The sandal is affordable and available in so many color options.
---
2
The DR Comfort Flip Flop sandal and the Shannon has the perfect shape and design for bunions.
The uppers are soft, lined leather that does not cause friction or pressure on bunions.
The footbed has an Orthopedic design with a very roomy toe box and wider options available.
There is ample cushioning, and the footbed is contoured for support,
The outsole provides good grip and slips resistance on most surfaces.
---
3
From a great brand, Clarks, I have chosen the Whelkie and Breeze as beach flip-flops for bunions.
They have synthetic leather and textile uppers that are comfortable and gentle against bunions.
The footbed has Cloudstepper cushioning technology and is contoured for support.
They are both very lightweight and comfortable and available in more color selections.
---
4
Crocs Flip Flops are extremely lightweight and water-friendly.
The uppers are a very soft foam that is gentle against bunions.
The footbed is contoured for support and well-cushioned for shock absorbency.
The flip-flop sandal consists of crosslite material that is soft, light, water-resistant, and easy to clean.
The flip-flops are available in more color options.
---
5
Oofos sandals are recovery sandals for aching feet or after sports and injuries.
They also offer two flip-flop models, the Ooriginal for men and OOlala for women.
They consist mainly of a very lightweight Oofoam technology that absorbs shock.
The uppers are soft and comfortable for bunions.
The fit is generally wider and more accommodating.
The sole has a rocker design to reduce pressure on our feet and bunions.
---
6
From Vionic, we have the Tide Toe post-Flip Flop range ideal for all occasions.
They are available in neutral color selections for both men and women.
The Tide flip flop has a durable and high traction rubber sole and leather and textile uppers webbing.
The footbed is EVA for cushioning with a contoured podiatrist design for support and comfort.
This design is also an excellent choice for a beach sandal as it is generally water-friendly and quick drying.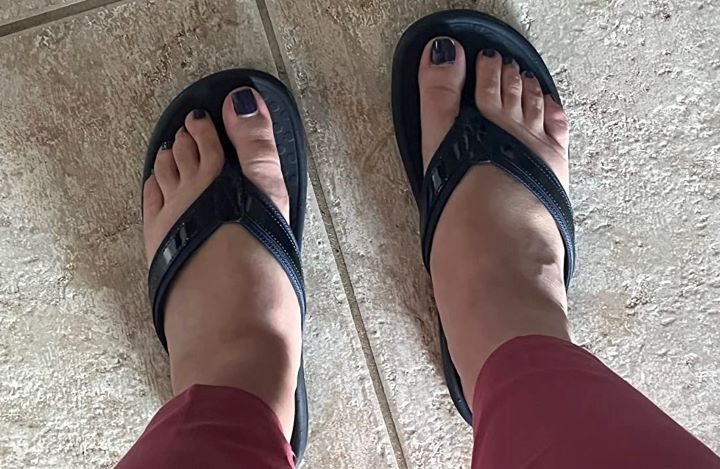 ---
7
The two flip-flop designs are ideal for bunions.
They have leather and textile uppers with more colors available.
The footbed offers Mush cushioning, and there is a shock-absorbing EVA midsole.
The outsole is a durable rubber.
---
8
These are two casual everyday wear flip-flops for bunions.
They have leather uppers and a supportive cushioned footbed.
The Flip Flops have a rubber outsole to provide grip and traction.
There are also more colors available.
---
9
The Tide flip flop range from Vionic is ideal for bunions.
They have synthetic uppers and a durable rubber outsole.
The footbed is cushioned and designed to support the foot's arch properly.
There are also more colors available.
---
10
The Oofos flip-flop is a recovery flip-flop for casual wear when you have painful bunions.
It consists of very soft and lightweight foam.
The flip flop is water-resistant and offers good cushioning.
The rocker sole takes the pressure off your feet.
---
Index Table: Top Rated Flip Flops for Bunions
---
---