Bunions can be painful and unsightly, which makes summertime so much harder because you cannot always wear your favorite sandals.
However, with Lifestride sandals for bunions, you can. They have sandal models that hide bunions, with an accommodating fit that will not aggravate bunions and comfortable cushioning to reduce underfoot pressure.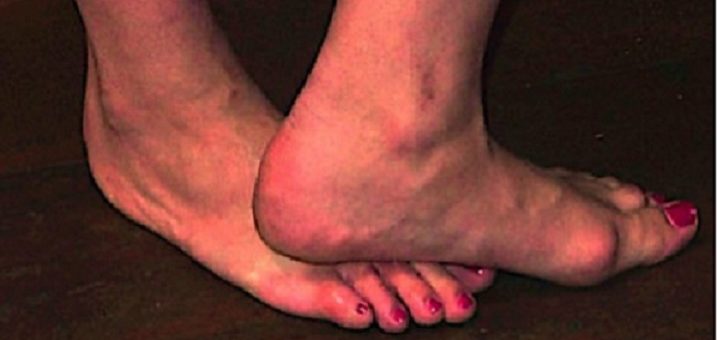 ---
Bunions and Their Causes
A Bunion is a Painfully Bony bump that forms at the side of the base joint of your big toe. The bump can be red and swollen and may cause calluses on the other toes from pressing against each other.
The main cause of Bunions is wearing shoes that are too tight or narrow or have a high heel that pierces your toes.
Some people may have Bunions as a hereditary trait, while others may develop Bunions because of medical conditions such as Arthritis.
---
Lifestride Shoes for Bunions
So, what makes Lifestride Shoes for bunions so exceptional?

Fit – Firstly, Lifestride sandal are available in wider widths which is very accommodating for bunions. They have a roomy toe design and fit, with soft stretch or leather uppers that will not pressure your bunions.
Design – Lifestride sandals have a very feminine and classy design, with many options to choose from that will hide your bunions rather than expose them.
Support and Cushioning System – Lifestride sandals have a full cushioning and support system with soft shock absorbing foam, arch support, and a heel cup for stability. They are also lined to wick away moisture and keep your feet dry.
---
Features of a Good Lifestride Sandal for Bunions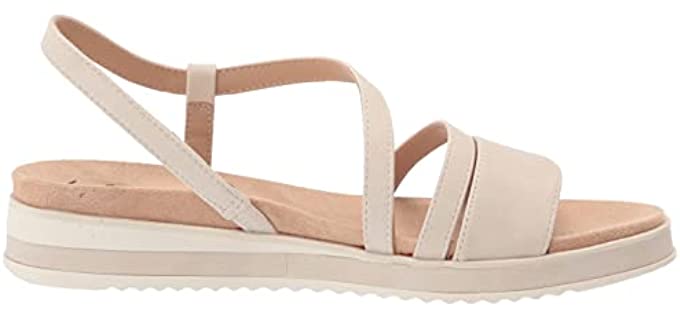 Uppers – Lifestride sandals come with much variety in the design of the uppers of their sandals. There are many styles and options from which you can choose. They have more classic leather, synthetic leather uppers, and the more sporty styled stretch fabric, and stretch gore uppers. Most of their sandals do come with a leather or textile lining for your comfort. They also have adjustable uppers so that you can get the perfect fit.
Cushioning and Support – Lifestride sandals have some excellent comfort features that are ideal if you have bunions. They have the Soft System in most of their sandals which employs a plush and breathable foam footbed with arch support and a heel support design. In their sporty models, they have the Velocity 2.0 technology, which is a luxe lining with a premium cushioned insole that absorbs shock and evenly distributes pressure. Their soles are flexible and stable for good balance.
Outsole – Lifestride sandals mostly feature a high traction Flexible outsole that may be rubber, Polyurethane, or Faux leather for stability and flexible traction.
Heel Height – Depending on the sandal model, Lifestride sandals offer different heel heights. They have platform and wedge sole designs. There are heel heights of around one and ½ inches to ½ inches and ¼ inches, which are more suitable for bunions.
Options – Lifestride sandal models are available in wider width options, as well as more colors, and extended sizes.
---
Reviews: The Best Lifestride Sandals for Bunions
In our review section, we have chosen a few Lifestride sandal models that are most suitable if you have bunions;
---
1
The Lifestride Zing is a casual flat sandal with a comfortable fit for bunions.
The stretch fabric uppers and stretch gore straps give a more comfortable fit.
An Instep straps an adjustable hook and loop closure so that you can adjust the fit to your liking.
It has the Velocity 2.0 comfort system that offers soft and shock-absorbing underfoot cushioning to disperse pressure and reduce the impact on painful Bunions.
It also features soft system cushioning that support your arch and heel for stability and comfort.
The sporty outsole offers excellent traction and stability and has a color pop detail.
The sandal is available in wider widths and many more color selections.
---
2
The Lifestride Yoyo sandal is a more formal styled sandal with a low heel and elegant design for all occasions.
The front straps will hide bunions and are wide enough to give a comfortable fit to accommodate bunions.
There are faux leather uppers with a smooth lining and the sole with a faux leather lining.
The Soft System comfort package includes a cushioned insole with arch support, and heel support for comfort.
A 1 and ¼ inch wedge sole is the perfect height if you have bunions.
The sandal is available in more colors and wider widths.
---
3
The Lifestride Zoe is a sporty-styled casual sandal for bunions.
It has synthetic leather uppers and a polyurethane sole.
The sandal has an easy slip-on and slip-off design, accommodating fit and flattering style for bunions.
TTheSoft System comfort features include a hidden cushioned insole, arch support, and a heel cup for heel stability, as well as the Velocity 2.0 luxe lining and super shock, absorbing cushioning insole.
The sole is more flexible and offers excellent traction, which gives you much more secure footing if you are off balance because of bunions.
The sandals have wider widths to accommodate bunions and are available in more neutral color selections.
---
4
The Yasmine from Lifestride is a very elegant and feminine styled Wedge sole sandal that has a flattering design to hide bunions, without placing excess pressure on them.
The sandal has Faux Leather uppers and a faux leather sole with a comfortable lining.
They have lovely asymmetrical straps that will avert eyes from your bunions,
The Uppers come in faux leather, fabric, or canvas materials, depending on your chosen model.
The Soft System provides soft underfoot cushioning with arch and heel support.
The high traction Pu outsole is durable and ensures flexible cushioning.
---
5
The Lifestride Ezriel is a comfortable and classy flat sandal with many straps to hide bunions and not place any pressure on them.
They have a slingback design and adjustable closures.
There are synthetic leather uppers with a smooth lining,
The sandal has a slight ½-inch platform sole that is stable and not too high for bunions.
A Soft System provides cushioning and support to reduce the impact on painful bunions.
The outsole is more flexible and offers good traction.
---
6
We have a more Dress styled shoe from Lifestride the Charlotte.
If you want to wear heels, I would suggest the Charlotte as it is more stable and has a flattering design for formal occasions.
The Uppers straps will hide your bunions and not place any pressure on them.
The thicker heel is more stable and has the perfect height.
The sandal has synthetic leather uppers and high traction, extra stable outsole.
They have a Soft System with arch and heel support and soft underfoot cushioning for comfort.
The sandal is available in medium and wide widths and a few more popular color options.
---
Index Table: Top Rated Lifestride Sandals for Bunions
---
---