Going to the beach, you want to be comfortable, water ready but still have a sense of style.
So we have rounded up some of the top favorite sandals of all styles and types that you can wear to the beach.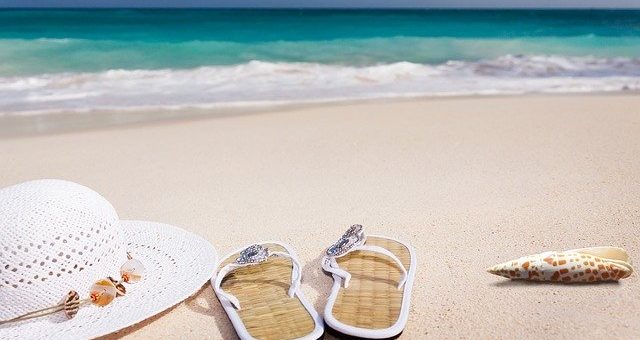 ---
Best Sandal Types for the Beach
When it comes to the best sandals for the beach, there are a few designs that just stand out;
Beach Wedge Sandal – A more stylish and elegant option, particularly for the ladies, this sandal has a slight heel and is flattering to wear with any swimwear on and off the beach.
Slide On Sandal – The Slide sandal is quick and easy to put on and take off and usually made from water-friendly materials, so you can use it as a shower sandal as well when washing off the sand.
Thong or Flat Sandals – Any Type of Thong or flat sandal can work as beachwear and can be styled and accessorized to look exceptional.
Hiking Sandals – The hiking sandal works well on slippery rocks and beaches where you want to explore a bit and need maximum protection and comfort in and out of the water.
Flip Flop – Last and the most popular is the Flip Flop, which comes in a vast array of styles, colors, prints, and patterns and is usually made from a water-friendly rubber or Eva material that is comfortable, lightweight and easy to wear. This is a top favorite in beach sandals.
---
Why are Sandals so Ideal for Beach Wear
Sandals are the ideal option for beachwear because of their open design that breathes easily and that expels water and sand that may enter the sandal.
Most sandals are made from water repellent or quick-drying materials such as textiles, EVA, and rubber, which is comfortable and durable and rinses off easily, and dries quickly.
---
Features of a Good Sandal for the Beach
Breathable – Open design uppers that allow for good airflow, such as a slide, thongor strappy upper design.
Quick Drying – Textile or water resistant materails that dry fast or repel water.
Easy To Clean – Easy to rinse of and wash maetarisl such as plastic, EVA or rubber.
Protection – Good underfoor protection and slip resistance such as a rubber outsole with lug patterns.
Comfort – Comfortable cushioned footbed and midsole.
Style – Patterns, prints and stylish options available.
---
Reviews: The Best Sandals for the Beach
Below are some superb options in comfortable Beach sandals;
---
1
The Terra Fi Lite from Teva is perfect comfort and durable sandals for beach excursions.
Soft and quick-drying polyester and Nylon upper webbing.
A comfortable and lightweight sock absorbing EVA midsole and shock-absorbing ShocPad technology design.
Microban Zinc based treated footbed for odor resistance.
A rugged and durable Spider Rubber Outsole.
Some color selections are available in this sandal model.
---
2
The Adilette is a fantastic slip-on and off-water-ready sandal for wear on the beach or when taking a quick shower off the beach.
Synthetic bandage upper.
A durable leather sole and regular fit design.
Cushioned Clodfoam plus footbed and an EVA outsole for optimal shock absorbency.
Water-friendly and quick drying.
Available in many color selections to choose from.
---
3
The Baya slide and Patricia from Crocs are two perfect beach sandals for everyday comfort.
Made from soft and comfortable cushioned crosslite material.
Water drainage holes and open design allows for better ventilation and drainage of sand and water on the beach.
A durable and slip-resistant outsole.
Available in a few color selections for men and women.
---
4
Wedge Sandal for the Beach
Something a bit more stylish and elegant for more formal occasions on the beach.
The Coastal Mist for the gents is a thong-style sandal with an elevated heel and flexible outsole.
The Rumblers for the ladies is a Wedge sole slide on strappy sandal with a comfortable memory foam insole and Nubuck synthetic leather uppers.
Both sandals feature a durable rubber outsole and are available in a few color selections.
There is also a cushioned comfort footbed that supports the feet.
---
5
These two Havaianas models are perfect for the beach; they are lightweight, fun, and colorful.
It is made from durable rubber and soft EVA for cushioning.
Available in floral and butterfly prints for the ladies and surf prints for the gents.
Colorful and fun to wear with the original beach flip flop design.
Very lightweight and water-friendly materials.
---
6
The Surfa design Flip flop from FitFlop is elegant, stylish, and very comfortable for beachwear.
The Men's Surfa has a textile thong upper and is available in three neutral color selections.
The Ladies Surfa has a fabric thong upper design decorated with crystal rhinestones and is available in either pink, lavender, or black color selections.
Both shoes feature a biomechanically engineered comfort and support footbed with super cushioning and a micro wobble board pressure diffusing midsole.
The durable outsole offers good traction and slips resistance, and there is a seamless built-in arch contour.
---
7
Flip Flop beach Sandals for Heel Pain
One of the best sandals that you can invest in regularly we're at the beach is the Iqushion from FitFlop.
There are rubber upper straps and a foam-based sole that rinses off easily and offers excellent water resistance.
The footbed is designed biomechanically for optimal support.
There are added heel and metatarsal cushioning and built-in arch support.
The patterned outsole also ensures excellent slip resistance.
You can choose between many colors for ladies and gents in the FitFlop Iqushion.
---
8
Outdoor Sandals for Flat Feet
The way and Sanborn are two perfect and comfortable sandals for Beachwear.
Both sandals feature a quick-drying textile and polyester upper that is also water friendly.
There is an easy hook-and-loop closure system, and the straps are adjustable for a more customizable fit.
The sole has injected and molded EVA that contours to your feet' shape for optimal cushioning and support.
The outsole has a lug pattern for slip resistance and is made from durable rubber.
---
9
Beach Flip Flops and Thong Sandal
These two sandals from UGG are ideal for on and off the beach excursions and all occasions.
Leather and textile upper the seaside is a flip flop design, and the Aleight Almond a slingback thong sandal for the ladies.
The footbed is lined with a cushioning cork and is further supported with Molded EVA for shock absorbency and comfort.
Ther is also a durable rubber outsole for grip a.
---
10
The Dream Pairs Fisherman-style sandal is perfect for wearing on the beach.
The uppers are light and water-friendly, with a bungee lace-up system for a comfortable fit.
There is a super soft EVA molded and cushioned comfort footbed.
The rubber sole ensures good traction and grip on slippery surfaces.
The sole is also very lightweight and flexible.
---
Index Table: Top Rated Sandals for the Beach
---
---