A good pair of insoles could be quite tricky to find, especially if they are for sandals.
So, we have researched and found some of the best available insoles, for different purposes, for wearing with sandals, and even some for wearing with Flip Flops.
Insoles can help provide additional support and cushioning for your feet and can be worn in sandals to help alleviate foot pain and discomfort.
Here are some tips for choosing insoles for sandals:
Consider your specific needs: What type of support or cushioning do you need? Do you have flat feet, high arches, or other specific foot conditions that need to be accommodated? This will help you choose the right type of insole for your needs.
Look for insoles with good arch support: Arch support can help distribute weight evenly across the foot and reduce strain on the toes.
Choose cushioned insoles: A cushioned footbed can help absorb shock and provide added comfort for your feet.
Insoles with a contoured design: A contoured design can help conform to the shape of your feet and provide a more secure, customized fit.
Moisture-wicking insoles: If you tend to sweat a lot or will be wearing your sandals in hot or humid conditions, insoles with moisture-wicking properties can help keep your feet dry and comfortable.
It is a good idea to try on different insoles and walk around in them to determine which ones feel the most comfortable and supportive.
---
---
Why Wear Insoles in Your Sandals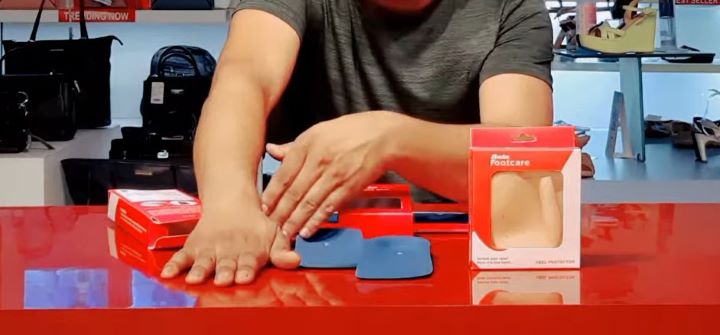 When it comes to wearing Insoles in your sandals, there are three reasons why they may come in handy;
To Absorb Moisture – Sandals are usually worn in hot summer weather. When it gets scorching, you better get an absorbent-insole one of the best sandals for sweaty feet as your feet may sweat and slip around in your sandal; bad odors can also exist from sweaty feet. An absorbent and antimicrobial insole is a thin layered insole that absorbs or wicks away moisture and keeps your feet dry in your sandals.
Cushioning – Sandals mostly lack comfort and support features and may lack cushioning. Adding a soft foam or Gel insole or insert in the heel or ball of the feet, where you need cushioning, can be quite handy.
Arch Support – Some sandal models also lack arch support, and when you need some support, you can get an insole or arch insert for additional arch support.
Slipper Insole – If the insole of your sandal is slippery and you struggle to get a grip on the fit, a fabric or leather insole can help to give you an improved fit.
Sandals that are Too Big – If your sandal is a tad on the big side, you can always insert an insole to take up some space and give you a more snug fit.
---
Different Insole and Insert Types for Sandals and Their Uses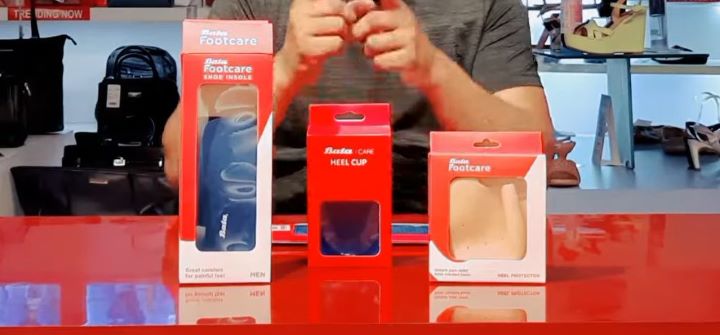 There are a few different Sandal Insoles and Inserts that you can consider, depending on what you want to use them for;
Moisture Wicking and Absorbent Insoles – These are either a Terry Cloth, leather, or fabric insole that is everything and sticks to your sandal. They provide moisture absorbency or wicking properties to keep your feet dry, and some are treated with antimicrobial technology to resist odors.
Cushioning – A cushioning insole or insert is lightly padded to provide some shock absorbency and cushioning. These come in a full insole, a heel, or a forefoot insert.
Arch Support Inserts – The Arch support insert is a small arc-shaped insert that you place underneath your arches in your sandal to support the arch of your feet.
Heel and Ball Of Foot Cushions – These are usually gel or padded inserts that you use added heel cushioning. The foot cushioning ball is ideal to use with a high heel where your weight is concentrated in the balls of your feet.
Gel Insole – Gel is used in many inserts and insoles for durable cushioning and grip. The Gel is usually silicone-based, Gel.
Support – A support insole is a full insole with a cushioned and contoured design with full arch and foot support.
---
Features of a Good Insole for Sandals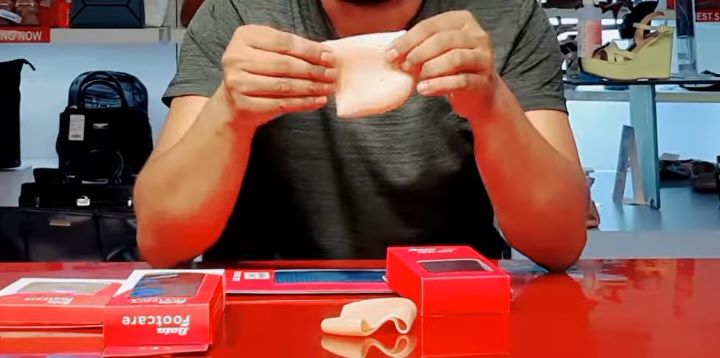 Lining – The top lining can be fabric or similar to the insole. Good moisture-wicking capabilities and less friction in desirable for a lining.
Contoured Shape and Arch Support – A more contoured shape with arch support is ideal, depending on your arch support requirements.
Cushioned – Most insole types offer good cushioning and shock absorbency.
Non-Slip – The insole's bottom design should be such to keep the insole firmly on your shoes. A non-skid and slip-resistant lining is also desirable to keep your feet from slipping when they get sweaty.
Materials – fabrics or leather can be used to lining the insole. Foam, Gel, and EVA are great materials for the cushioned insole. Wool and fibers are a great material choices for moisture-wicking insoles designed to keep your feet dry.
---
Reviews: The Best Insoles for Sandals
These are some excellent choices in Insoles for Sandals;
We hope you love the insoles we recommend!
So that you know, We may collect a share of sales or other compensation from the links on this page.
---
1
These insoles feature a patented biomechanically designed gel insole that gently glides under the feet and supports your arches, heels, ankles, knee, and even the lower back.
It's an ideal insole for those suffering from heel pain, Fat Pad Atrophy, Plantar Fasciitis, Morton's Neuroma, Metatarsalgia, Over-Pronation, and other foot issues.
Soul Insoles are available in multiple sizes for men, women, and children, and also fit in all kinds of footwear apart from your sandals including dress shoes and athletic shoes.
These insoles are lined with peel and stick adhesives that will secure them in place. You may wash them when needed, and the adhesive will return back to normal.
You may wash them when needed, and the adhesive will return back to normal.
Since they are minimalist and lightweight, you'll barely feel them under your feet – but with enhanced comfort.
Since they are minimalist and lightweight, they won't crowd your shoes, but they will enhance comfort and relieve foot pain.
---
2
The Summer Soles insoles are designed to keep your feet dry and comfortable in summer sandals.
Summer Soles are Ultra Absorbent keeping your feet dry and fresh.
The design is easy to peel on and off in your sandals.
The natural wool materials are absorbent and cooling.
The insoles come in different color options and are one of three sets.
---
3
Dr. Foot insoles are ideal for arch support and cushioning in your sandals.
The Insoles are self-adhesive and will not slip around in your sandal.
They are constructed from durable and cushioning silicone Gel.
There are different sizes and color options available in the Gel insoles.
The Thickened arch design offers optimal support.
---
4
The Amope GelActiv insoles have an extra slim and supportive design.
The design is very slim, with light cushioning for wearing sandals.
There is a raised arch area for better arch support.
The Insole has adhesive Gel to keep it from slipping around in your sandals,
You can reuse these insoles many times.
---
5
The Travel feet insoles offer excellent cushioning and arch support.
The Opaque white design takes on the color of your sandals and does not stick out.
The Insoles offer excellent arch support and cushioning.
The design will stay securely in your sandals and not slip out.
They are ideal for foot conditions such as Plantar Fasciitis and back and knee pain.
---
6
The NatraCure insole is a Gel Insert that cushions your feet.
The Gel insert is ideal for wearing with all sandal types.
Because of the Transparent materials, they will not affect your sandal color choices.
The inserts are ideal for minimizing friction and providing cushioning for comfort,
The Self-Adhesive design is easy to use and gives you a non-slip option.
---
7
The Piggy Pillows insoles are comfortable moisture-wicking and cushioned insoles for your sandals.
The Insoles consist of a Polyester and terry Cloth Blend that wicks away moisture and keeps your feet dry.
The insoles are also cushioned for comfort and support.
You can choose between a few color options and patterned designs in these insoles,
The backing is adhesive for a proper fit, and the design is seamless for reduced friction.
---
8
The GelActiv Insoles from Amope are cushioned and have a non-slip design.
They fit in the ball of the foot area and are self-adhesive.
The Gel offers excellent cushioning and support.
These insoles are also fully reusable and easy to clean.
The adhesion gel offers an excellent non-slip option.
---
9
The Insoles from CaserBay offer excellent heel cushioning and support and blister prevention in sandals.
The Insoles come in a value pack set of two.
There is a slip-resistant design that also prevents blisters and provides excellent dry comfort.
The additional heel cushioning absorbs shock on impact.
The materials are also moisture absorbent and comfortable.
---
10
These disposable inserts are ideal for controlling moisture and preventing odors in your sandals.
The insoles consist of 100% non-woven paper-thin layers.
They are disposable inserts that help to control moisture and eliminate odors.
The designs also help to fight bacteria and infection, as well as prevent fungal build-up.
The backing is adhesive that will not slip out of your sandals.
---
11
The Killer Kushionz from Foot petals offers a cushioned comfort insole for your sandals.
There are three neutral color options from which you can choose.
The insoles consist of 100% Poron materials that offer excellent cushioning and comfort.
The shape of the insole is designed to fit most sandal types perfectly.
The design has a top layer that prevents slipping even if you wear silks stockings.
---
Index Table: Top rated Insoles for Sandals
---
---