Sandal season is almost starting, and you are looking forward to slipping into those breezy and colorful pair of sandals.
But just as your feet need the right support from an athletic or closed shoe style, so should your sandal also offer similar features.
It is vital to wear shoes that offer this foot type's right support and features if you have a high arch.
Sandals designed for high arches can provide several benefits for people with this foot condition.
Here are some potential benefits of sandals for high arches:
Improved comfort: Sandals with good arch support and cushioning can help reduce strain on the feet and alleviate discomfort caused by high arches.
Better support: Sandals with a wide, stable base and arch support can help distribute weight evenly across the foot and provide better support for high arches.
Customized fit: Sandals with adjustable straps can achieve a secure, customized fit that supports your high arches.
Protection for the feet: Sandals can protect your feet from the elements and provide some support and cushioning when walking or standing for long periods of time.
Increased flexibility: Sandals can allow for more flexibility in the feet and ankles, which can benefit people with high arches.
It is important to choose sandals designed specifically for high arches to maximize the benefits and ensure a comfortable, supportive fit.
It is also a good idea to see a doctor or podiatrist if you have high arches and are experiencing discomfort or pain to get recommendations on the best sandals for your needs.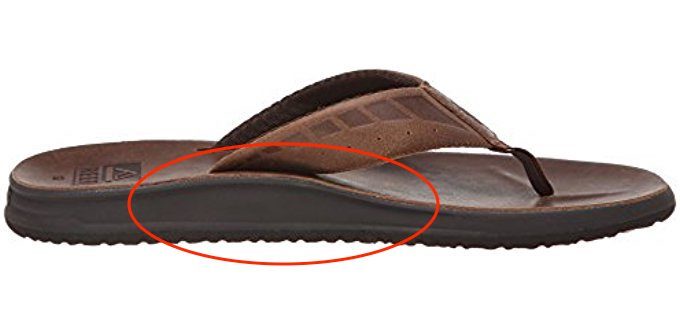 ---
---
Why Do You Need Specialized High Arch Support Sandals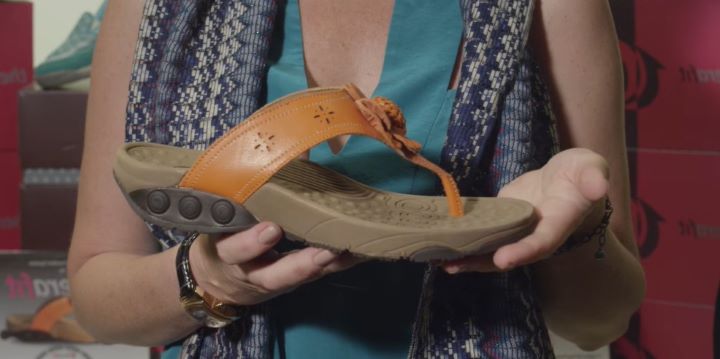 Individuals with a high-arched foot type usually deal with plenty of challenges in this foot type. This is because your feet and body's weight focus on only two parts of your foot: the BALL of the foot and your HEEL.
Thus it would help if you had a sandal that matches your arch's height when arch support distributes weight not to experience pain and discomfort evenly.
A contoured and arch-supportive footbed sandal can easily do the trick and is not that hard to find.
---
Different Sandal Styles to Consider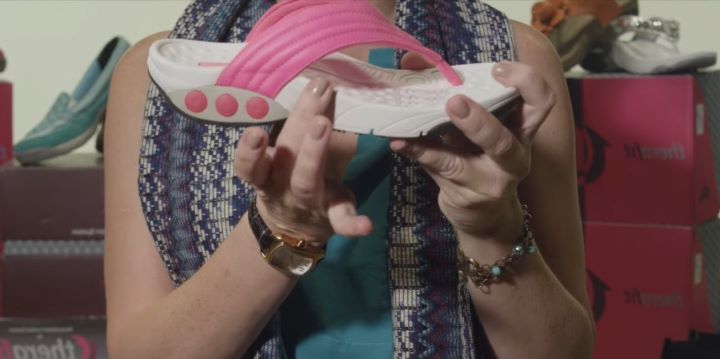 There are a few types of sandals styles that you can easily consider;
Birkenstock Design Type – Birkenstocks or sandals that mimic the shape of a Birkenstock sandal are perfect for high arches as the footbed offers good arch support and has a wide design allowing you to play the foot for even weight distribution evenly.
Wedge Sandal – Need something a bit more classy and uniform, please avoid the heels as they add even more pressure to the forefoot and heel, and go for a uniform platform or wedge sole sandals.
Sports Sandal – You will surely find a sport sandals brand and model explicitly aimed at arch support for a high arch though others have superb features for a higher arch type.
Flip Flops – Your general beach flip-flops will not offer you the support you need for a high arch, and they tend to be very flat. But you can look at brands such as Teva or Vionic, which have contoured and arch-supportive footbeds with ample cushioning.
Slide Sandals – The slide sandal is a leisurewear must-have and, similar to the flip flop, can be quite flat and unsupportive, so make sure you consider a brand and model that offers good arch support and cushioning.
---
Features of a Good Sandal for High Arches

Arch Support – A contoured and arch-supportive footbed designed for a higher arch.
Cushioning – Padding or cushioning in the midsole and footbed to absorb shock on impact. Cushioning such as EVA, memory foam, or Foam and Gel.
Stability – A deeper heel cup and motion control features to prevent Supination, which is prone in higher arches.
Outsole – Durable rubber outsole with a patterned tread for maximum grip and traction.
Uppers – Smooth lined and adjustable straps.
---
Reviews: The Best Sandals for High Arches
Below are our top picks for sandals that support a Higher Arch Type;
We hope you love the sandals we recommend!
So that you know, We may collect a share of sales or other compensation from the links on this page.
---
1
Orthaheel Technology Sandals for High Arches
The Orthaheel Technology in the Vionic sandal is ideal for accommodating and supporting a higher arch type.
A comfortable and casual everyday wearing sandals with soft and flexible uppers.
A Tripe density EVA midsole has excellent shock absorbency and heel cushioning to attenuate impact.
The Orthaheel technology footbed ensures proper arch support and alignment for a higher arch type.
A durable, slip-resistant rubber outsole with a tread for outdoor and indoor use.
---
2
The Reggae Swag and Louden are casual and comfortable in an easy slip-on and off design, with the perfect structure and curved design supporting a high arched foot.
The uppers are made from soft fabric and textile materials that are colorful and fun.
The adjustable hook and loop star allow you to fully customize and change the shoe's overall fit to your own personal preferences.
There is a slight heel for stability and a durable, high-traction rubber outsole.
The footbed consists of plush memory foam that conforms and molds your foot's shape to give you just the right amount of support for your specific foot shape and arch type.
---
3
High Arch Fisherman's Sandal
Because individuals with a higher arch tend to supinate or underpronate more excessively, I have chosen this Fisherman's style for the men and Strappy for the ladies, for its unique design helps support and high arch and prevent it from supination.
Comfortable and soft style uppers with the Smart Comfort system for a more customizable fit.
A specially designed footbed ensures comfortable and orthopedically designed anatomical support with multiple density layers.
The Footbed is likewise removable, so you can use your own orthotic devices.
The lightweight Nylon Shank offers excellent protection and stability.
There is a protective Nylon shank that is lightweight.
A durable outsole has multiple density layers to provide superb shock absorbency.
These two models are available in a few color options to choose from as you wish.
---
4
High Arch Support Flip Flop
We all love a good flip-flop, and I have found just the perfect one that will help support a higher arch type and prevent and correct supination.
A thong-style flip-flop uppers design.
The Orthalite technology offers ample cushioning and a contoured for the ideal arch support.
A deeper heel cup aids with stability and prevents supination.
Likewise, Tri-Planar Motion control technology in the footbed is perfect for a higher arch type and offers excellent supination control.
---
5
Arch Support Sandal for Achilles Tendonitis
The Hudson and Vera from Teva are two casual-styled sandal options ideal for a high arch foot type.
Features soft and flexible Textile and synthetic leather uppers with a Velcro Closure for a customizable fit.
The Shock-Pad absorbs shock and protects your heels and joints against impacts.
Inside is a Microban zinc-based odor-treated lining on the footbed of the Verra to ensure maximum sweat and odor control.
The Contoured and arch-supportive EVA cushioned footbed ensures maximum stability and control, ideal for high arch type.
It also comes with a highly durable and High Traction rubber outsole.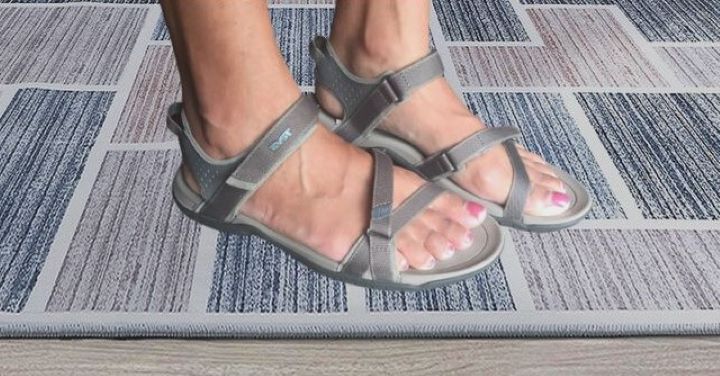 ---
6
Sandal for A Higher Arch TYpe
The Rockport Darwyn and Ridge are two stunning dress-style sandals with comfortable and firm support for a high arch and individuals who tend to supinate.
Smooth and elegant Leather and synthetic uppers that are comfortable and stylish.
Ther is an EVA outsole and anatomically molded EVA footbed for superior comfort, support, and shock absorbency, ideal for a higher arched foot type.
Both sandal models have a slight heel and a rubber outsole for grip.
There is also a comfortable microfiber lining in the Get Your Kicks Model, ensuring less friction and irritation.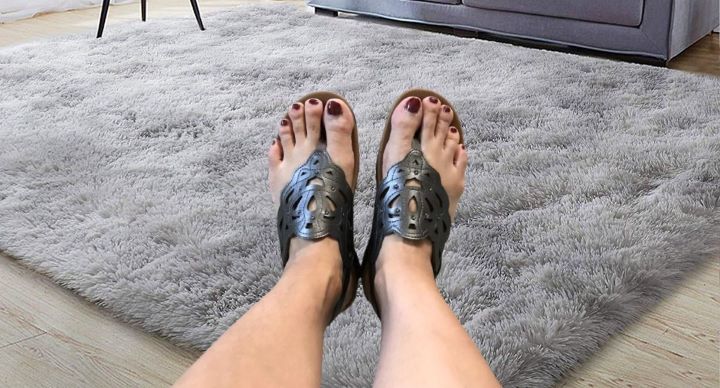 ---
7
Sports Sandal for a High Arch
ECCO is a top brand in durable and comfortable sports-style sandals, and these two models will help accommodate and support a higher arch type perfectly.
Soft and flexible nubuck leather uppers provide a comfortable fit, and the luxurious textile lining ensures breathability keeping you well-adjusted in all climates.
Both models feature the popular compression molded ethylene vinyl acetate footbed that absorbs the maximum shock and provides exceptional support, especially for a higher arch type.
Then comes the highly durable and sturdy outsole that provides maximum grip and traction while remaining flexible enough for fast and easy movement if you participate in sports activities.
---
8
Summer Walk Sandals for High Arches
Two more superb models from the top seller Vionic, the Vionic Candace and Ludlow Charlie are comfortable and supportive and boast a casual and relaxed elegant style.
There are soft and comfortable textile uppers in the Candace in many colors for women.
While the Charlie for the Gents features leather uppers in a slide-on sandal.
Both sandals are breathable and lightweight, with the Vionic comfort Ortholite footbed contoured and shaped for High Arch support.
Both also have a durable rubber outsole for all terrains and surfaces.
---
9
Slide Sandals for High Arches
The ECCO Damara and FLOWT offer ample cushioning and excellent support for a high and neutral arch type.
The upper consists of lined leather that reduces friction.
There is a FLUID FORM footbed that provides anatomical support and molds to the shape of your feet.
Injection Molded EVA is used in the sole for shock absorbency and cushioning.
A rubber outsole provides excellent traction and durability.
There are also a few color options in this sandal range.
---
10
The Birkenstock Mayari model is a fashionable, elegant sandal with an anatomically shaped supportive footbed for High Arches.
The footbed of the Mayari offers anatomical cushioned support for a high arch type.
Cork and latex are used for cushioning and durability in the footbed and midsole.
There is a synthetic high-grip outsole for better stability.
The uppers are smooth leather and synthetic with buckle details and a closure system.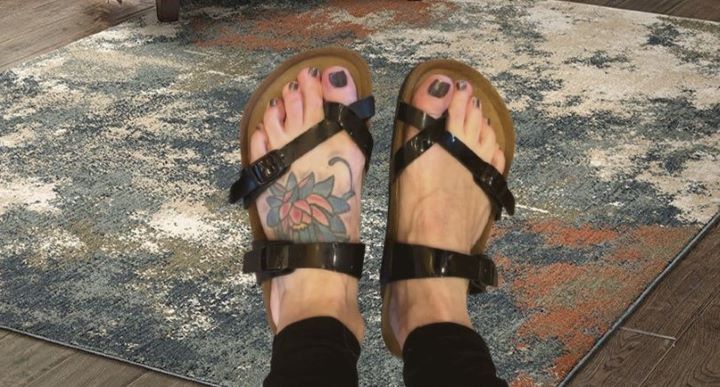 ---
11
Comfortable Flip Flops for High Arches
The Iqusion FitFlop is the perfect model for a higher arch that offers ample cushioning and support.
The upper consists of a water-resistant rubber, and the sole is also made from water-resistant materials that are easy to clean.
There is a heel cushioning system and forefoot cushioning system for optimal shock absorbency.
You will find the unique arch support in the midfoot, and there is also an anatomically shaped footbed.
Choose between many colors in this comfortable flip-flop range.
---
Index Table: Top Rated Sandals For High Arches
---
---