If you look at the statistics, only around 20% of the population have perfect feet with no issues.
The rest of us may have some issues, pain, deformities, and many other foot conditions that we have to live with.
For this reason, why not invest in a good pair of orthopedic Flip Flops that can provide the same comfort and relief as orthopedic shoes.
---
Orthopedic Flip Flops and Their Advantages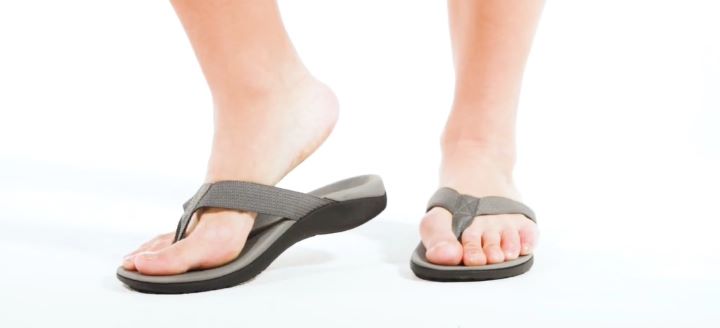 Think of it in this way, your feet are the foundation of your body, so whether it is closed shoes, athletics shoes, work shoes, or even your Flip Flops, you want something that provides optimal comfort and support.
So here is what an Orthopedic sandal will do for you;
Excellent Support – Orthopedic shoes do not just support your arches. They also provide excellent cushioning and shock absorbency, which provide comfort and relief from painful symptoms of various foot conditions.
Enhanced Circulation – The most orthopedic flip-flops design is much roomier and provides better circulation for peripheral neuropathy conditions.
Less Pain – Orthopedic Flip Flops are designed to offer comfort and support features that alleviate pain and reduce the pressure that can cause pain.
Healing Time – Flip Flops are the perfect summer shoes for when your feet need to heal post-surgery or post-injury.
Better Mobility – When your feet feel less pain, you can move easily and perform more daily activities.
---
Tips for Choosing the Best Orthopedic Flip Flop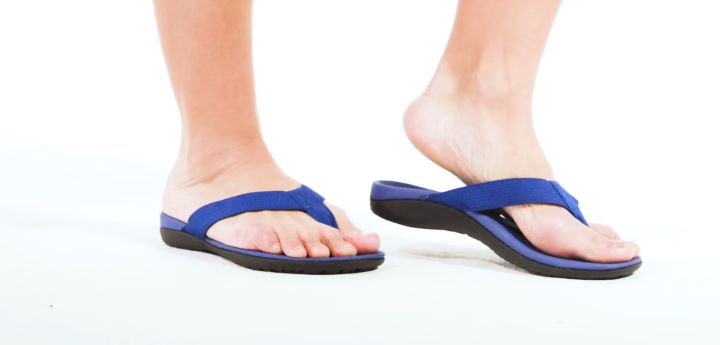 So You have decided that Orthopedic Flip Flops are just what you need, Well here are a few tips on choosing the best Orthopedic Flip Flops;
Footbed Type – An Orthopedic Flip Flop will not have a flat footbed but rather a more contoured and anatomically shaped footbed with plenty of cushioning.
Width – Most orthopedic flops will have a wide footbed, particularly in the toe area, or at least be available in wider width options.
Slip Resistant – Any good Flip Flop in general should have a slip-resistant and durable outsole. Rubber is your best choice in the outsoles.
---
Features of a Good Orthopedic Flip Flops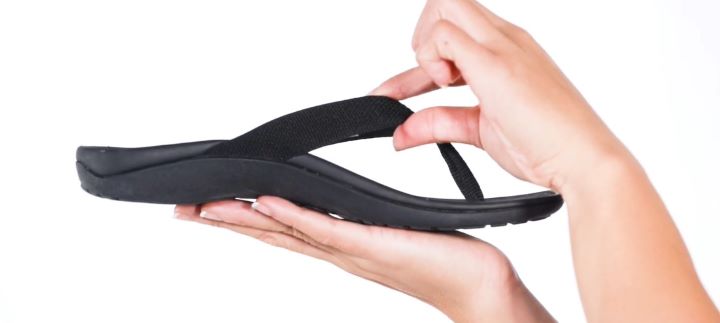 Uppers – The Upper of most Orthopedic Flip Flops are either EVA, leather or textile. Many models will also have a lined, padded, or lined ad padded upper thong for comfort.
Footbed – The Footbed of an Orthopedic Flip Flop will have a Podiatrist design and an orthopedic design. Or biomechanically engineered and contoured footbed for support. You will also enjoy plenty of cushioning from materials such as EVA and Foam and the support of technologies such as Orthaheel Technology, Arch support, and a Microwoibbleboard for pronation control.
Outsole – The outsole will usually be rubber, synthetic, or EVA with a patterned or lug tread for slip resistance and durability.
Other Features – Features such as an APMA seal of acceptance are good to look for. This indicates that it is a medically accepted Flip Flop. Arch support and a heel cup or counter are also ideal in Orthopedic Flip Flops.
Options – Many Orthopedic Flip Flop brands offer wider width options and extended size options. Many color options and printed models are available in most Orthopedic Flip Flop brands.
---
Reviews: The Best Orthopedic Flip Flops
Below we have listed some superb brands and models of the best Orthopedic design Flip Flops;
We hope you love the flip flops we recommend!
So that you know, We may collect a share of sales or other compensation from the links on this page.
---
1
---
2
---
3
---
4
---
5
---
6
---
7
---
8
---
9
---
10
---
11
---
12
---
13
---
14
---
Index Table: Top Rated Orthopedic Flip Flops
---
---