Summertime is sandal time; with so many options available, it can be overwhelming to choose the right sandals.
In this article, I have combined style, comfort, and durability as the best sandal characteristics for Summer.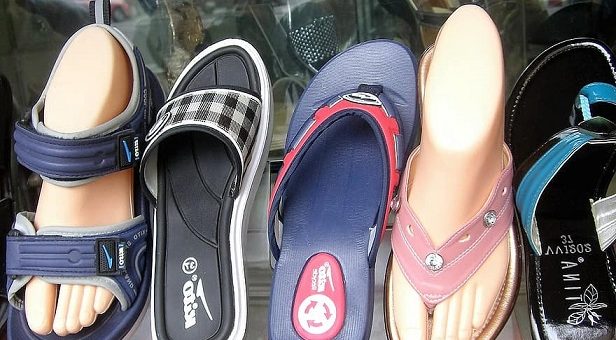 ---
Types of Sandals for Summer
Sandals are a timeless footwear design worn worldwide in hot weather conditions, and some ancient styles are still in fashion today.
But let us first look at the different types of sandals available today;
Sports Sandals – Sports sandals have a more rugged design and are ideal for playing sports, hiking, or beachwear. Some sports sandal are even waterproof or water-resistant.
Orthopedic Sandals – Orthopedic sandals provide relief and comfort from symptoms related to certain foot conditions. They usually have a more contoured design footbed with plenty of cushioning and support and a roomier fit or wider widths available. Most oRthopedic sandal also has an adjustable fit.
Flats – Flat sandals have a flat sole and low or now a heel and come in dressy or casual styles and designs but typically have little support features or cushioning.
Dress Sandals – Dress sandals can have a low heel, wedge, or platform sole or usually a high stiletto heel and are designed for style elegance rather than comfort.
Casual/Dress Sandals – These sandals are not sporty casual yet not completely dressy, but something in between is perfect for all occasions as they look good and have comfort and support features. Casual sandals usually have a low or low wedge design sole.
---
Comfort Characteristics of a Summer Sandals
Depending on the summer sandal style, comfort features should always include cushioning and arch support level.
Comfortable adjustable uppers that will not scratch r chafe the skin are also ideal.
The heel height will make a difference in comfort, as a low heel is your best option.
Lastly, A slip-resistant rubber sole will ensure that you have better traction and will be more durable.
---
Features of a Good Summer Sandals
Uppers – The Upper for a good summer sandal can consist of Textile materials, EVA, or Leather. A smooth mesh lining is ideal for wicking away moisture and keeping your feet dry and cool. The More Open design sandal is also much more breathable and cooling in the summer.
Footbed – A comfortable footbed with EVA, cork, memory foam cushioning, and a supportive midsole will be contoured or anatomically shaped for optimal support. Furthermore, the footbed can be lined with leather or fabric for moisture management and an antimicrobial-treated lining to prevent odors.
Outsole – Rubber or synthetic materials are used for the outsole, with a lug tread for optimal slip resistance in wet and dry conditions.
Other Features – Features such as Arch support, impact pillows, and Open Cell technology can be used for added comfort and support.
Options – There are various options in colors, prints, sizes, and widths available in most of our chosen sandal models for summer.
Closures and Adjustability – A buckle, Velcro strap, or Hooks and loop strap are the most desirable and comfortable closure options. Most sandal designs have adjustable uppers straps to get the best fit.
---
Reviews: The Best Summer Sandals
Listed are the top rated most favored sandal for this Summer;
---
1
One of the most loved sandal types for summer is the Birkenstock Arizona. The Birkenstock Arizona is comfortable, Casual, and available in many color options.
There are two straps on the upper with buckle closures, consisting of genuine leather.
Arizona's color options are infinite, with different finishes like smooth or suede and nubuck leather.
For comfort and Anatomically shaped footbed with cork and latex cushioning molds to the shape of your feet.
The footbed has a soft suede lining to keep moisture at bay, and the sole is a shock-absorbing EVA.
Hence, the outsole provides excellent traction and slip resistance, and the sandal has an easy slip-on design.
---
2
Flip Flops are an absolute summer must, and if you are looking for the most comfortable Flip Flop, nothing compares to the FitFlop Iqushion.
The sandal has a rubber upper and soft Air Foam cushioned and flexible sole.
The Footbed is anatomically contoured for support with built-in arch support.
Additional Heel and Ball of foot impact pillows are available for shock absorbency and cushioning.
The entire sandal is exceptionally lightweight and water-resistant.
There are also many color options available in the Iqushion.
---
3
As a sport, Hiking, and beach sandal for all excursions, I highly recommend the Keem Newport H2 Fisherman's style sandal.
The Upper consists of a water-resistant and washable soft polyester with a lace-up bungee system for an adjustable and comfortable fit.
The footbed is cushioned, and there is a supportive Compression-Molded EVA midsole.
As for the outsole, the rugged design and durable rubber with lug tread are perfect for slip resistance on most outdoor surfaces, whether wet or dry.
You can also get the Newport sandal in some attractive color options.
---
4
Summer Comfortable Dress Sandals
Something a bit more classy for all occasions are the Clarks Malone and the Clarks Step Cali.
The Clarks Malone has an open-toe strappy uppers design with an open back and heel strap.
The Clarks Malone also features genuine leather uppers in brown or black, with an Open Cell PU Footbed and Cushion Soft padding for comfort.
The Step Cali features a leather upper with an adjustable ankle strap, a durable TPR outsole, and a wedge design heel.
Furthermore, the Step Cali has an Ortholite Footbed and Cushioning soft padding for comfort and moisture-wicking textile linings.
There are also quite a few color options available in the Step Cali.
---
5
Another favorite sporty and casual sandal is the Teva Original Universal, available in various color and print options.
The Upper is made of a 100% textile material with front and back adjustable and hook-and-loop closures for the most comfortable fit.
The EVA Cushioned footbed also has Mciroban Zinc Based odor-resistant treatment in the lining for comfort and protection.
There is a Durabrasion high abrasion resistant and slip-resistant Outsole.
You can choose from many color variations and print in the Teva Original Universal.
---
6
Fun and elegant slide sandals are the Ludlow Charlie and Rio Platform Sandals for all occasions.
The Ludlow Charlie from Vionic has genuine leather uppers, while the Rio has synthetic ones.
The Ludlow is available in Black or brown color options, but the Rio has many more colors you can choose from
There is a comfortable EVA Molded footbed for comfort, cushioning, and fabric linings to keep your feet dry and comfortable.
A dual-density midsole provides added shock absorbency, and the durable rubber outsole ensures excellent traction and grip.
---
7
Both sandals are a closed and protective design.
They have a contoured EVA midsole for shock absorbency.
The uppers are adjustable in fit.
The rubber outsole is durable and offers an excellent grip on slippery surfaces.
---
8
Flip Flop Sandals for Summer
Flip Flops sandals are ideal for summer.
They have a textile uppers strap.
The footbed is cushioned with memory foam and yoga foam.
The outsole is durable and slip-resistant.
---
9
The Flip Flops are light and comfortable for summer.
They offer to cushion and arch support.
There are two colors available.
This is a unisex flip-flop design.
---
10
Fun water sandals for a day at the beach or the pool.
They come in many fun color options.
The sandal is foam cushioned and water-resistant.
The sole has a slip-resistant tread.
---
Index Table: Top Rated Summer Sandals
---
---