The T-Strap sandal is comfortable, stylish, and a classic and versatile option for summer.
The best T-strap sandals are perfect for those hot summer days and can be used for all occasions, whether leisurewear, work, r even play.
The T-Strap sandal has become a fashion favorite among many ladies and is available in many styles and colors today.

---
---
Why You Need Some T-Strap Sandals
There are a few great benefits to the T-Strap sandal;

Show Off Your Toes – It is summer, and you want to show off your gorgeous pedicure and colorful toes. So why not invest in the open-design T-Strap sandals and show off your toes this summer?
Cooling – The open design of the T-Strap sandal breathes well and will keep your feet cool and comfortable in those hot summer months.
Versatile – The design of the T-Strap sandal is so versatile you can wear it for any occasion. You can find formal and casual styles in the T-Strap sandal.
Classic Style – The classic style of the T-Strap sandal will never go out of fashion, and there will only be improvements and more options to choose from in the design.
Slims Your Feet – The T-Strap sandal gives your feet an elongating and slimming effect. They are an excellent choice for wider and small feet.
many designs – T-Strap sandals come in many lively designs and colors, some with embellishments and prints.
---
Types of T-Strap Sandals
There are so many stunning summer styles to choose from when it comes to the T-Strap Sandal;
There are endless summer styles for the T-Strap sandal to keep your feet cool and fancy.
The T-Strap sandal can work well with your everyday wardrobe and be perfect for every occasion. The T-Strap sandal has such an eternally flattering cut and can elongate your legs, making them the ideal summer sandal.
Below are just a few of the gorgeous styles of T-Strap sandals that you will find;
Casual – The Casual T-Strap sandal can slide on or have a backstrap and usually consist of rubber, leather, or synthetic materials with a flat sole.
Flat or Heeled – You can opt for a flat sole or heeled T-Strap sandal, as they come in different sole and heel options.
Ankle Strap – Some T-Strap sandals have a heel strap that is either elastic or adjustable, and some models are a slide-on design.
Formal – Dress Style T-Strap sandals are usually patent leather or smoother suede leather with some embellishments and sometimes a heel.
---
Features of a Good T-Strap Sandal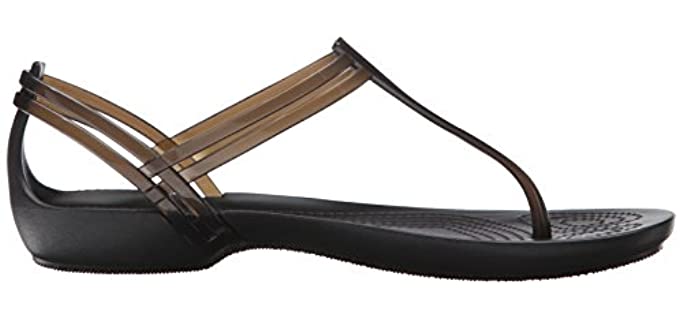 Uppers – The uppers can be genuine or synthetic leather in a patent, smooth or suede finish. Textile options are also available.
decorations – the sandal may be decorated with bows, cut-out details, rhinestones, or other beads and embellishments.
Metallic Accents – Buckles and metallic accents may be added as a closure.
Slide or Ankle Strap – You can choose between a slide-on design or a more secure ankle strap design.
Outsole – the outsole can be rubber or synthetic with a flat, platform, or heeled design.
---
Reviews: The Best T-Strap Sandals
Below we have some of the best brands and models in fashionable and comfortable T-Strap sandals;
We hope you love the products we recommend!
We may collect a share of sales or other compensation from the links on this page.
---
1
The Vionic Julie is the most comfortable and supportive T-Strap sandal.
The Vionic Karina is a T-Strap sandal for all occasions.
It has a gorgeous decorated style and is available in more colors.
The T-Strap has embellishments, and the sandal has an adjustable buckle closure back strap.
The sole is a durable rubber that will also prevent slips.
Inside is a podiatrist-designed biomechanical footbed for all your comfort and support needs.
Moreover, it is very lightweight and has a shock-absorbing EVA midsole.
---
2
The Birkenstock Gizeh is a backless T-Strap sandal with a comfortable cork and latex footbed, available in more color options.
Birkenstock is a top favorite sandal brand, and they also make slide-on T-Strap sandals that we all love.
The sandal is available in more colors if you prefer.
The uppers are leather, and there is an EVA sole.
The footbed consists of cork and latex that will be molded to your feet for support and cushioning.
The footbed likewise has a more supportive contoured design.
---
3
The Rekayla T-Strap sandal has an adjustable backstrap and a completely flat sole. This design Is ideal for less formal occasions and casual wear.
This is a very basic flat T-Strap sandal.
Many ladies love this design for its minimalism and simplicity.
The sandal has a flat sole, T-Strap, adjustable back strap, and buckle closure.
There are more neutral colors available to you.
---
4
The Crocs Isabella is perfect for beach and casual wear, with comfortable cushioning and more colors available.
The Crocs T-Strap sandal has soft translucent TPU straps and a resin sole.
You can wear these to the beach and pool as they are water-resistant and quick-drying. They likewise also rinse or wipe clean easily.
The sandal comes in many fun and neutral color selections.
They are also very comfortable with a cushioning footbed.
---
5
The Kenneth Cole T-Strap sandal is backless and has a high wedge sole. It is also available in black, silver, or pewter with decorative details.
Something more formal and elegant is the T-Strap sandal from Kenneth Cole.
The sandal has a thicker wedge sole and a wideband T-Strap.
They are available in three vintage design colors.
The sandals have Glitz fine detailing for elegance and fashionability.
They are comfortable and very lightweight to wear.
---
6
The DolphinGirl sandal has a Braided T-Strap design and a chunky platform for more sophistication.
This is a more casual to semi-formal T-Strap sandal.
It also features a chunky sole and has a braided T-strap design.
It is lightweight and easy to slip on and off with no back.
The sole is a slight platform mid-wedge design, and the uppers are PU leather.
---
7
The Dream pairs T-Strap sandals come in many more colors.
They have a flat sole and cut-out details.
They are comfortable with a knuckle closure.
The insole has light padding.
---
8
The Cloverlay T-Strap sandal is made of vegan leather.
They are handmade and very durable.
The footbed is comfortable, and the sole flat.
Materials are skin-friendly, and there are more colors available.
---
9
This is a more fashionable T-Strap sandal from Tory Birch.
It is genuine leather with a logo cut-out.
The soleus rubber and very durable.
There are also more colors available.
---
10
The Merrell Tideriser is a genuine leather sporty T-Strap sandal.
It has an EVA foam footbed and an EVA midsole.
There is a rubber outsole for grip and genuine full-grain leather uppers.
More neutral colors are available.
---
Index Table: Top Rated T-Strap Sandals
---
---