Are you tired of your heels leaving blisters on your feet? If you love the look of heels but hate the pain they bring, you can learn to pick more comfortable heels. While a pair of heels will never feel like a pair of sneakers, they can be comfortable enough to wear regularly.
There is nothing more stunning and feminine than a pair of high heels to go with your gorgeous wedding dress. Even as a bridesmaid or guest, high heels are usually an excellent choice to complement your attire for this formal occasion.
However, high heels may not be the most comfortable choice, especially for a bride or bridesmaids that will be standing, walking, and even dancing in them at the end of the ceremony.
That is why we want to help you find the most comfortable heels fur weddings.

---
Heel Types for a Wedding
You get two basic types of heels that are appropriate to wear to a wedding;

Sandals – You can wear wedding sandals with a heel that has either a strappy or single strap design and an ankle strap for a secure fit. They are ideal for summer and warmer weather. The wedding sandal heels will also show off your beautiful pedicure, creating a point of interest.
Closed Styles – Closed styles such as pumps, and the traditional Diana style heels are ideal for weddings. They are more suited to colder weather conditions and also provide better protection.
---
Choosing Comfortable Heels for a Wedding
I want to share a few tips with you to find comfortable shoes for your wedding or for attending a wedding;
Consider the Material – Genuine leather and softer fabric or textiles, especially in strappy heeled sandals, are much softer and gentler on your feet. Leather and stretchable fabric will also give a more customizable fit. Ensure that the heels have a soft lining that will not scratch or chafe your feet.
Secure Strap – I would advise heeled sandals with a closed heel or ankle story for a more secure fit that will not slip off your feet when you dance or walk.
Check the Heel – rather than those fancy pointy or stiletto heels, opt for a chunky or square block heel or a more rounded and thicker heel to provide stability and support. You have much less chance of spraining an ankle when you wear a thicker heel.
Wear Your Heel before the Wedding – Wear your shoes before the wedding, walk around with them, and make sure they are comfortable.
Comfort Features – Make sure your wedding shoes have a comfortable, supportive, and cushioned footbed that provides underfoot support and shock absorbency.
Elegant Designs – Look for elegant styles with embellishments and colors such as silver, white, or colors to match your dress.
---
Features of the Most Comfortable Heels for Weddings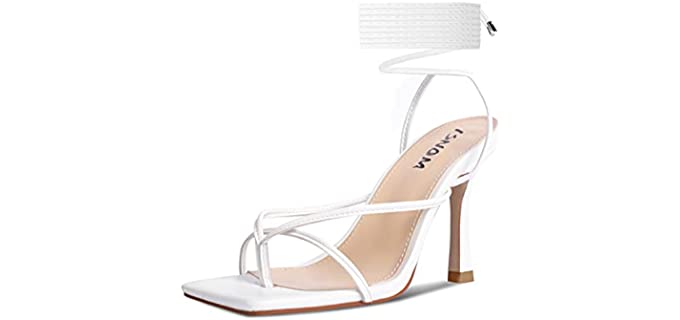 Uppers – Heeled shoes and sandals can have a variety of designs for the uppers that offer a comfortable, and sometimes adjustable fit. They may be leather, fabric, faux leather or a soft suede material. Many design will come with some embellishments for decoration.
Comfort Features – Comfort features in wedding shoes include a cushioned footbed that also supports the feet. A lower and more block-style heel also provides better stability. The fit needs to be roomy and comfortable, especially in the toe area.
Options – Depending on the brand and model, there may be some color options available, as well s wider width fit options.
---
Reviews: The Most Comfortable Heels for Weddings
Below you will find some of the most elegant and comfortable dress heels for weddings;
---
1
The Blue range by Betsey Johnson is a very elegant yet simple design with comfortable wedding shoes.
They have a single front strap, a secure and adjustable ankle strap, and a block style medium height heel.
The heels are synthetic leather and come with lovely embellishments.
They have a comfortable padded footbed and roomy toe box fit.
There are likewise many colors available from which you can choose.
---
2
The Naturalizer Taimi is a dress sandal with many comfort features that you can wear to a wedding or any other formal occasion.
They have Nylon fabric uppers with elegant Crisscross straps and a secure ankle strap.
The heel is a pointer heel that is slightly lower for more stability.
The wedding sandals have N% comfort features for support and cushioning.
They are available in a few more colors for your perusal.
---
3
The Drop Avery is one of the most comfortable heels for women.
They are square toe strappy high-heeled sandals.
The sandals consist of 100% polyurethane.
They have a soft synthetic lining to wick away moisture.
The wedding heels are easy to slip on and off.
They have a high heel and are available in many color options.
---
4
The Betsey Johnson Mel-heeled sandals are a very comfortable range.
The sandal has textile uppers with a comfortable style and fit.
The sandal has a lower block heel for better stability and sophistication.
The heeled sandal has an embellished toe strap for decoration.
They are perfect for the bride and other wedding guests or bridesmaids.
---
5
The Dream pairs Hi-Chunk heeled shoes are very comfortable for weddings.
They are a single strap sandal with an adjustable ankle strap and a high block heel.
There is a buckle closure at the ankle strap.
The Heel is around 4 inches high.
The sandals have a Latex padded insole for comfort and support.
There is a durable and high traction TPR rubber outsole.
---
6
The LifeStride Charlotte Heeled sandal is one of the most comfortable heels for weddings.
They have strappy uppers and a roomy peep-toe design.
The straps are stretchable and flexible, consisting of synthetic materials.
There is a Soft System comfort footbed for all-day cushioning and support.
The high traction rubber sole provides extra stability and grip.
The sandal has a low block style heel.
They are available in medium and wide-width fits.
There are also more colors available from which you can choose.
---
7
Cushionaire is a brand that makes some of the most comfortable heels for weddings.
The Alba is a simple yet elegant and feminine style heeled sandal with a single toe strap, an adjustable ankle strap, and a low block heel.
The style is a popular style for weddings that never goes out of fashion.
The sandal has a memory foam insole for comfort and a flexible high traction rubber outsole.
There is sift fabric and vegan leather uppers with an adjustable buckle style ankle strap.
There are also more colors available from which you can choose.
---
8
The Clarks Vistra Strap high-heeled sandals are comfortable and feminine in design.
They are a single toe strap and ankle strap sandal with a high block heel.
There are soft genuine suede leather uppers and an ankle strap with buckle closure.
The sandal has an ECO foam dual-density foam footbed for comfort and support.
The heels are three and ¼ inches high with a thicker block style for stability.
The leather used is responsibly sourced.
You can likewise choose from a few more available colors.
---
Index Table: Top Rated Comfortable Heels for Weddings
---
---