Summer is the time for fun in the sun, and we all look forward to slipping into our favorite pair of sandals or, even better, purchasing a new pair.
With so many styles and designs available, the Toe Loop Sandal is one very comfortable and fashionable style you only see a little.
This design is extremely comfortable and has a lovely casual and laid-back style.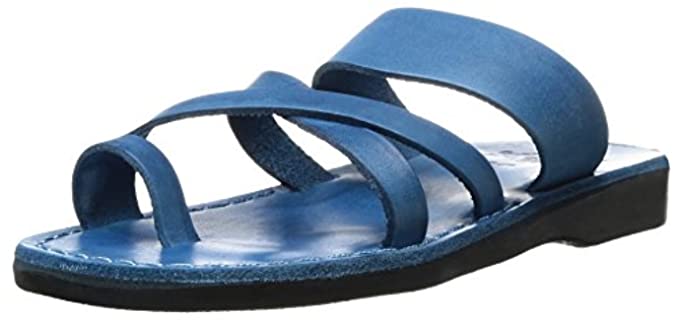 ---
---
The Toe Loop Sandal Style
When you think of the Toe Loop Sandal Style, a picture of s brown tanned surfer or Hipster comes to mind with a pair of leather Toe Loop Sandals that are flat and worn out.
Let me tell you, this is the stereotype we come to when thinking about a Toe Loop sandal, and although those flat leather Toe Loop sandal models still exist and are still very much in fashion, there are so many more styles and designs to choose from easily.
Today the Toe Loop Sandal comes in various designs, styles, colors, and materials besides leather.
I have found that some trendy brands also stock Toe Loop Sandals as part of their ranges.
---
Toe Loop Sandals Comfort Features
The Toe Loop Sandal is a fashionable and comfortable design for so many reasons;

More Open Design – Most Toe Loop Sandal Designs are more open, usually just a Toe Loop and light straps or a thong design. In turn, this allows them to be much cooler and easier to wear.
Comfortable Footbed – You get many comfort designs and orthopedic brands that offer the Toe Loop sandal with a comfortable and supportive design and footbed.
Ideal Summer Shoe – The Toe Loop sandal, in most cases, is open and breathable and the perfect sandal for summer. There are likewise many models that are water-resistant and perfect for beachwear.
Lightweight – Because of its minimalist design and fewer straps, the Toe Loop sandal will be very light on your feet.
Versatile – With so many styles, designs, and comfort features in The Toe Loop sandal, this is a very versatile and comfortable design.
---
Features of a Good Sandal with a Toe Loop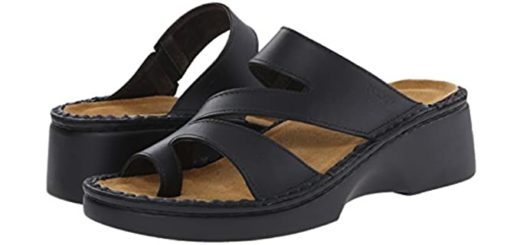 Uppers – Leather, either genuine or synthetic, and polyester and textiles can be used for the upper of the sandals.
Footbed and Support – A EVA Cork Latex blend footbed, contoured footbed, and the Popular LUVSEAT PU midsole is used for comfort and shock absorbency
Outsole – A durable rubber outsole is found in most models, offering excellent slip resistance or synthetic outsoles in other models.
Design – There are ancient classic Roman and Biblical style Toe Loop designs and newer sporty Toe Loop, thong Toe Loop, and slip-on Toe Loop designs.
Closure – Most sandal models come with an adjustable hook and loop or buckle closure system
---
Reviews: The Best Sandals with a Toe Loop
For the best available Toe Loop sandals in all colors and styles, continue to our extensive list;
We hope you love the toe-loop sandals we recommend!
We may collect a share of sales or other compensation from the links on this page.
---
1
One of the favorite Toe Loop sandals is the Mayari from Birkenstock, a Unisex design available in a few neutral color selections.
Birkenstocks features its prevalent and comfortable Latex, Cork, and EVA blended midsole that molds and contours to the shape of your feet.
The uppers comprise soft and smooth leather with a Toe Loop design, available in neutral colors.
The outsole has a durable rubber layer for good grip and traction.
---
2
From Chaco, the Z2 Classic is a more athletic Toe Loop-style sandal.
Soft Polyester is upper with a Toe Loop design and athletic build.
There is a high traction, durable rubber outsole.
The contoured footbed provides excellent arch support and EVA cushioning.
The straps are adjustable with a hook and loop closure system.
---
3
The Jerusalem sandal is a more classic designed full leather flat Toe Loop sandal, of which I have chosen the Zohar and Abner.
These are lightweight and comfortable sandals with leather uppers and synthetic soles.
Dual stitching construction is used for improved durability,
The Lightweight Polyurethane sole is resilient, flexible, and lightly padded for minimalist comfort.
Both models are available in a few neutral color selections.
---
4
Slide Sandals with a Toe Loop
The Naot Monterey and Mt. Louis are slip-on sandals with a Toe Loop design.
Both sandals feature a smooth leather upper with a Toe Loop design and slip-on style, available in neutral color varieties.
An anatomical Scandinavian cork and latex footbed wrapped in suede pamper cushions your feet for the ultimate luxury comfort.
The footbed is removable so that you can use your orthotic if needed.
These sandals are extremely lightweight and flexible, with fully adjustable back straps and a hook-and-loop closure system.
The outsole is durable and highly slip-resistant.
---
5
The Playa Pro from Chaco is a comfortable, Toe Loop design thong sandal.
The Upper consists of leather in a thong design with the textile material Toe Loop.
A comfortable LUVSEAT PU midsole with Cloud cushioning for superior shock absorbency and underfoot comfort.
The uppers comprise high-quality Full Grain Saline solution leather.
The design has a three-point closure and adjustability feature for the most comfortable fit.
There is also a durable rubber outsole.
---
6
If you are looking for the Toe Loop sandal in its oldest and most traditional form, I suggest the Jerusalem Toe Loop style sandal.
A classic leather sandal in a retro ancient Roman design, complete with Toe Loop and uppers straps.
There is a flat synthetic sole for light protection.
The sandal comes in a few different color options.
Available in sizes for men and women.
Moreover, this sandal is made in the Holy Land of Israel.
---
7
Colorful Toe Loop Sandals
Jerusalem Sandals offers the classic design Toe Loop sandals in the Amos and Ava.
The Upper straps are leather with a toe loop design.
The sole is solid and durable with a comfortable footbed.
These sandals are waterproof and very resilient.
There are also many color options from which you can choose.
---
8
Cork Footbed Toe Loop Sandals
The Cushion Luna and Arizona sandals have a toe loop design and cork sole for comfort.
The uppers are synthetic leather with a toe-loop design.
The suede and cork footbed provides moldable comfort and cushioning.
An EVA outsole is naturally durable and very lightweight.
There are a few neutral colors available from which you can choose,
---
9
The Holyland Biblical toe Loop sandal is a minimalist leather sandal.
The uppers are genuine leather with a toe-loop design.
The minimal rubber sole is flexible and offers a good grip.
The Jerusalem sandal is available in the reddish-brown leather color only.
The style is old-fashioned and minimalist for everyday wear.
---
10
Two more stunning additions from Jerusalem sandals are slide-style toe loop sandals.
The uppers are genuine smooth leather with a toe loop and cross strap design.
The High-quality leather insole molds to the shape of your feet for support.
There is a durable rubber outsole that ensures excellent traction and grip.
You can also select from many color options in both sandal models.
---
Index Table: Top Rated Sandals with a Toe Loop
---
---