If you think about the wonders that memory foam can do for your back and neck when you sleep on a memory foam pillow or mattress, then how much more can it not do for your feet?
Many shoemakers have started to use the concept of memory foam in their footwear and even sandals, with much success.
There are a few sandal brands and models that have utilized memory foam in their footbeds to create the most comfortable Memory foam sandals, which we will discuss further.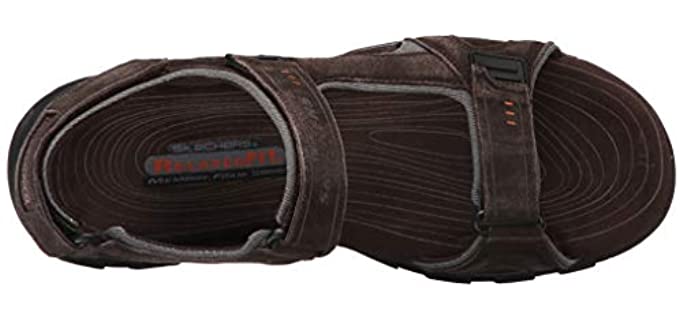 ---
Memory Foam Sandals The Pros and Cons
Memory foam primarily consists of polyurethane, with the addition of some chemicals to add to the density. Because memory foam is temperature is sensitive, it molds to the unique shape of your feet when they get warm cushioning and cradling your feet in a comfortable position.
There are, However, Pros and Cons to Memory Foam Sandals;
Pros
Memory Foam helps to distribute your balance when walking or running evenly.
Memory Foam molds to your foot shape and offers comfortable and soft cushioning underneath your feet.
Memory foam sandals are ideal for summer use and warm weather, providing the comfort of a closed style shoe.
Cons
Memory foam has one major con, and that is its tendency to hold body heat.
Another issue is that raw memory foam has a strong smell that takes some time to dissipate.
---
Advantages of Memory Foam in Sandals
Besides the pros and Cons, there are a few more advantages to having Memory Foam Sandals;
Pressure Relief – because of the cushioning and shock absorbency that Memory foam provides in a sandal, it eases the pressure off key areas such as the heel and balls of the feet.
Balance – memory foam helps to evenly distribute your weight and balance when walking in s sandals, which provides proper balance and alignment.
Plush Cushioning – Memory foam offers a very soft and moldable type of cushioning that is extremely comfortable underneath your feet.
Pain Relief – The support and cushioning that a memory foam sandal provides effectively reduces strain on our feet and lower limbs, which in turn provides excellent pain relief.
Cool Comfort – Along with the open and ventilated design of a sandal, a memory foam footbed provides outstanding comfort and support.
---
Features of a Good Memory Foam Sandal
Uppers – The Upper straps can come in a variety of designs ranging from a Toe Post, Strappy details, or single strap design. Leather or synthetic materials, as well as some textiles such as canvas, can be used.
Footbed – The Footbed will comprise of a single or multiple layers of Memory Foam, or a Memory foam top sole and EVA or Foam midsole for cushioning and support. A solid or contoured design is available for additional support.
Outsole – For the outsole, synthetic materials or EVA can be sued, as well as rubber, which is more durable and slips resistant.
Colors and Designs – You will find color options available in some modesl. Sandals with memory foam footbeds also come in a large variety of designs and optiosn.
---
Reviews: The Best Memory Foam Sandals
---
1
Memory Foam Flip Flop Sandal
I have chosen these two brands and models of sandals for their similar features and well-cushioned Memory Foam Footbeds.
Clarks Breeze Sea
The Clarks Breeze is available in many color options.
The uppers are synthetic, and there is a rubber outsole.
The front strap can be adjusted for a better fit.
The footbed consists of plush and comfortable memory foam.
Skechers Bosnia
The Uppers consist of soft canvas materials, and there are a few neutral color selections available.
There is a comfortable plush padded memory foam footbed,
The outsole is durable and provides good slip resistance.
---
2
The Under Armour Ignite is a slip-on sports sandal with a plush and comfortable Memory Foam Footbed.
The Uppers has an adjustable synthetic leather strap with Velcro closures for a comfortable fit.
The footbed is anatomically contoured consisting of 4D Technology Memory Foam.
The outsole consists of Re-engineered EVA materials with built-in traction pods and a slight heel for stability.
The sandal is lightweight and ideal for casual wear.
---
3
Dressy Memory Foam Sandal
Thes are two more stylish and fashionable sandals for all occasions that still provide the comfort of memory foam.
Skechers Desert Kiss
The sandal is available in a variety of colors, as well as wider width options.
The footbed is soft memory foam with a flexible sole and slight heel for sophistication.
There are comfortable synthetic uppers that are adjustable.
Dr. Scholl's Gaston
The upper is genuine leather with a textile lining and fully adjustable.
There are a comfortable memory foam footbed and a durable rubber outsole,
Two-color options are available in the Gaston sandal.
---
4
Memory Foam Flip Flop Sandal
A comfortable memory Foam Flip Flop sandal from Skechers is the Evented Arven.
The Upper is a soft canvas fabric with a sip on design.
In the footbed, you will find memory foam with 360 degrees cushioning and a padded strap lining,
The memory foam offers full-length comfort and padding.
The sole is lightweight and flexible with a high traction tread.
---
5
Memory Foam BackStrap Sandal
These two brands and models offer a classy style with the comfort of a memory foam cushioned footbed.
Clarks Saylie Moon
The Upper is genuine leather, with many colors available.
The straps are fully adjustable and comfortable.
In the footbed is Cushion Soft technology with memory foam as well as an Ortholite lining,
There is a flexible and durable EVA outsole.
Dockers Newpage
The Upper area synthetic leather with a soft textile lining, and they are fully adjustable.
For the footbed, you have a comfortable Memory Foam insole as well as Extra layers of Fusion cushioning.
The outsole is durable, consisting of rubber with a high grip tread.
---
6
The Nike Ultra Comfort is a sporty slide sandal with a plush memory foam insole.
The uppers strap is synthetic leather that is also padded and lined for comfort.
There are many solid or two-tone color options available from which you can choose.
The footbed is stacked with memory foam layers for plush and luxury comfort.
The footbed likewise has a contoured design for better support and arch support.
---
Index Table: Top Rated Memory Foam Sandals
---
---