The Water sandal is the perfect footwear for Water Sports or any other activity that includes water or showering.
This article will give you more insight into the wonderful world of the best sandals for water.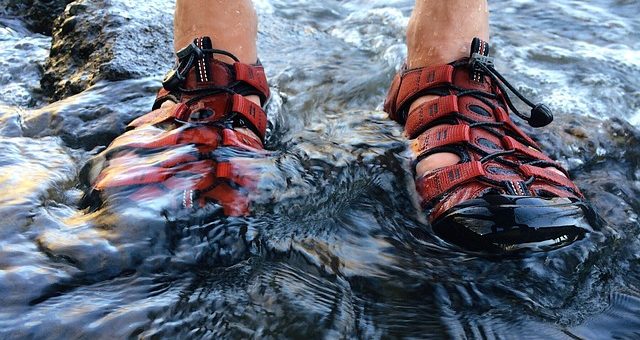 ---
---
What Exactly Constitutes a Water Sandal
Before we carry on, let me explain to you exactly what a water sandal is and what it is not;

Water Sandal
A True Water sandal is designed to provide superb traction on wet and slippery outdoor surfaces, such as lakes, rivers, beaches, and even indoor surfaces. The traction of the Water sandal is similar to that of a Hiking shoe. The Water Sandal can have a closed or open toe and usually has uppers that drain or resist water and dry quickly.
What a Water Sandal is Not
A water sandal is never a FlipFlop and is also not made of leather, suede, or any materials that water can damage. A water sandal is also not a sandal with a smooth or synthetic sole that can cause slips.
---
Why Wear a Water Sandal
So what are the benefits and uses of having a water sandal;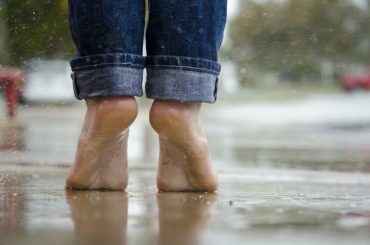 Swimming – You can swim with water sandals in the sea or pool. Hence it has a design to keep it on your feet. It is also ideal for protecting your feet when out of the water.
Summer Floating – Summer excursions and outdoor activities and floating around on the lake or a water body is an ideal time for a good pair of water sandals.
Fishing – Water sandals are an excellent choice when fishing, as you are in and out of the water and usually on slippery rocks and terrains.
Hiking – You can also use water sandals for Hiking or Trail walking on wet terrains as they provide similar traction and protection. However, I recommend a more closed-style sandal for hiking.
---
Features of a Good Sandal for Water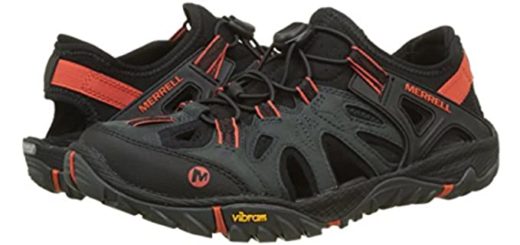 Sole – A durable rubber or Vibram sole with lug patterns for good Traction and grip is the most important in a good Water sandal.
Uppers – The Upper can be a closed or open-toe style and is usually adjustable with straps or a bungee lacing system for a snug fit.
Footbed – A comfortable and cushioned footbed with contours for support will protect and support your feet while reducing impact for more comfort.
Sole – EVA and rubber are ideal in the sole, usually flexible for better movement.
Materails – All material in a water shoe must be water-resistant, water-friendly, and quick-drying.
---
Reviews: The Best Sandals for Water
Below you will see the top choices in sandals that are water-friendly and have waterproof or quick-drying attributes;
---
1
Outdoor Sandals for Water
The Keen Newport H2 is the best outdoor water sandal with a closed p[rotective and water-friendly design and a highly slip-resistant outsole.
The Newports are one of the best water-friendly and quick-drying sandals on the market.
The synthetic polyester upper webbing is water-resistant, dries quickly, and has adjustability features.
The Multi-Directional lugs with razor siping on the rubber outsole offer exceptional traction and grip on all wet terrains.
There is also a comfortable and supportive compression-molded EVA midsole and footbed.
---
2
Lightweight Water Sandals
The Crocs Swiftwater is a foamy, lightweight sandal that is water-friendly and very comfortable.
Crosslite material is used in the Crocs Swiftwater, which is very lightweight and durable.
The men's model straps are soft, flexible, and adjustable.
The footbed offers exceptional comfort and cushioning.
Overall the materials are water-resistant and water friendly.
The outsole is lug and offers excellent grip./
---
3
Outdoor Sandals for Water
The Merrell All-out Blaze Sieve is technically a water shoe but has more of a fisherman sandal style that drains water.
The All Out Blaze Sieve is a top favorite for hiking and trail walking in wet Terrain.
The highly protective upper is constructed from Waxy, Waterproof leather, and fabric materials.
The footbed is comfortable and cushioned, and there is a secure Bungee lace-up system m for a better fit.
A Vibram TC5+ rubber outsole with lug patterns is the best you will find for grip on wet surfaces.
Some color options are available in the sandal model.
---
4
The Northside Burke 2 is a sturdy, water-friendly outdoor sandal ideal for hiking and water sports.
Another sporty addition is from Northside.
The Burke has an adjustable and bungee lace-up upper consisting of breathable and water-friendly neoprene.
There is a lightweight EVA insole and a cushioned footbed for comfort.
The lug rubber outsole has a multi-directional pattern for superior grip on wet surfaces.
---
5
The Teva Original is one of the top favorite sandal models and brands for casual wear and outdoor sports involving water.
The Teva is another casual-wearing water-friendly shoe with quick-drying materials.
The textile upper is adjustable and dries quickly.
There is a comfortable and contoured EVA footbed, which is water-resistant and shock-absorbing.
The Durabrasion rubber outsole is durable and offers an excellent grip on wet surfaces.
Many color options ate available in this model sandal.
---
6
Not an outdoor sandal but a comfortable and water-friendly slide sandal for use at the beach, as a shower sandal, or even as a poolside sandal.
Something more for casual excursions such as to the beach or pool.
The sandal has a Cloudfoam footbed that dries quickly and provides exceptional cushioning.
There is a synthetic high traction outsole for slip resistance and a lightweight cushioned midsole.
A slip-on design with a single bandage upper offers a quick and easy on-and-off convenience.
---
7
The Dream Pairs Adventurous sandal is the perfect water and sports sandal.
The synthetic and textile uppers are water-friendly and quick-drying.
There is an EVA cushioned sole for comfort and a durable and flexible rubber outsole.
The fisherman style offers more protection, and the fit is adjustable.
You can also choose from a few color models available.
---
10
There is nothing better than the TEVA Original as the perfect water sandal.
The sandal has a more open design with adjustable textile uppers.
The foamy cushioned EVA footbed offers excellent shock absorbency.
There is an anti-odor Microban footbed lining.
The rubber outsole is a Durabrasion rubber, extremely durable and slip-resistant.
---
9
The Crocs Swiftwater mesh water sandals are lightweight and quick drying.
The Uppers are synthetic mesh with an adjustable closure and water drainage holes.
The footbed is cushioned with Crosslite material.
The outsole includes flex grooves for flexibility and better grip on the water and wet surfaces.
There are also a few neutral color designs available for your perusal.
---
10
Fisherman's Style Water Sandal
Another superb addition from Teva in water-friendly shoes is the Omnium with the fisherman's style.
The Omnium has a more robust and protective design.
The uppers are synthetic and mesh with a bungee lace-up system.
There is a Molded EVA cushioned midsole and ShocPad heel technology.
The rubber outsole has a spider web design for optimal slip resistance on wet surfaces.
The sandal has a quick-drying and water-resistant design.
---
Index Table: Top Rated Sandals for Water
---
---