Your feet may swell for several reasons. However, swollen feet are uncomfortable and may become painful.
Wearing comfortable footwear can help to reduce the swelling and provide much needed comfort for aching and swollen feet.
The best sandal for swollen fete delivers good ventilation, cooling, and a more comfortable and non-restrictive fit.
This article will Concentrate on some sandal brands and models that may relieve swollen feet.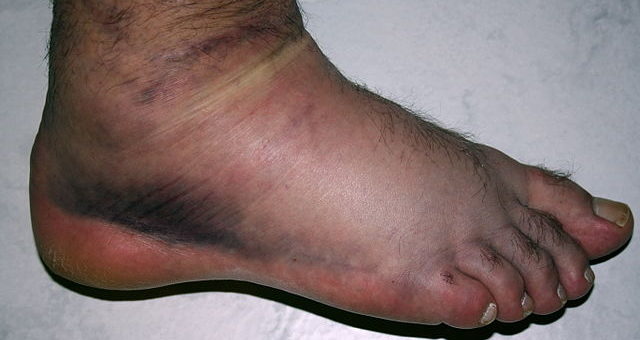 ---
---
Swollen Feet and How the Right Sandals May Help
Foot, leg, and ankle swelling may sometimes be known as peripheral edema, which occurs because of the accumulation of fluids in your body.
Swelling from strains, sprains, or an injury can be painful. However, swelling from other causes may not be painful.
Swelling can be caused by a painful injury or sprain from standing or sitting too long, pregnancy, being overweight, hormonal reasons, and many other medical conditions.
The right sandal provides n open and accommodating fit that can be adjusted so that there is no added pressure on your feet to reduce the swelling and not squeeze or aggravate your feet.
---
Treating Swollen Feet at Home Safely
Besides a good pair of comfortable sandals, you can also follow these tips to reduce swelling and pain in your feet and legs;
Elevate Your Legs – raise your legs above your heart when laying down. This allows for better blood flow, which may reduce pain and swelling.
Stay Active – Try o be more active and do light exercises. This is particularly useful if you sit or stand for long periods daily.
Reduce Your Salt Intake – Excess salt cause fluid retention that will lead to selling. By eating less salt, you have less risk for swelling.
Restrictive Clothing – Tight-fitting and restrictive clothing are not good for you and can cause much swelling and discomfort.
Compression Socks – Light compression socks are ideal for treating swelling in the feet and legs as they improve circulation.
Healthy Weight – Try to maintain a healthy body weight, which will reduce and prevent swollen feet.
---
Features of a Good Sandal for Swollen Feet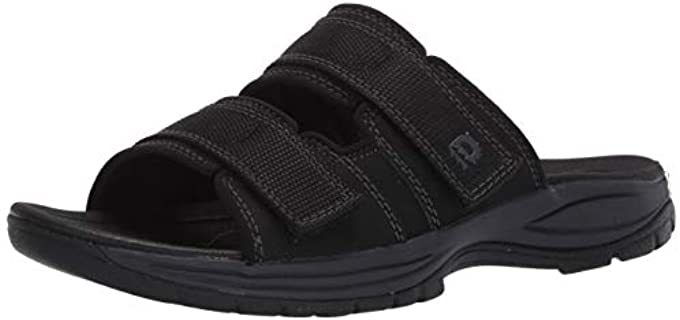 Uppers – Look for sandals with stretchable and accommodating uppers and uppers that can be adjusted for a customizable fit.
Wide Widths – Wider Width sandals provide a much roomier fit to accommodate swollen feet,
Cushioning and Support – Look for sandals with arch support and cushioned footbeds for better support and stability. Also, could you look for a shock-absorbing EVA or foam midsole?
Outsole – A durable rubber outsole is ideal for traction and grip. Lug patterns on the sole provide good grip and traction. A low or medium heel may be acceptable but avoid high heels.
---
Reviews: The Best Sandals for Swollen Feet
In our list, we have reviewed the best sandal for swollen feet that will provide a more comfortable and accommodating fit, along with many other support and comfort features for this condition;
We hope you love the products we recommend!
We may collect a share of sales or other compensation from the links on this page.
---
1
I have chosen two different brands and models in sandals as my first choice because of their availability in wide and extra wide width options and their stretchy and adjustable uppers, which will fully accommodate swollen feet in all their swelling stages.
Clarks Arla Belle
The uppers are a soft and flexible material that will stretch and conform to your feet.
They feature Cloud stepper cushioning technology and an ortholite footbed with a textile lining.
There is an EVA midsole and outsole for shock absorbency.
The uppers are adjustable, and there are many more colors available.
Dunham Newport Slide
Here we have only two colors avail be in the slip-on sandal.
They are available in wider widths and have adjustable uppers.
The uppers are made of soft canvas material.
There are an EVA sole and good arch support, and cushioned insole.
---
2
Slide Sandal for Swollen Feet
The Propet Vero Slide and Vionic Aubrey Slide are available n wider width options and have adjustable uppers to accommodate swollen feet. Other than that, they also provide comfortable cushioning and support.
The Propet Vero Slide has genuine leather uppers that are adjustable and have a side-on design.
The Vero Slide boasts a comfortable foam padded footbed with a microfiber lining and a durable outsole.
The Vionic Aubrey is an adjustable slide sandal available in wider widths.
The Aubrey has Tri-Planar technology, a biomechanical footbed, and a high arch and heel cup support.
The Aubrey also features an EVA midsole and more color options.
---
3
The Keen Newport H2 has a closed and protective design, with stretchable and adjustable uppers to accommodate swollen feet. They are also quick-drying sandals that prevent sweat and overheating and have cushioning and support features.
The Keen Newport is a hiking and outdoor sandal.
It has a more closed design with an adjustable fit and bungee laces.
The footbed offers good cushioning and arch support.
The outsole has multi-directional lugs and razor siping for good slip resistance.
There are also more color options available.
---
4
Dressy Sandals for Swollen Feet
The Clarks Saylie and Brixby Shore have a lightweight and cushioned design, and they are also available in wider-width options with adjustable upper fits.
The sandal has fully adjustable leather uppers.
They are available in wider widths to accommodate swollen feet.
There are a comfortable cushioned molded Ortholite footbed and a smooth textile lining.
The EVA sole is durable and very lightweight.
---
5
The Teva Universal sandals are more open and comfortable, with a cushioned and supportive EVA footbed and fully adjustable uppers.
A Comfortable sandal for beach and pool wear.
The uppers are fabric and synthetic, as well as adjustable.
The sandal is available in wider width options and more colors.
The uppers are quick-dry webbing, and the sole is a molded EVA with a heel cup and arch cookie for support.
The sole is also treated with a zinc-based antimicrobial treatment.
---
6
Sports Sandal for Swollen Feet
The Sporty Z1 from Chaco has minimal light and comfortable adjustable uppers straps, causing the least friction and irritation. The supportive, cushioned footbed is comfortable and protects your feet against hard impacts.
A comfortable sports and hiking sandal.
The uppers are an adjustable textile fit available in many more colors.
There is a LUVSEAT Pu midsole for cushioning and support,
The ChaoGrip outsole is non-marking, durable, and has 3mm dep slip-resistant lugs.
---
9
The Popcat is a comfortable, easy slide-on and-off sandal for swollen feet.
The fit is wider and roomy, and the sole is cushioned.
There is an EVA midsole and outsole for comfort and grip.
More colors are likewise available to you.
---
8
This is the flip-flop version of the Oofos Recovery sandal.
It has a rocker design sole for pressure relief.
The entire flip-flop sandal consists of a soft cushioning foam.
There are also more colors available for men and women as it is unisex.
---
9
The Teva Hurricane is a comfortable ankle strap sandal available in wider width option designs.
It has an EVA footbed for comfort and quick-dry webbing uppers.
The fir is adjustable for wider widths.
There are also wider width options available.
---
10
Wide Width Massaging Slides
The Adidas Adissage is a wide-fit slide sandal for swollen feet.
The massage nodules provide comfort and circulation relief.
There are more colors available.
The sandal offers a wider and more roomy fit.
---
Index Table: Top Rated Sandals for Swollen Feet
---
---