Neuropathy of the foot is quite a common problem suffered by many individuals with some form of Neuropathy or Diabetes.
In individuals with Neuropathy affecting their feet, the most important factor for them is that their feet are always protected and that there is minimal pain.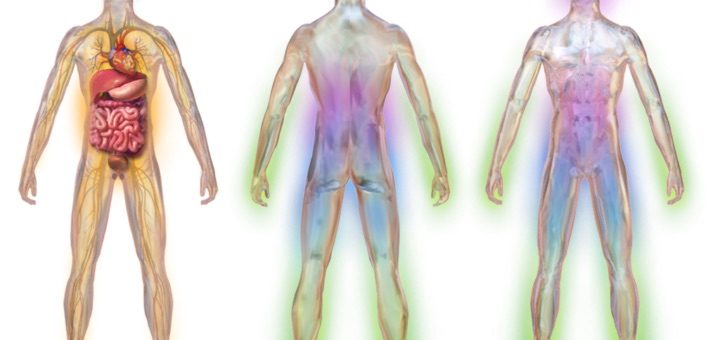 ---
---
Understanding Neuropathy
Neuropathy occurs when the outside protective cover or myelin sheath of your nerve cells, called neurons, degenerates or becomes damaged. Without these proper insulation signals sent through, your nerves become scrambled, causing numbness, pain, and tingling or burning in the feet, legs, arms, and hands mostly.
Causes of Neuropathy

Prescription Drugs – One of the major causes of Neuropathy is certain prescription drugs, such as blood pressure and cholesterol medications, along with some brands of antibiotics.
Diabetes – For Diabetics, higher than normal blood sugar levels in the body may result in Diabetic Neuropathy.
Chemotherapy – The radiation treatment and medications used in chemotherapy have also been documented as causes of Neuropathy.
Injuries – Sports injuries, accidents, and surgeries where the nerves are damaged or worked on may lead to Neuropathy, which may only start showing symptoms a few years later.
Toxins – The build-up of certain toxins in your body due to air and water pollution and preservatives in your food can cause Diabetic Neuropathy.
---
Types of Neuropathy
There are a few types of Neuropathy, the most general being Neuropathy, which is most likely to affect your feet and legs.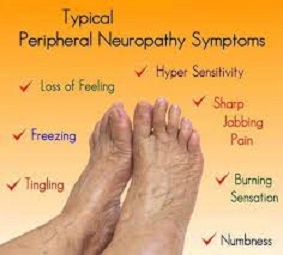 Mononeuropathy – Only a single nerve is affected.
Multiple Mononeuropathy – Two or more nerves are individually affected.
Polyneuropathy – The most common form of Peripheral neuropathy, which affects the generalized involvement of peripheral nerves.
Diabetic Neuropathy – Neuropathy is caused by increased blood sugar levels in Diabetes.
Alcoholic Neuropathy – This one is quite self explanatory!
Idiopathic Neuropathy – Neuropathy of which the cuase is unknown.
Autonomic Neuropathy – Neuropathy affects the intestinal tract, bladder, and genitals.
Motor Neuropathy – The Nerves responsible for Voluntary Movement is affected here.
Small Fiber Neuropathy – Here, the nerves near the skin's surface responsible for sensation are damaged.
Ulnar Neuropathy Neuropathy affecting the Ulnar Nerve near the ulnar bone in your lower arm.
---
Features of a Good Sandal for Neuropathy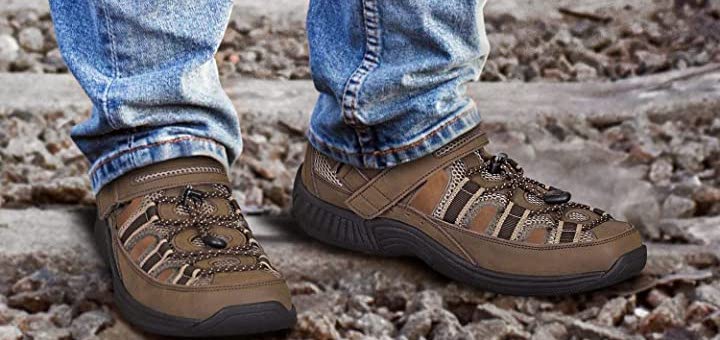 Heel – A firm heel counter for motion control.
Toe – Preferably a closed-toe area with a wide or flexible design.
Uppers – Smooth-lined straps that will not cause friction.
Support and Cushioning – Gel or foam padding. Good arch support.
Outsole – High grip durable rubber outsole.
---
Reviews: The Best Sandals for Neuropathy
Below are our top-rated sandal brands and models for Neuropathy.
We hope you love the sandals we recommend!
We may collect a share of sales or other compensation from the links on this page.
---
1
Arch Support Neuropathy Sandal
Two casual and comfortable Orthotic design sandals from Vionic Stanley and Farra.
The Stanley is a slide-on sandal that boasts smooth leather uppers and a lug rubber outsole, which offers excellent traction and grip.
The Farra has Faux leather upper, of which you can choose either a smooth or patent leather option and a few color variations.
The Farra model likewise has a wrapped EVA footbed and a durable rubber outsole.
Both sandals feature a Podiatrist-designed Orthotic Arch support footbed, ideal for Neuropathy and other foot conditions, and offer cushioned comfort and support.
---
2
I love Birkenstock sandals for any foot type, condition, or deformity, as they have a highly comfortable and supportive design and adjustable uppers to accommodate any foot shape and type.
The Soft and supple full-grain leather uppers come in vibrant brown color with a smooth finish and buckle closure for adjustability.
A lug and durable outsole that offers excellent grip and traction on various floor surfaces.
A supportive and cushioned cork footbed covered in suede wicks away moisture and is soft against the skin.
Additionally, EVA is cushioning in the midsole for even better shock absorbency.
---
3
Fisherman's Sandal Neuropathy
The Orthofeet Alpine and Naples extra-depth Orthopedic sandals are ideal for individuals with conditions such as Neuropathy and arthritis.
Smooth and seamless interior with extra depth and wider width design for less pressure and irritation.
Wider widths are available and have an extra depth design for more toe room.
The Ortho-Cushioning system is lightweight with an air-cushioned sole for maximum comfort, shock absorbency, and support.
A thick and durable high-traction rubber outsole.
---
4
Sports Sandal for Neuropathy
For sports and outdoor wear to the beach and gym, I highly recommend the On The Go model from Skechers if you suffer from Neuropathy.
This shoe features the famous 5 Gen cushioning system that Skechers shoes offer.
There is a Shock absorbing lightweight midsole.
The durable outsole ensures excellent grip and traction.
The textile uppers ensure a comfortable, friction-free, gentle Neuropathic feet fit.
All in all, a comfortable and lightweight design.
---
5
The Timberland Pro Fisherman's and Adley Shore are very comfortable and supportive casual Style sandals for outdoor use.
There is a durable rubber Multi-density outsole that offers excellent grip and traction.
A Removable multi-density anatomical footbed for comfort and excellent support while allowing you to use your orthotics.
This shoe also has a climate-controlling lining to keep your feet warm or cool as needed and improve temperature control.
The nylon shank provides support and shock dispersion and is airport-friendly.
A supportive polyurethane midsole and comfortable leather and synthetic uppers ensure a much more durable and comfortable fit.
The Smart Comfort System technology gives you ergonomic and contoured support and comfort.
Available in a variety of color designs.
---
6
Podiatrists recommend a comfortable and cushioned Flip Flop sandal to accommodate feet affected by Diabetes and Neuropathy.
A Lightweight Outsole with a good grip and a cushioned and lightweight EVA Midsole.
Excellent Arch support for all arch types.
Soft and smooth upper webbing.
Ergonomic and biomechanical design with a contoured shape for optimal comfort and support.
---
7
Neuropathy Outdoor Sandals
These two models from Keen offer you the ultimate comfort and protection outdoors, especially if you suffer from neuropathy.
The upper consists of polyester-lined textile material; all these models are machine washable.
The sole has a supportive arch and excellent shock-absorbing cushioning.
The rubber outsole offers excellent grip, and there is a TPU shank for better stability.
You can also choose from a few color variations in this model.
---
8
Neuropathy Comfort Sandals
The Sling-Back and Morse Tour from Clarks are two adjustable and comfortable fitting sandals for Neuropathy.
The Soft leather upper of the sandal offers a friction-free fit, and the straps are adjustable.
The footbed is contoured and cushioned for maximum support and shock absorbency.
There is a flexible sole with a high traction tread for better grip.
All in all, both sandal models are very lightweight and comfortable.
---
9
These two fisherman's style sandals from DR.Comfort are top favorites in protective orthopedic design sandals for Neuropathy.
There is a closed style upper and heel with an Open-Air Design and a very roomy toe box.
Leather is used for the construction of the uppers, a there are a few neutral colors to choose from.
The firm heel counter offers better stability along with the excellent traction of a rubber outsole.
The fit is adjustable, and the footbed cushioned and comfortable.
---
10
Sporty sandals for Neuropathy
The Soft and closed design of the Teva Omnium makes it ideal for persons with Peripheral Neuropathy and numbness in their feet.
The uppers are synthetic and mesh with a closed and protective fisherman's design.
The fit is adjustable with the bungee lace-up system.
There are a cushioned Molded EVA foam footbed and slip-resistant Spider web rubber outsole.
The design is also quick drying and drains well for outdoor sports and excursions.
---
Index Table: Top Rated Sandals for Neuropathy
---
---