Proper Kayaking sandal is a must in summer because you need something lightweight that provides excellent protection and grip.
So in this article, we will explore all the best options for Kayaking sandals for summer.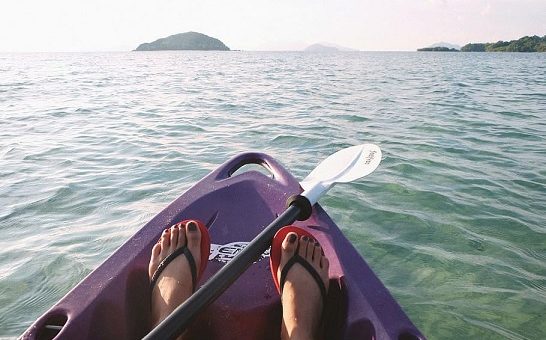 ---
---
Why are Sandals for Kayaking Ideal?
Sandals are one of your most waterproof choices if you want to think of them that way. They dry quickly, drain water quickly and effectively, and are extremely lightweight.
Kayaking sandals also feature a much more rugged outsole that offers excellent traction and grip on wet and slippery surfaces.
Moreover, most Kayaking sandals also come with an adjustable fit option and secure closures, so you do not need to worry about them slipping off.
---
What to Look for in the Best Kayaking Sandals
So what should you look out for in a good sandal for Kayaking?
Good Traction and Grip – Because you will be in and out of the Kayak constantly, in wet conditions, and on slippery rocks and stones, you need excellent traction and grip in all these conditions. First, please look for a rugged outsole with good grip and traction on wet and dry surfaces.
Lightweight and Breathable – Look for a lightweight, flexible, breathable design that ventilates well and is not heavy on your feet.
Water Resistant – Good drainage and quick-drying materials are the best water-resistant features on a sandal for Kayaking that keeps your feet dry and comfortable.
Protection – Underfoot puncture protection and a protective toe cap are ideal for protecting your feet in hazardous terrains.
---
Features of a Good Sandal for Kayaking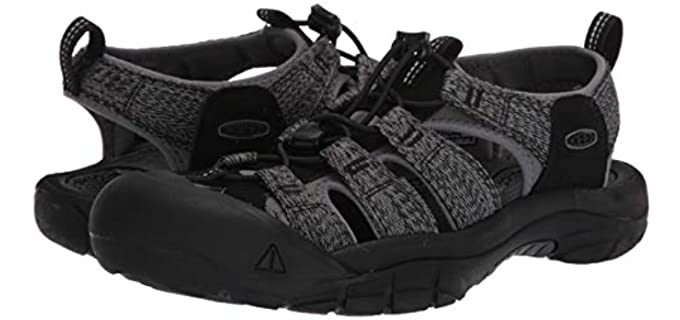 Uppers – The Upper of a good Kayaining sandal can consist of Mesh, Leather, or Textile materials with or without padding or a lining.
Footbed – The footbed is usually cushioned with EVA or other foam materials with Goga Max or Goga Mat technology, Crosslite Material, or Compression-Molded EVA for comfort and support. A contoured design or anatomical footbed also provides good support.
Outsole – Rubber is the best slip-resistant outsole on wet surfaces. Technologies such as Durabrasion rubber or outsole with Multidirectional lugs are used for better grip.
Other Features – Features such as an antimicrobial lining, a support internal shank, and water resistance are also ideal in good Kayaking sandals.
Options – Mainly, color, size, and width options are available in most Kayaking sandal models and brands.
Closures and Adjustability – Most Kayaking sandals will have adjustable uppers in an open or Fisherman style design. Closures such as Velcro, Hook and Loop, and Bungee lacing systems will be prevalent.
---
Reviews: The Best Sandals for Kayaking
Here are our top choices in sandals for Kayaking;
---
1
The Keen Newport is one of the best available sandals for Kayaking, offering comfort, protection, and extreme durability.
The Upper consists of a Polyester webbing that our quick-drying and adjustable with a bungee lace-up closure.
The uppers straps are also lined for comfort, and plenty of color options are available.
The rubber outsole has Multidirectional lugs for better traction on wet surfaces and is very durable.
Inside is a dual-density PU insole for comfort and support and a Compression-Molded EVA midsole,
Furthermore, the sandal contains Eco Anti Odor natural probiotic-based technology for odor prevention.
---
2
Another favorite for Kayaking with a more open design is the Teva Original Universal sandal.
The Upper is a soft textile with many color options and adjustable straps with Velcro closures.
There is an EVA cushioned footbed with a Microban treated antimicrobial and odor-resistant lining,
The outsole is a Durabrasion high abrasion resistant and slip-resistant rubber outsole.
---
3
Athletic Sandal for Kayaking
The Swiftwater from Crocs is a more lightweight design sandal that keeps your feet protected and comfortable when Kayaking.
The uppers are synthetic mesh with a closed design, large water drainage holes, and a protective toe cap.
The sole is made of comfortable and cushioned Crosslite materials that also flex.
There is a textured outsole that helps with slip resistance and traction.
Furthermore, there are also some color variations available.
---
4
Outdoor Sandal for Kayaking
The Merrell All Out Blaze is a more rugged and durable design outdoor sandal for Kayaking and other outdoor sports or hiking.
The uppers are leather with a smooth synthetic fiber lining for comfort and moisture management.
There is a UniFly supportive and cushioned midsole to absorb shock and provide excellent comfort.
A Vibram rubber outsole is the most durable that you will get with a lug tread for optimal slip resistance.
There is also a mesh, and M Select FRESH treated insole keeps feet dry and Odor free.
---
5
The Skechers Louden and Brilliancy are comfortable and supportive sandal models ideal for Kayaking.
Both sandals have synthetic soles that provide excellent traction and grip on wet and dry surfaces.
The sole is cushioned with Goga Max High rebound foam and 5Gen cushioning,
The Upper of the Brilliancy is a soft heathered fabric, while the Louden is a leather and textile-lined material.
You can also select from a few neutral color options in both sandal models.
---
6
Adventure Sports Sandal for Kayaking
From Dreampairs, we have the ultimate Fisherman's style adventure sandal for Kayaking.
The Upper is a soft, flexible textile material with adjustability and bungee lace-up closure.
There is a super soft cushioned EVA footbed and a supportive midsole.
The outsole is durable rubber with lug patterns for slip resistance and a protective rubber toe cap.
These sandals are extremely lightweight and water-friendly.
---
7
Water Sandals for Kayaking
The sandals are designed specifically for water, and they float on water.
They are available in many color options.
They consist of soft foamy material with an injection-molded EVA midsole.
Lightweight and very comfortable.
---
7
Sports Sandals for Kayaking
Outdoor sandal with textile quick-drying uppers.
The uppers are fully adjustable.
There is a contoured and cushioned footbed for support.
The outsole is a flexible traction rubber for slip resistance.
---
10
These are more closed-style protective sandals for kayaking.
They offer excellent water resistance and great traction with a lug multi-directional tread outsole.
The midsole has EVA cushioning and a comfortable shaped footbed for support.
You can also select from more colors that are available.
---
10
Sporty sandal for kayaking.
They have quick drying lightweight uppers.
The sandal has an EVA foam midsole for shock absorbency and a comfortable footbed.
There is a durable and slip-resistant rubber outsole.
You can also select from many more available colors.
---
Index Table: Top Rated Sandals for Kayaking
---
---