Whether you were born with it or your feet have broadened with age, a wider-than-normal foot shape may make it quite difficult for you to find proper footwear, especially when it comes to sandals.
While wide feet are usually nothing that you should be worried about, I do, however, recommend that you get proper footwear, especially sandals, for a wider fit.
So, I'd like to introduce you to Propet sandals for wide feet.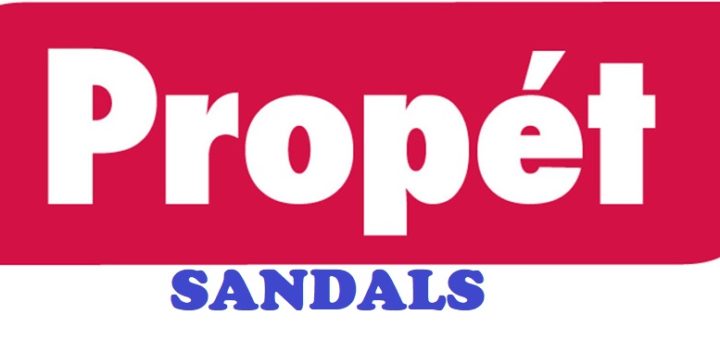 ---
---
For the most part, you may be born with a wider-than-normal foot and may find yourself needing to invest in wider-width shoes, and you will also have to use the same principles with sandals.
Sandals only sometimes come in wide-width options. However, some sandal brands do offer wider fits in their sandals, such as Propet.
Some people may develop wide feet as they age because the ligaments and tendons flex more with age. Then again, certain foot deformities like bunions, calluses, and hammertoes may increase the need for a wider shoe or sandal to accommodate a wider foot and these protrusions.
Improper footwear such as high heels and narrow-toe shoes, will lead to conditions such as bunions and hammertoes, which in turn may cause the need for wide width footwear,
When your feet tend to swell, you will also need to invest in a wider-width shoe or sandal. Pregnancy may also cause wider feet. Sometimes they return to normal, but other times not. However, wide feet may not be an area of concern, som; some people complain about discomfort, usually due to ill-fitting shoes or too small for their feet,
Too narrow shoes can cause various issues on wide feet, such as blisters, Bunions, Hammertoes, Calluses, and cross-over-toe.
For individuals who have bunions and hammertoes, I suggest a wider-width sandal and shoe as this will accommodate these deformities.
---
Finding the Right Fit
Finding a sandal or she that properly fits the shape and width of your feet is vital to prevent foot injuries, deformities, and other issues, as well as pain and discomfort.
Here are a few factors to help you choose the right fit in sandals and shoes for wide feet;
Get Your Feet Measured – It is always safer to measure your feet and compare those measurements with the measurements of the sandal or shoes that you want to purchase.
Roomy Toe Box – Whether a shoe or a sandal, you must look for an option with a roomy toe box. Your toes must not feel cramped, and the sandal straps must not press hard against your skin, causing pressure.
Wide Widths Option – Make sure to look for shoes that offer a wide-width fit option; they usually come in wide and extra-wide or E and D options depending on the brand.
Length of Your Feet – Ensure you also get sandals that fit the length of your feet properly. Sometimes your foot may be longer than the other, so you will need to get a larger size.
Making Wide Feet Look Narrow – There is usually not much you can do to make wide feet look more narrow. However, some sandals and shoes may slim down your feet. A sandal with good arch support will lift your feet, making them appear slimmer.
---
Features of a Good Propet Sandal for Wide Feet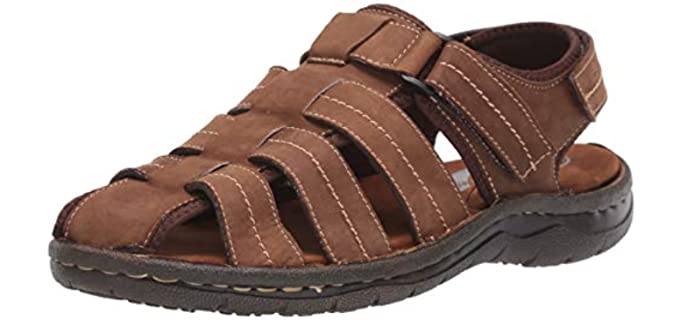 Uppers – Propet sandals may have leather or textile uppers that are usually lined for your comfort. Depending on the style of the sandal, it may have an adjustable fit and Velcro or buckle closures.
Comfort – Most Propet sandal models offer cushion and a shock-absorbing midsole for comfort. They also have a more contoured and anatomical-shaped footbed for proper arch support.
Fit – Most Propet sandals are available in wider options. They generally offer a comfortable and roomy toe box fit.
Options – Most Propet sandal modes will come in more color options, wider widths, and extended size options for larger feet.
---
Reviews: The Best Propet Sandals for Wide Feet
Listed below are some of our favorite Propet sandal models that are ideal for wide feet;
We hope you love the products we recommend!
So that you know, We may collect a share of sales or other compensation from the links on this page.
---
1
Here we have two sandal models from Propet that are ideal for wider feet. The Propet Surfwalker for men has full-grain leather uppers, a foam-padded footbed with a microfiber lining, and a long-lasting PU outsole.
The Propet Breeze walker for ladies has full-grain leather uppers, a Polyurethane outsole, and a foam-padded footbed with a comfortable lining.
Both sandals are available in more color options as well as wider widths.
---
2
These are slide sandal options from Propet for wide feet.
The Vero Slide for men has leather uppers with a synthetic sole and cushioned footbed.
The Joelle slide for women is a two-strap slide design with an extra cushioned PU insole and PU outsole with rubber inserts.
Both sandals have a microfiber lining.
They are also available in more colors and wider width options.
---
3
Walking Sandal for Wide Feet
The Propet Pedic Walker and Jordy are comfortable wide-width sandals for walking.
They have leather uppers that are fully adjustable and lined.
The footbed is cushioned for comfort and also removable.
The outsole is durable and offers excellent traction. You can select from more colors and width options as needed.
---
6
The Vero and June, in this instance, are also perfect for wider feet.
They are leather sandals with a smooth neoprene lining to wick away moisture.
The sandal is available in wider widths and more color selections.
They have a PU outsole and a shock-absorbing cushioning footbed.
---
5
Here are also two excellent wide-fit sandal models from Propet.
The Daytona for men is a leather and neoprene lined sandal with an adjustable fit and a synthetic outsole.
The Farrah for the ladies has soft leather uppers with four adjustable straps, a rubber outsole and cushioning cork, and a rubber footbed for comfort and support.
They are available in more colors as well as width options.
---
6
The Propet Joseph and Jenna are both fisherman-style sandals for wide feet.
The Joseph has nubuck leather uppers with an adjustable fit, a cushioned and removable footbed with a microfiber lining, and a durable rubber outsole.
The Jenna is a leather sandal with a removable cushioned footbed and durable rubber outsole.
Both sandal models can be obtained in more colors and width options.
---
Index Table: Top Rated Propet Sandals for Wide Feet
---
---