An Orthopedic Sanal is an excellent choice for individuals with foot ailments and conditions requiring more comfort and support and painful aching feet.
This article will review the best orthopedic sandals in 2023.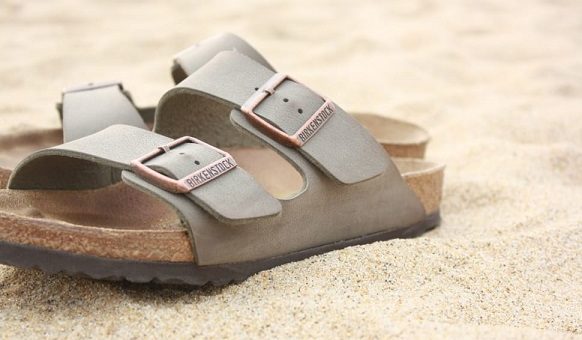 ---
---
Benefits of an Orthopedic Sandals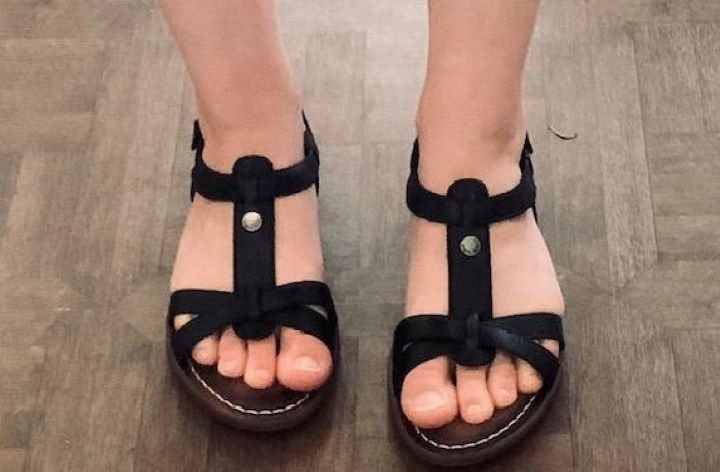 Fit – Most Oprtopedic Brand signals offer a slightly more roomy and accommodating fit, ideal for swelling and foot deformities caused by medical conditions and ailments. Most Orthopedic sandals have a roomy toe box. They are also available in wider widths and have full adjustability on the uppers straps so that you can customize the fit as needed.
Comfort – Comfort features such as cushioning in the insole and midsole, and smooth moisture-wicking lining keep your feet fresh, protected, and comfortable. This is ideal when you already suffer from painful or aching feet or painful foot conditions.
Support – Many individuals who require orthopedic footwear also need support and flexibility. Orthopedic sandals provide a stability shank, heel stabilizers, a contoured design footbed, and excellent arch support to help with foot alignment and biomechanics, improve walking and movement, and provide stability.
Slip Resistance – Most Orthopedic sandals come with a sturdy rubber outsole that not only absorbs impact but also has a more lug tread or patterned tread for optimal slip resistance on a variety of wet and dry surfaces.
---
How to Choose the Best Orthopedic Sandals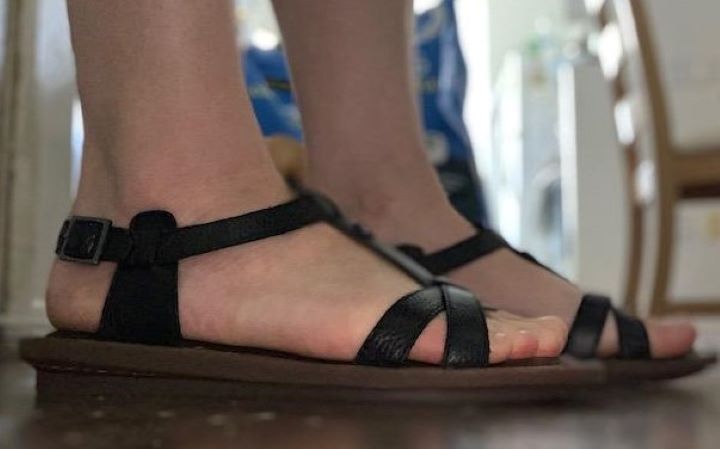 The Best way to choose the right Orthopedic sandal is to fit it on and walk a few steps with the sandal.
You will need to feel if they fit snugly but do not squeeze or slip around. Also, note any seams, stitching, embellishments, or closures that dig into your skin or cause friction.
Your feet should be soft and cushioned, and you should feel no pain when walking or standing in these shoes.
---
Features of a Good Orthopedic Sandal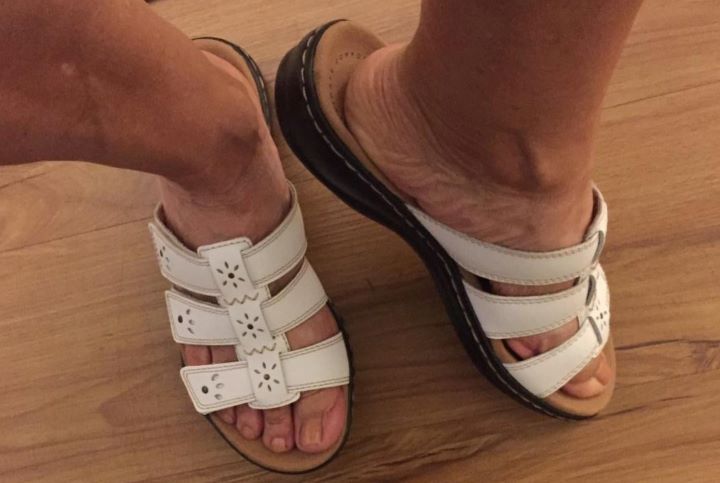 Uppers – Polyester, Genuine Leather, Synthetic leather, Moocrosudee, and other fabric or textile materials used in the uppers, which are also usually lined for moisture management and comfort, and in some models, are padded.
Midsole – Compression-Molded EVA or Regular EVA Foam midsole is the general midsole type that helps to absorb shock on impact.
Linings – Mesh, Lycra-Neoprene, and other textile materials are used to line the uppers and, or Footbed to absorb and wick away moisture and provide a smooth barrier for less friction against the skin.
Support – A integrated shank, heel cup or stabilizer, and contoured design footbed provides support and helps to improve stability, natural alignment, and movement.
Comfort – For comfort, there is usually a padded or cushioned footbed or insole that is lightweight and flexible.
Outsole – Molded Rubber or synthetic materails that are flexible in the right areas.
---
Reviews: The Best Orthopedic Sandals
These are some of the best and most comfortable Orthopedic Sandals on the market today;
We hope you love the products we recommend!
So that you know, We may collect a share of sales or other compensation from the links on this page.
---
1
We start with one of the most popular orthopedic shoe brands, Hush Puppies, and their two comfortable casual sandal additions to our list.
These sandals have leather uppers, adjustable straps, and a Dri-Lex soft mesh or Lycra-Neoprene lining.
Exclusive Biobevel technology enhances and encourages natural gait efficiency when walking or running.
WaveFlex wave patterns on the outsole bend and flex your feet to encourage more natural movements.
The Molded Rubber outsole also provides the best traction and durability.
These sandals are available in other color selections for your perusal.
---
2
Orthopedic Comfort Sandal
The vionic Kiwi slides are their most favorable models for their orthopedic sandal range.
The uppers are soft and smooth Nubuck leather with a single strap and slide-on design.
The uppers are also adjustable in fit with a Velcro closure.
This orthopedic sandal has a cushioned comfort footbed, a Dual-density EVA midsole for shock absorbency, and a supportive integrated post and shank for better stability.
The sandal is available in wider width options and is deemed a Diabetic comfort and orthopedic support sandal.
---
3
Orthopedic Comfort Sports Sandal
The Newport H2 is a Fisherman's design Hiking and sports sandal from Keen, which is durable and protective in outdoor environments and provides orthopedic comfort and relief.
This sandal is ideal for foot conditions such as Bunions and Hammertoe and Neuropathy, for which you may need extra toe protection.
The sandal features a Metatomical EVA footbed and EVA midsole for cushioning and support.
The lugged rubber outsole is ideal for outdoor wet and slippery surfaces.
The uppers have Polyester Webbing, which is quick-drying and easily washable.
The fit is adjustable and accommodates a wider foot.
---
4
The Leisa and Malone are two more dressy and fashionable sandals ideal for all occasions.
Clarks makes some great sandal that offers orthopedic comfort and support.
The uppers on this sandal consist of smooth leather with moisture-wicking textile leather and are available in a few color selections.s
There is also an Open Cell Ortholite cushioned comfort footbed and EVA foam midsole for optimal shock absorbency.
The durable rubber outsole provides excellent grip and traction and will last very long.
---
5
Orthopedic Comfort Sandal
Vionic is another top orthopedic comfort sandal brand, and I have chosen their Leo and Amber models.
The sandal has leather and synthetic upper in different styles and colors for men and women.
The Footbed is contoured with a Triple density EVA foam and an EVA midsole that is dual-density for optimal cushioning and shock absorbency.
The heel cup is designed to offer optimal stability and support and excellent arch support.
The durable and high-traction rubber outsole finishes off the shoe.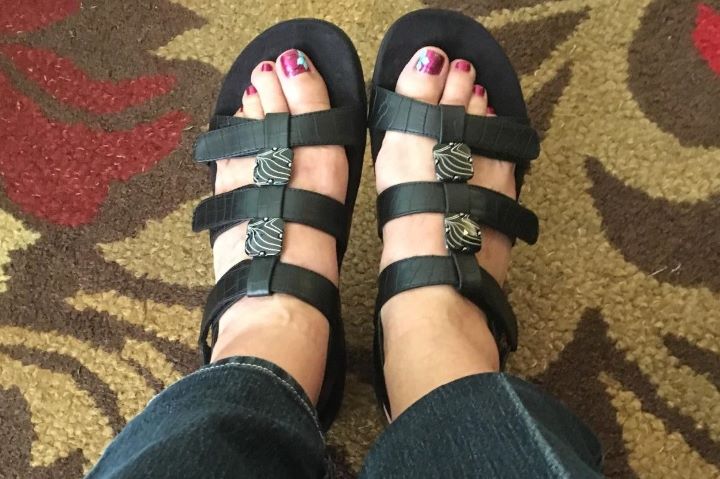 ---
6
The Pisces and Gordon are easily slip-on sandals with an orthopedic footbed and comfortable fit.
The Gordo has genuine leather uppers, while the Pisces has synthetic uppers.
The sandal has a flexible and high-grip rubber sole with an anatomically contoured and cushioned footbed.
There is stitch design detailing on the upper of the Kourtney, and both sandals have a few color options from which you may choose.
---
7
Orthopedic Comfort Sandals
The Clarks Arla and Brixby are orthopedic classic comfort sandals for all occasions.
The Arla and Brixy have an orthopedic design for foot conditions and ailments needing extra comfort.
The Cushion Soft technology supports and cushioning Footbed and the Cloudsteepers design in the sole.
The uppers are flexible, adjustable, and available in wider widths.
The sole is durable and also provides secure footing and stability.
---
8
Orthopedic Sandals for Casual Wear
The Vionic Leo has a leather upper and Poditraist-designed Orthaheel technology for stability and contoured support.
The Rest Harissa is a feminine sandal with a contoured cork, a latex support footbed, and an adjustable soft leather upper.
Both sandals have some color variations available for your perusal.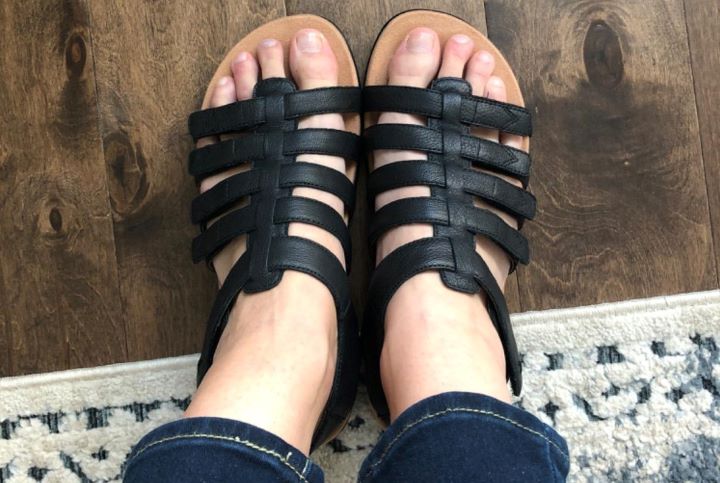 ---
9
Fisherman Style Orthopedic Sandals
The Gaston and Andrews from Dr. Scholls are the perfect protective Orthopedic comfort sandal for all foot conditions.
The Gaston has a leather upper, while the Andrews for the ladies has a more athletic style, upper textile design.
Borth sandals have a closed fisherman style, protective for feet with conditions such as Neuropathy, Bunions, and hammertoes.
The sole is flexible and durable with a high-traction rubber outsole.
A supportive Memory Foam Cool Fit cushioned insole for comfort and smooth mesh linings.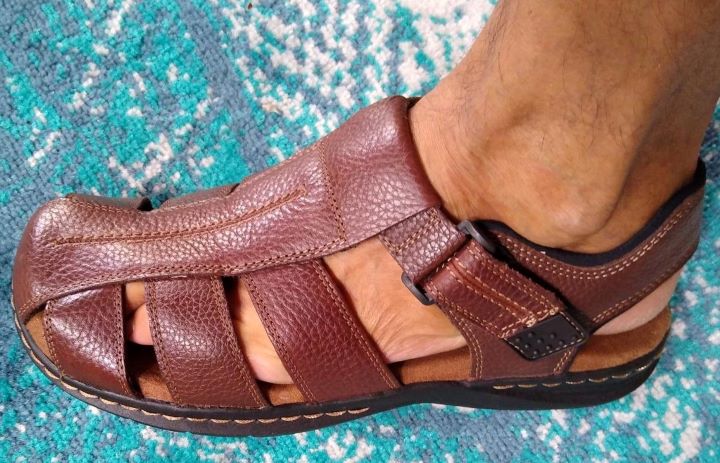 ---
10
Wide Width Orthopedic Sandals for Big Feet
The W&Lesvago orthopedic sandal is perfect for foot conditions such as Edema and feet affected by Diabetes.
The uppers are soft and adjustable with Velcro closures.
There are also wider-width options available.
The Footbed offers arch support and cushioning.
The sole is durable and slip-resistant.
---
Index Table: Top Rated Orthopedic Sandal
---
---