The Rocker Bottom sandal has a thicker-than-usual sole with a more rounded heel.
This sole type is ideal for individuals with a flat foot or lower arch, providing better stability and motion control.
---
---
The Rocker Bottom Sole and How it Works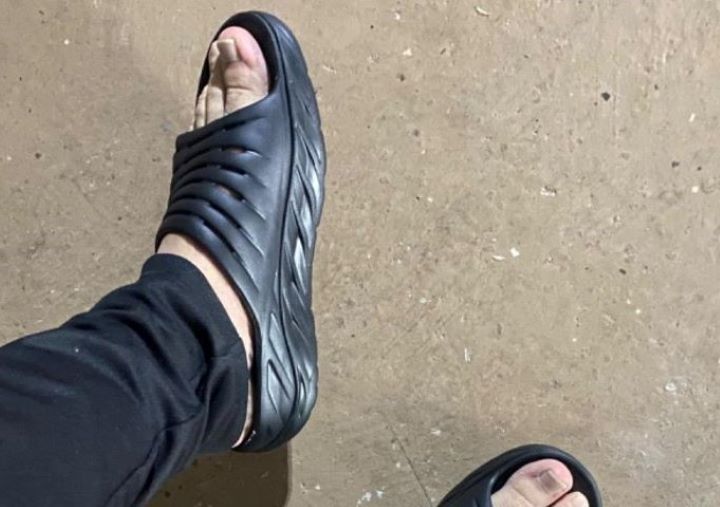 The Rocker Bottom Sole shoe or Rocker Bottom shoe has a very thick sole with a rounded heel to help support when you have a flat foot or low arch or to aid in replacing reduced or lost functionality of a certain joint.
A Rocker Sole or Rocker Bottom shoe is likewise advised for individuals who pronounce excessively or have conditions such as Hallux Rigidus or a lost range of motion and joint pain.
A Rocker Bottom or Soled shoe slightly destabilizes the wearer's foot to challenged muscle groups in the legs, such as the core and gluteus, that work less hard and place less strain on joints to improve posture and give you tighter muscles.
Rocker Bottom Soles are generally not advised for unstable individuals on their feet and the elderly as they may cause a fall.
---
Who May Need a Rocker Bottom Sandal
A Rocker Bottom Shoe is advised for the following conditions and may also be worn by individuals who want to strengthen their leg and gluteus muscles.

Flat Feet – A rocker bottom can be used in flat feet to control motion.
Stiff Joints – The Rocker's bottom replaces the loss of functionality in the case of a stiff joint, such as in the condition Hallux Rigidus.
Painful Joints – The Rocker Bottom Sole shoe reduces strain on painful joints by implementing other muscle groups.
---
Features of a Good Rocker Bottom Sandal
Outsole – A Wedge, Platform, or flat Rocker Bottom design outsole. Lug rubber outsole for better traction and grip.
Cushioning – Comfortable cushioned or contoured and supportive footbed.
Uppers – Soft and smooth uppers straps. A secure closure system. Durable and high-quality materials. Lightweight and supportive fit.
Options – Color options and print availability.
---
Reviews: The Best Rocker Bottom Sandals
Here are our top-rated Rocker Bottom Sole Sandals;
We hope you love the products we recommend!
We may collect a share of sales or other compensation from the links on this page.
---
1
The MBT platform design rocker Bottom or Sole sandal has a unique ankle strap design and a platform wedge Rocker Bottom Sole. This is the perfect summer dress sandal available in a few color variations and options to perfectly match any outfit for that summer evening out or a casual day in town.
The uppers comprise smooth or patterned synthetic leather available in color variations for you to choose from as needed.
There is a high platform Rocker Sole design for sophistication and better support.
The outsole has a lug design for better traction and slip resistance on slippery outdoor surfaces and terrain.
Features an open-toe design with an ankle strap closure for a secure and comfortable fit.
The perfect shoe for casual daily wear, more formal occasions, office wear, or even wearing to a party or event.
---
2
The Yellow Box Rubie is a feminine and comfortable flip-flop sandal with the Rocker Bottom sole in a wedge design. The uppers of this exquisite flip-flop design sandal are embellished with sparkly and colorful Rhines stones for that added touch and finishing. An elegant Flip Flop that you can wear for any occasion or event.
Soft and smooth leather uppers straps in a Flip Flop toe post design with padding and smooth linings to prevent irritation and chafing.
The Rocker Bottom sole and footbed are made from a soft, cushioned foam material, and the outsole has a lug pattern for better traction.
The uppers are embellished with decorative and feminine Rhinestones.
The perfect summer sandal for any and every occasion and casual comfort wear.
A flip-flop gives you an easy on-and-off, affordable, and easy-to-wear option.
---
3
The Hoka One Ora is an easy slide-on and-off rubber sandal with a soft foam footbed. This sandal is explicitly designed as a recovery sports sandal to give you rest and comfort during a foot or leg injury recovery.
It comes in a primary solid black color option.
Comfortable slide-style soft foam uppers with air holes for ventilation.
Wide fit to accommodate painful and swollen feet.
Recovery design sandals for recovery during and after injury.
Rocker Bottom Style sole with a lug rubber outsole for better grip.
---
4
Allegria is one of my favorite comfort and orthopedic footwear brands, mostly designing shoes for work and more dressy purposes. The Kleo Gladiator sandal features the famous Rocker Bottom sole in a classy and elegant sandal with upper straps, open toe, and a back strap that is adjustable for a more e secure and adjustable fit.
The uppers straps are made from 100% genuine soft and supple leather, available in many neutral, bold, and bright color options.
A slight platform-styled heel with a Rocker Bottom sole.
The outsole has lug patterns to offer only the best grip and traction on all surfaces.
This shoe ensures you slip resistance to the maximum and better grip on slippery floor surfaces.
There is a Patented Removable cushioned comfort insole; This allows you to use your own orthotic devices.
I highly recommend this sandal as a work sandal in occupations where you are on your feet all day on slippery and wet floor surfaces.
---
5
The MBT Kiburi is a sports-style sandal with more medical-related and corrective purposes for individuals who suffer from severe immobility or joint pain and discomfort. This sandal provides a unique and secure fit with many comforts and supports features and a sturdy and well-designed Rocker Bottom sole.
Leather uppers from genuine leather with smooth and padded linings for comfort.
Available in a few solid, two-tone, and print-colored options to choose from as you wish.
Dynamic activation technology for the best support.
A durable and well-designed Rocker Sole made from synthetic materials.
Closure clips and adjustable straps for a more customizable fit.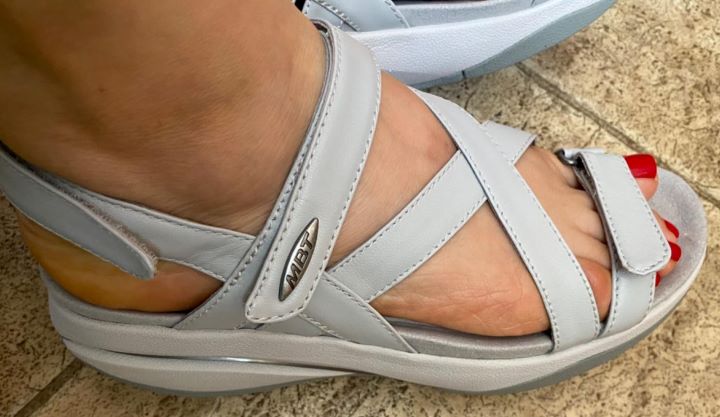 ---
6
Another superb addition from Orlancy is the Summer Rocker Bottom sandal with a low rocker sole, ideal for more formal and casual occasions when you need to look your best and feel your best.
The Uppers consist of excellent quality leather that is adjustable in fit.
There is a podiatrist-designed cushioned footbed with removable arch support.
More color options are available to you.
A basic and straightforward sandal style that is elegant and very comfortable.
A comfortable and cushioned footbed that provides all-day comfort and support.
---
7
The MBT Sadiki is a comfortable and more formal design Rocker sole sandal.
There are black synthetic leather cross straps over the toe and a supportive and adjustable hook and loop strap at the back.
The sole is high and has a Rocker design.
These sandals are ideal for occasional wear to more formal events.
The outsole also provides good traction and durability.
---
8
We have the Mini Rocker sole loafer style sandal from Alegria, the Vienna Loafer.
The sandal model is available in a broad range of color and pattern options from which you can choose.
There are two adjustable hook and loop straps for a customizable fit.
These sandals boast a casual and comfortable loafer style and have leather for the upper and lining.
The footbed is cushioned for comfort, and the sole has a Rocker design.
---
9
The Clarks sandal is comfortable and casual with a wedge-style rocker sole.
The upper of the sandal comprises leather with a peep toe sandal strap and an adjustable slingback.
You can choose between a few color selections in this model, all with the white platform sole.
The Sole has a high wedge design with a Rocker design for stability and motion enhancement.
The sole comprises durable rubber and is reasonably flexible.
---
10
From MBT, the Rani is a more sporty-styled sandal with a full Rocker Bottom Sole.
The Upper is a durable strappy leather with an adjustable strap.
There are two color options available, and this sandal can be used as a dress sandal.
The MBT Sensor technology in the heel allows softer midfoot landing, and there is an engineered shank.
The Rocker sole is High and has a sole curve and Pivot Axis for better activation.
---
Index Table: Top Rated Rocker Bottom Sandals
---
---